Posted By Singapore Translators | Publised At 05/04/2021
Last Modified: 4
th
Jun 2022
484
Documents Required for Registration of a Foreign Branch:
Certificate of incorporation of a parent company
Articles of parent company
Certification of change of recent name of the parent company (if available)
All the documents required to signed by the director of the parent company before a notary public service.
Affidavit
Appointments of agents
Legal declaration confirming specification of branch office All documents required to certify by the notary public within 3 months to submission to the accounting and corporate regulatory authority (ACRA).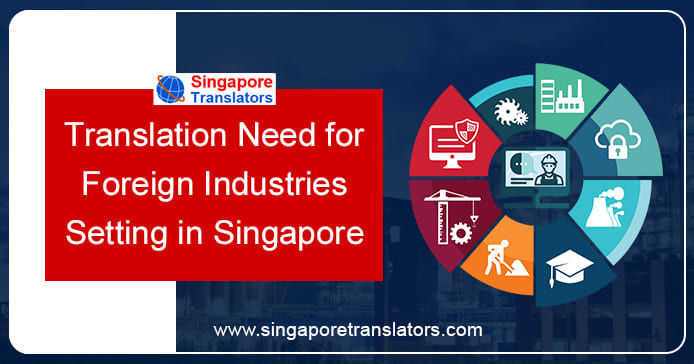 You will need to submit Supporting documents of the main company:
The registered address of the office
Business activity documents
Paid-up capital
Appointment date of directors
Passport copies of directors
Copy of residential address of directors (for example-electricity bills, bank statements, etc.)
Get Fast & Accurate official notarization for ICA, MOM, MFA.
Translation need in foreign production establishment and operation:
When manufacturers set up industries abroad they require translation service. Most agencies will ready to handle such tasks. But not all translation services are trustworthy.
For translating your industry-related tasks, singaporetranslator.com offers a professional and high-quality translation of your industry-related documents. Get certified and notarized your industry documents in Singapore.
Having features of:
1.Human translation
2.200+ language translation
3.Confidentiality and Non-disclosure agreement
4.Punctuality
5.Specialized translators
6.Consistency and terminology
7.Interpretation and transcription
Frequently asked questions:
1.Do industries need to translate documents if they need loans in Singapore?
2.Does document translation cost differs from language to language?
3.Which foreign language is highly in demand in translation?
4.What industries need translation services?
No 1 Online Translation Services for Document & Legal Translations in Singapore.
---
---