Posted By Singapore Translators | Publised At 29/11/2021
Last Modified: 28
th
Dec 2021
Overview of Types of lawyers in Singapore
As one of the leading destinations, Singapore is known for its advanced level of education, which sets it apart from others around the world. Every profession in this country is filled with bright and talented professionals. It's no surprise that the legal industry has experienced immense growth in this country which has some of the best professionals Singapore has to offer.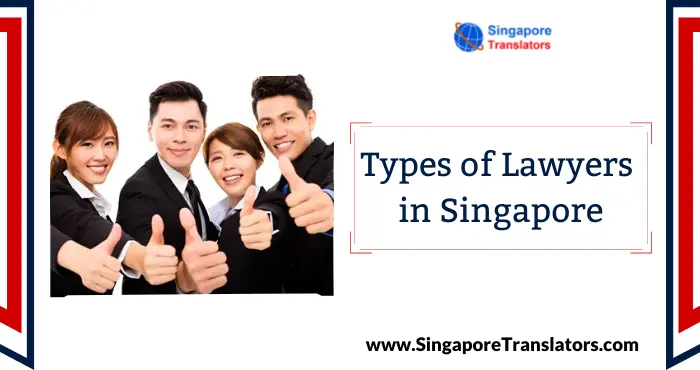 Singapore has a huge number of lawyers who specialize in various fields of law. For every legal problem, there is a team of legal experts who are highly trained and specialized. Below we've outlined the different types of lawyers you can find in Singapore.
Bankruptcy Lawyers
Bankruptcy lawyers are highly qualified for managing certain legal matters directly or indirectly related to bankruptcy and debts. These lawyers play a very important role in the business world, especially when it comes to the banking sector. You can connect with them if you seek the right lawyer for bankruptcy or defend yourself for the same. A bankruptcy lawyer is considered the group of one of those legal experts who are highly efficient legal service providers.
Get Fast & Accurate official notarization for ICA, MOM, MFA.
Business or Corporate Law Attorney
The business or corporate law attorney is another but most important group of lawyers holding a great reputation in Singapore and always lead from the front when it comes to offering quality services to the Client. These lawyers manage only those contracts that take place between corporate or business entities and the incorporation. Additionally, they provide legal services relating to litigation and patent matters affecting corporations and businesses.
Civil rights Attorneys
Civil rights attorneys are categorized as lawyers holding great expertise in solving the issues concerning civil rights and helping all the respective Singapore citizens gets an in-depth understanding of their rights and duties. Such lawyers have pursued an education in Constitutional law, and their way of offering quality service is quite impressive.
Lawyers with these skills are well-equipped to defend their clients against discrimination and civil rights violations. Apart from this, they also have great experience defending gay and lesbian rights and several other types of human rights-related abuse cases.
DUI Attorneys
DUI attorney is the most special categories of lawyers who are always available to offer the respective legal services to the citizens of Singapore. A DUI lawyer serves as a defense for clients who have been charged with driving under the influence, whether it is due to drugs or alcohol.
These serious charges might send the suspect to jail for many years, and the DUI attorney is the only person who can take you out of this case. This type of lawyer usually handles the cases, including drink and Drive cases, felony DUI, aggravated DUI, and commercial DUI regulations.
Employment lawyers
The presence of a huge workforce in Singapore makes employment lawyers a very in-demand legal profession. Such lawyers manage numerous cases concerning employment rights. These rights include workers' compensation cases, wages and overtime disputes and discrimination against employees based on gender, age, etc. Besides this, these lawyers are also involved much in drafting the employees' benefits, such as absence leaves and retirement benefits.
Family & Divorce Lawyers
Among all the Singapore legal professionals, Family & Divorce Lawyers are the most friendly and important in the whole of the Singapore legal industry. These attorneys are essential to maintaining social order by providing amicable solutions for resolving family disputes.
And they play a crucial role in handling divorce proceedings by providing the best defense or case for their clients. They are also involved in the child custody and adoption process whenever they are asked to put their opinion on such matters.
Immigration Lawyers
For those looking to immigrate to Singapore, this type of lawyer is preferred. These lawyers have all the required knowledge concerning the immigration field and have studied all the immigration-related laws so that they can guide you better concerning the same. In addition to that, they can help you gain citizenship in Singapore by following the simple process.
Hire a Language translator for converting your legal & Other Documents.
Personal injury lawyers
These lawyers operate in Singapore and are dedicated to help you receive compensation for any injury you have suffered. With years of experience handling personal injury cases, the lawyers hold great expertise in this area ensures that you will be fairly compensated. Those injured in car accidents and sustained back knee, shoulder, and head injuries will be compensated for damages. Additionally, chronic illness, amputations, and burn injuries are covered.
The attorney will also help those who have suffered injuries on the building sites get a nice compensation for the damages. They will also be able to compensate you for repetitive stress injuries that have been done to you. This group of attorneys will ensure that you receive compensation if you have been injured at work.
Real Estate/Property Law Attorney
As the real estate industry has grown in Singapore, lawyers have become increasingly important so that tenants and landlords have their respective rights protected. However, such lawyers have provided quality services. These lawyers are basically involved in resolving the client's dispute concerning landlords and tenants.
As a result, by utilizing the real estate-related knowledge, the lawyers have helped numerous people resolve any misunderstanding among the neighbors regarding properties. The need for these lawyers also arises when it comes to signing contracts in the real estate industry.
Public interest lawyers
Public interest lawyers are sometimes also known as human rights lawyers, but their specialized field is different. They only take up the cases related to the public interest, including defending disability rights, environmental justice, and health justice. In many ways, they resemble charity lawyers, but they have a tremendous impact on the local public.
Criminal Defense Lawyers
As the name suggests, the criminal defense lawyer is the one who defends their client against the criminal charges. Some cases that criminal lawyers accept are crime, traffic ticketing, among many others. Having a criminal defense lawyer on your side when facing charges is vital as this can help in terminating the case or reducing the charges against the client.
These are the most crucial lawyers you will definitely find in Singapore. It is easy to find a reliable legal firm in this nation that offers top-notch services due to the legal industry being well regulated by reputable agencies. Any legal firm offering top-notch services in this nation is always running with the best-qualified professionals.
Conclusion
So by now, you might be aware of all types of lawyers and their respective fields of specialization in Singapore. Accordingly, choose the right lawyer keeping in mind the legal issues you are involved in. Several legal firms are always ready to assist you with the best lawyer according to your needs.
There is no doubt that you might feel the need for a legal document translation service to submit the petition in the Singapore court. In this situation, the team of Singapore translators has got you covered. We offer you a cheap translation service for all your legal documents.
No 1 Online Translation Services for Document & Legal Translations in Singapore.
---
---