Posted By Singapore Translators | Publised At 13/12/2021
Last Modified: 12
th
Oct 2023
The Vietnamese legalization of your Singapore document is required to prove that it is valid in Singapore and can be used in Vietnam. Among the many things, the process can be used for is obtaining a job, starting your own business, getting married, divorcing, registering a birth, getting a Vietnam work permit, buying or selling a property, among others.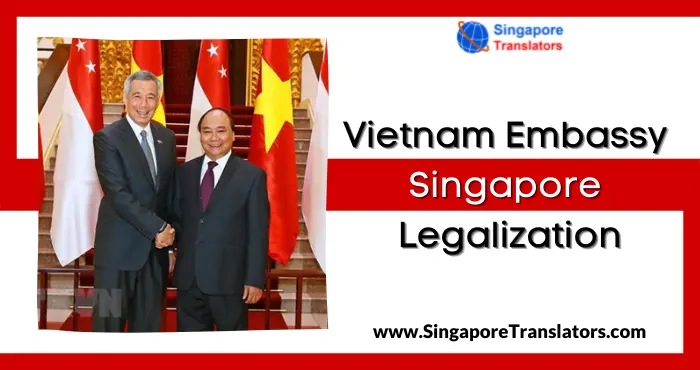 Vietnamese Embassy legalization
Vietnamese Embassy legalization, commonly known as consular authentication or certification, implies the consular practice ensuring the validity of the most recent signature on the seal attached to the document concerning the application submitted by the natural person, legal person, or any other organization.
Get Fast & Accurate official notarization for ICA, MOM, MFA.
According to the international practice and the consular practice organized in Vietnam, the primary motive of consular authentication is to make sure that the notarial deeds issued in one country holds the legal effect and are also held liable for getting acknowledged by the concerned authorities in the other country without any doubt of authentication.
Vietnam's consulates and embassies are responsible for legalizing notarized documents used in Vietnam.
The respective documents were first required to get notarization by the Singapore notary public and authentication by the Singapore Academy of law and notarized the Singapore Academy of Law.
In order to be valid, powers of attorney documents must be in English or dual-language (English and Vietnamese).
Required documents for Vietnamese Embassy legalization
You need to present the authenticated original documents.
The signed and completed legalization form.
If you need to acquire a printout of the required documents, you need to pay the additional charges for the same.
Processing time for Vietnamese Embassy legalization
It generally takes 5 working days to process the Vietnamese Embassy legalization, excluding submission.
Fees for legalization
Here are the following fees that will be charged for the legalization process:
The consular fee is 160 SGD for each document.
The service fee is 82 SGD for each document.
For all the fees, the prevailing GST will be applicable.
Delivery
Delivery of your documents:
In case you do not have enough time to collect the documents. No worries, the relevant authority will deliver the documents to your doorstep at the additional charge of SGD 10.00. However, you need to discuss everything about delivering the documents over the phone to avoid any confusion.
Conclusion
The above-mentioned details in the article might have cleared all your doubts and confusion related to fees, processing time, and legalization. If you seek Vietnam translation service within the timeframe and deadline, then Singapore translators can be the ideal choice for you.
Hire a Language translator for converting your legal & Other Documents.
---
---