Posted By Singapore Translators | Publised At 15/07/2021
Last Modified: 13
th
Oct 2023
Those individuals who intend to give birth in Singapore must get permission from the local sponsor. Here in this article, we have covered every detail related to the documents required and the procedure to seek permission to give birth in Singapore.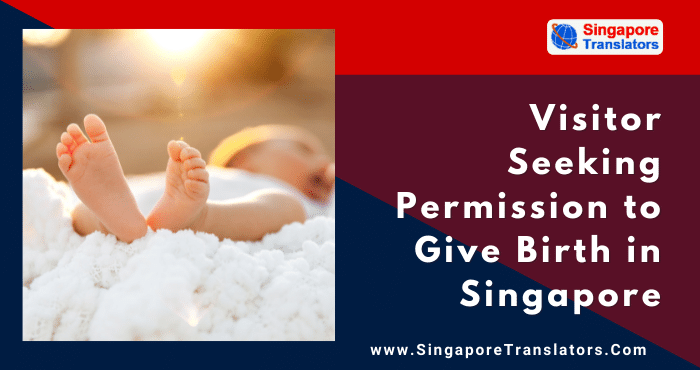 Visitor Seeking Permission to Give Birth in Singapore
If you are a female visitor and there are more significant chances that you might give birth to a child in Singapore itself, then in such a situation, you must first get permission from the local sponsor.
Get Fast & Accurate official notarization for ICA, MOM, MFA.
What are the Documents required?
Here is the checklist of the supporting documents that every foreign applicant (female) should have while getting the permission:
Documents need to be submitted by the foreign applicant (mother) who intends to give birth to a baby in Singapore:
Must have the photocopy of the biodata page of the valid passport
You should have a photocopy of the passport biodata page of the spouse with whom you're married.
You must have a disembarkation/embarkation card that you have received while applying for a visit pass to arrive in Singapore.
Must have valid marriage certificate if any
The foreign female applicants must have the document from the locally registered doctor that mentions the delivery date and provide information if there are any pregnancy problems.
You must have the letter from your country's embassy or High commission mentioning that the newborn child of the foreign applicant will only acquire the applicant's nationality, and the child will be issued with a valid passport or travel document.
A recent passport-size digital-cultured photograph of the applicant was taken in the previous three months.
Singapore citizens or Singapore permanent residents willing to sponsor the foreign applicant need to submit a valid Singapore identity card.
Note: Always remember to apply for a long-term visit past ten days prior to your Singapore visit pass expiry. As you know, without a valid visit pass, no visitors are allowed to enter Singapore. This means the foreign female applicant must have a valid visit pass throughout their stay in Singapore. Also, the applicant must hold a valid passport issued by their name. The name should match the name mentioned in the application form.
Our Translation services Singapore is one of the most reliable agencies that can give you the Importance of Translating Birth Certificate for Immigration or any other documents from the reliable translations agency like Singapore translators eliminates the chances of application rejection due to irrelevant translation.
What is Procedure?
The Singapore citizen or permanent resident sponsoring the foreign applicants must have a Singpass 2FA account to submit a long-term visit pass application online through the e-service.
Hire a Language translator for converting your legal & Other Documents.
Fees
The fee that needs to be paid is S$30 (non-refundable) for each application. Whether your application gets approved or denied, fees will not be refunded.
You can pay the fees using the following payment method:
The first way to pay the processing fees is through Visa or MasterCard credit/debit card or,
Another way to pay the fees is American Express (AMEX) credit card or,
The third way to pay the processing fees is Internet Direct Debit (DBS/POSB, OCBC, UOB and Standard Chartered Bank Internet Banking accounts in Singapore) or,
The final payment method to make the payment is through Pay Now.
Note: Upon approval of the application, you might be asked to pay the additional fees of S$60 for the collection of passes through the e-Service within 30 days after the approval notice.
Processing Time
The estimated processing time of a long-term visit pass application will take up to 6 weeks. It might take longer if ICA asks for some additional documents.
If your application is still within the processing time, then it's recommended to don't rush to the immigration and checkpoints Authority (ICA) to enquire about the current status of your application. Instead, keep yourself updated with the application outcome by regularly checking your registered email address. You also have the option to check the status of your application using e-service. In case your application processing time is taking longer than usual, then you can contact ICA.
Immigration and checkpoints Authority (ICA) might request some additional original documents or photocopies during the processing period. A sponsoring person might also ask to attend the interview along with the applicant. ICA will contact the applicant or the sponsoring person to schedule the interview and provide the additional documents if required.
Now afAs the proud parents of a newborn, you may be wondering how much it will cost to get their birth certificate translated.
FAQs
Does a baby born in Singapore get citizenship?
The child will be considered a Singapore citizen by birth if they are born in Singapore with either of their parents must be Singapore citizens and must be legally married.
However, a child whose father is a foreign diplomat who enjoys immunity in Singapore will not be granted Singaporean citizenship even if his or her mother is Singaporean. The gender-specific language of this clause allows an unusual scenario where a child born in Singapore whose mother is a foreign diplomat and whose father is Singaporean will obtain Singaporean citizenship by birth but not if the gender roles are reversed.
Additionally, if the child's father is a foreign diplomat who enjoys immunity in Singapore will not be provided with Singapore citizenship even if the child's mother is a Singapore citizen. Similarly, if the child's mother is a foreign diplomat enjoying immunity in Singapore and his/her father is Singaporean, he/she will acquire Singapore citizenship by birth.
If your childbirth certificate is misplaced or stolen, you need to apply for Birth Extract (Certified True Copy of Birth Certificate). Check the article on the birth certificate for additional details.
Can baby follow mother surname in Singapore?
The newly born child in Singapore will be given the surname of Father during the time of childbirth registration. However, in some cases, when the child is not the real child of the father, the father is not informant of the birth. In that situation, the mother's surname will be given to the child.
If you wish to change your child named on the birth certificate, then you must check our complete article on Alteration of Child's Name on Birth Certificate for complete details.
Does a child born overseas get Singapore citizenship?
That child that is born abroad will not be entitled to acquire Singapore citizenship automatically. Instead, parents will require registering the childbirth and acquiring a birth certificate where the birth takes place.
All the Singapore citizenship application needs to be filed online using e-service. Therefore, it is highly recommended that all parents prepare the required documents for submission if they are willing to acquire Singapore citizenship for the child born overseas.
How can I get a baby bonus in Singapore?
You can receive the baby bonus cash gift in five instalments within 18 months following the date of childbirth to offer sustainable support to the child parents. Your child will be entitled to a baby bonus cash gift under the following conditions:
If your child is a Singapore citizen,
If the parents of the child are legally married
How do I apply for Singapore citizenship for my baby?
Parents will be required to register with childbirth in Singapore and acquire the birth certificate where the child was born. In addition, all the Singapore citizenship applications for the newly born child will be submitted online through e-service.
Expats or itself a Singaporean wanted to know How Much Does It Cost To Translate A Birth Certificate? Some documents, like birth certificates are easy to translate, the fees of these documents or other might be varies from document to document. So, the price is also differently charged from each other. There is not a single price charged for all types of document translation, and charges are different for each translated document.
Where can I deliver my baby in Singapore?
Numerous hospitals in Singapore where you can deliver a baby that provides you with the best service:
National University Hospital (NUH)
KK Women's and Children's Hospital (KKH)
Gleneagles Singapore.
Mount Elizabeth Hospital Orchard.
Mount Elizabeth Novena Hospital.
Parkway East Hospital.
Mount Alvernia Hospital.
Thomson Medical Centre.
Why choose Singapore translators for birth certificate translation service?
Choosing a Singapore translator is one of the most reputed and well-established document translation agencies in Singapore.  Here you will get a guarantee of the plagiarism-free and accurate birth certificate translation service provided by the certified language translation experts. In addition to birth certificate translation, our translator offers translation of documents for immigration.
Accuracy & Authenticity:
The primary reason behind choosing a Singapore translator over any other language translation agency is the level of accuracy and authenticity provided by the translator's team at Singapore translator. As of now, Our professional translator has covered more than 200+ foreign language translations into English. In addition to this, we offer you accurate and quality translation service of all personal or legal documents, including a birth certificate.
Error-Free & Plagiarism Free Translation:
Error-free and Plagiarism Free Translation are two of the most important aspects that everyone should consider prior to deciding on a translation agency. Our skillful team of translators takes pride in delivering high-quality translation service without any plagiarism errors.
Editing & Proofreading Services:
The other greatest thing that you will notice in our language translation agency is that we always edit and proofread the translated birth certificate document prior to delivering it to the client.
No 1 Online Translation Services for Document & Legal Translations in Singapore.
---
---