Posted By Singapore Translators | Publised At 30/11/2019
Last Modified: 2
nd
Sep 2021
1870
You must be thinking about what Notary translation is and how it is useful in your lives. It is a document that is translated by a certified translator and notarized by the notary public or any legal professional. The foreign document which is not in the English language and also does not bear any sign or seal of authenticity is not accepted as a legal document at court.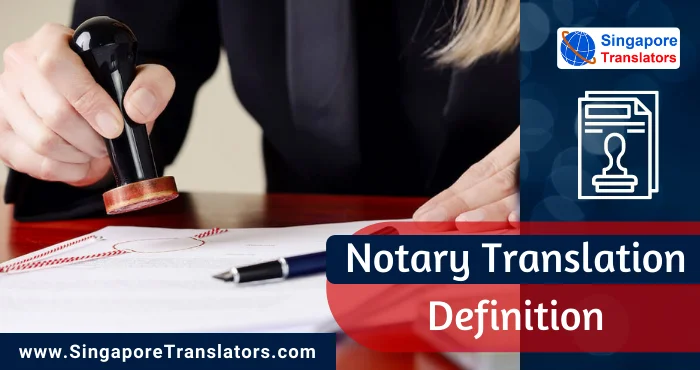 Thus, these documents must undergo notary translation by a certified translator and a notary public. Then only these documents will be accepted at court in Singapore. The services of a notary are required for legal documents for all kinds of legal and court activities. 
Notary translation of legal documents is done online in Singapore. Translation companies like Singapore Translators offers certified translation of those legal documents. Moreover, they also take care of the notary services after accurately translating the legal and other court-related documents.
Therefore, hire cheap and experienced translators at SingaporeTranslators.Com for accurate and notarized document translation.
Why Do You Need Notary Translation Services from Singapore Translators?
Peoples who are dealing with court cases and other legal work needs to get notarized translation for many reasons. Some of the reasons are discussed below:
Avoiding Errors in Translated Documents:
If you translate the document all by yourself it will not work out. Moreover, it will be worse and full of errors. So, it is better to get notary translation help from certified translators online. They will produce error-free notarized document translation which is suitable to be presented at court. 
Get Fast & Accurate official notarization for ICA, MOM, MFA.
Multi-Lingual Notarized Translation for Every Documents: 
A single person cannot provide a notarized translation of legal documents since he or she is not qualified and authorized for this. Moreover, they were also not well aware of multiple languages, cultures and language tones. Therefore, you must get translation help from certified translators who can help with translation of every type of documents including legal, immigration, educational, travel, business, etc in multiple languages. 
Notarization of Certified Translated Legal Documents: 
When you are going to present legal and court documents during the time of court hearing and other legal procedures, translation is not enough. You are also required to take notary services to certify the translated legal documents. Only then it will be accepted by the court as a valid legal document in Singapore. Thus, you need to take services of public notary translation in Singapore for all legal documents online from talented Singapore translators. 
Which Type of Documents Goes for Notary Translation?
Singapore translators offer notarized translation of only those documents which are to be used legally at court. All types of legal documents are offered notary translation at SingaporeTranslators.Com. These documents include a marriage certificate, divorce papers, driving license, educational document, passport, visa, birth certificates, power of attorney, wills, voice transcripts, evidence, legal contracts, etc.
Notary translation is offered not just in the form of papers. It is also offered in the form of images, email and text message screenshot, bill receipts and videos. All the mentioned documents are meant for court use so it is translated using the latest technology and advanced SSL transcription. 
How to Get Notarized Document Translation in Singapore?
In Singapore, you can get notarized legal document translation in two ways. These are:
Court Interpreter:
You can choose to hire a court interpreter, notary public or any legal professional to translate and notarize the court and legal documents. You can consult with them by making an appointment with them and visit their office. Appointment must be taken at least 4 weeks before the date of submission of the translated document at Singapore court.
Hire a Language translator for converting your legal & Other Documents.
If the document contains technical terms that are not understood by them then they will refuse to translate the document as well as notarize them. If you take notary translation services from court interpreter then it means that you have to shell out a large sum of money.
Moreover, it also includes continuous visits to their office regarding your notarized document translation requirements.  In addition to this, they do not have experience in translating documents in multiple languages. 
Private Legal Document Translator:
You can also choose notary translation services from private translators which is easily available online at various translation service providers in Singapore. You can hire them online who are qualified and experienced enough to fulfill all your notary translation requirements.
They translate the legal documents and also offer services of editing, proofreading, and revision to maintain the quality of the translated document. After the private translator finishes translating the legal document, it can be forwarded to the notary public who can notarize the documents like PR Application Translation. 
Moreover, if you take notary services from online private translators it is beneficial in many ways. You will get all the services online and not required to visit anywhere for notary translation of your court documents. All the communication, payment and delivery of the final translated document will be done online from the comfort of your home. These translators are also qualified in translating all types of legal documents into multiple languages. 
What are the Best Notary Translation Services of Legal Documents You Get Online?
SingaporeTranslators.Com is the best translation and transcription service provider providing translation and notary services of all types of legal documents.  
Following are the best services you will get:
All the notarized translated legal documents are termed valid and accepted at global organizations like MOM, ICA, LTA, global companies, educational institutes, and courts. 

The prices charged by the native translators are very less and is affordable enough to suit your budget. 

You will get the best-notarized document translation using the right language tone. Moreover, your work will be done and delivered to you within the deadline. Thus, you will get services of

public notary and ICA translation differences

at its best. 
Conclusion
Therefore, get the best legal and court document translation along with notary services online. Our native translators are always present to offer you accurate notary translation of legal documents only at SingaporeTranslators.Com
No 1 Online Translation Services for Document & Legal Translations in Singapore.
---
---