Posted By Singapore Translators | Publised At 10/24/2019
Last Modified: 31
st
Dec 2019
715
There are many people who come from all four corners of the globe to settle in Singapore and make it their second home. Those people who aspire to permanently settle in Singapore need to apply for an immigration certificate at ICA (Immigration & Checkpoints Authority). For this, they need to send their translated immigration supported documents to the ICA officials. If you too belong to that category, you must take ICA translation services.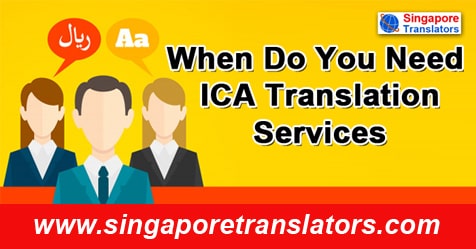 You must be thinking about getting ICA translation services. Often questions are popping up to your mind like "When do I need ICA translation services?" or "Why Do I need to take ICA translation services?" The answer is straight forward.
ICA translation services are needed for Singapore immigration. You need ICA translation services when your ICA supported documents are not in the English language. You need to translate all the documents in English because this is one of the official languages of Singapore.
If you have decided to settle in Singapore for a job or better life upgrade, you need to complete the immigration formalities by taking up ICA translation services. In Singapore, ICA translation services are taken when you need to submit immigration documents in English translation. There are various translation companies in Singapore that offer accurate ICA supported document translation services. One of the most popular translation companies is SingaporeTranslators.Com which offers accurate multi-lingual ICA document translation services.
 Why ICA Translation Services Required in Singapore?
ICA translation services are taken when you are going to migrate to Singapore. You need to translate ICA and immigration supported documents like identity cards, passport visa, work permit certificate, birth certificate, marriage certificate, academic & educational certificate, driving license, etc.
Hire a Language translator for converting your legal & Other Documents.
Since all these documents belong to the category of legal and official documents, certification and notarization are important after you translate these documents. Only top- quality translated documents with certification and notarization will be accepted by the Singapore immigration officials. Thus, ICA related document translation services are required from Singapore certified translators at top-rated translation companies like SingaporeTranslators.Com.
You must get the best translators to translate your ICA documents for immigration and permanent residency. Moreover, if these documents are to be used at courts or in government agencies like the embassies in Singapore; you need to translate it by taking help from the professional translators.
This is done because ICA accepts only those documents which are perfectly translated, sufficient and complete. Only the professional translators at SingaporeTranslators.Com have that capability to produce top- quality translated ICA supported documents which are also very affordable.
What type of ICA Documents Singapore Translators Translate?
ICA officials accept only those supported translated documents which are certified and notarized. Authorized and hassle-free ICA document translation is offered by the Singapore translators. These professional document translators are specialized in offering all types of exclusive ICA document translation.
Singapore translators offer to translate the following documents which are:
Court & legal documents, passport, visa, permanent residence registration certificate, birth certificate, marriage certificate, employment contract papers & letters, academic & educational certificates, clearance certificates from police, notary certificate, wills, power of attorney, personal documents like identity cards and driving licenses.
The Singapore translators also offer to translate financial documents like bank statements and business documents for business expansion in Singapore at affordable prices. The pricing of translation services for medical documents, student pass, etc by the Singapore translators is quite cheap and competitive in the market.
Finally, these are some of the ICA supported documents which are very important and are perfectly translated by the professional translators at SingaporeTranslators.Com.
What Is The Specialty Of ICA Translation Services at Singapore Translators?
The special translation services provided by the experienced translators at SingaporeTranslators.Com are as follows, which are:
Authorized Translation Accepted By Many Singapore Organisations:  All the translated ICA documents at SingaporeTranslators.Com are accepted by various Singapore organizations like MOM, ICA, LTA, Courts, etc.
Perfect Translation Management:  At SingaporeTranslators.Com, all the translators translating the ICA supported documents are managed by a dedicated manager. They finish the translation work within the specified period of time. Moreover, the experienced ICA translators are also hired by them on the basis of the translation project and as per their expertise and availability.
Hire a Language translator for converting your legal & Other Documents
Affordable Translation Cost With Timely Delivery:  If you want translation services in cheap price, it is available only at SingaporeTranslators.Com. Singapore ICA translation services are priced very reasonable here. All the translation cost charged is very genuine. The translators never charge for any hidden services or any other charges like handling and admin fees. Moreover, you will get accurate and high-quality cheap ICA translation services of your ICA documents within the deadline.
Conclusion
Accurate ICA translation services are very important to take especially at Singapore translation companies. If you submit accurate and genuine translated documents to the ICA officials, you can easily migrate to Singapore permanently. Even the immigration process will go on smoothly and successfully.
Therefore, hire Singapore translators to get authentic and instant ICA translation services from the renowned translation company – SingaporeTranslators.Com.
---
---