Posted By Singapore Translators | Publised At 08/02/2019
Last Modified: 31
st
Dec 2019
208
There are many students in Singapore who dreams to study in an overseas country. Moreover, other foreign students to have a desire to study their higher education degree in Singapore.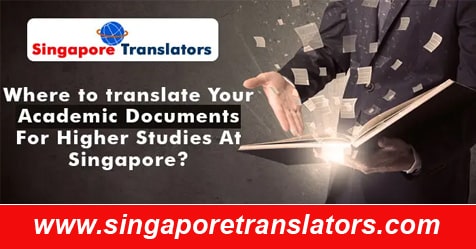 But students most importantly require certified academic translation services in order to get admission to colleges and universities in overseas countries. There are also other reasons as well where students need to translate their academic documents for higher studies in Singapore.
If you are concerned with the quality, there is a perfect translation company in Singapore where you can get to translate your academic document for higher studies in Singapore.
At SingaporeTranslators.Com, you will get native Singapore translators to translate all your academic documents which you require to get it translated to get admission at overseas colleges and universities. They are able to translate more than 300+ languages into the English language and vice versa.
Quality Translation of Academic Documents
In order to get admission to good foreign educational institutions, students might require getting certified translation of the entire academic documents at the most trusted place.
They also might be concerned about all the important details needed while getting a document translation from a particular translation service provider in Singapore.
Hire a Language translator for converting your legal & Other Documents.
The students might be anxious about how the translator will work out with the academic certificate. Moreover, students also have a thought that whether the foreign educational institution will accept the submitted translated academic documents or not.
If the Singapore students take help from the translation experts at SingaporeTranslators.Com, then they will get a good experience in translating all the academic documents.
Moreover, apart from decent translation services, they will also get a special facility of accreditation from the translators. The experienced Singapore translators provide high-quality ISO certified translation services where all the content in the document is translated in a significant manner.
Certified Services of Academic Certificate Translation by Native Translators in Singapore
When students aspire to take admission at a prominent college or university of repute foreign country, they would require some important documents. Students not only need to translate their academic documents but also need to translate personal documents also. This can be any type of documents which you will need abroad.
Passports, birth certificates, students' visas, and medical reports are some of the known documents in which you need certified translation services by native translators.
Moreover, these translated certificates must possess the certificate of accuracy since most of the educational institutions accept only accurate and certified documents.
If the students' desired translators are from SingaporeTranslators.Com then they have chosen the best one since these translators are quite fantastic and have years of experience.
They provide document translation for academics, legal, technical and medical for various individuals and companies. They provide translation as students preferred language with a higher level of accuracy.
The translation services from the Singapore Translators are very much favored by most of their clients in Singapore cities like Seletar, Jurong East, etc since they provide excellent document translation services at best prices. Moreover, they are also accessible for any kind of extra help round the clock via calls, texts, emails and chat at SingaporeTranslators.Com.
Issues Related With Translation of Academic Documents
In recent times, if individuals are seeking higher education or job in overseas countries then they must know that the application rules have been very strict.
The international colleges, universities or companies have been very strict in terms of determining the credibility and potentiality of the candidates. So, if individuals seek higher education and jobs in a foreign country then they must show proof of their educational skills and professional skills with precision.
Many countries have now begun to follow strict rules regarding the transfer of educational documents from one culture language to another. So, due to these reasons, all the documents linked to your admission at the overseas educational institutes must be translated very efficiently.
No 1 Online Translation Services for Document & Legal Translations in Singapore
0So, the dedicated local translators at SingaporeTranslators.Com act as the local translators for the students and professionals to provide them the best document translation. They translate their documents into the language of the preferred country they are going to study or work.
Education Certificate Translation Services in Singapore Can Fulfill Higher Education Dreams
Academic translation by an expert translator is very important if you have decided to move abroad for your higher education. Your application and admission procedure will only be taken further if you get your education certificate translated by an experienced native translator in Singapore.
When a foreign University admits a student from other countries then they have to take strict decisions on every aspect. So, when you provide them your translated academic document, then it is important that the translated document is extraordinarily spontaneous. It should be also clear and understandable to the admission officials of the overseas colleges and universities.
In this manner, it will be very easy for Singapore students like you attain their goals. In the same way, it also helps most of Singapore students to realize their dream of getting higher education in foreign countries.
Just like translating your academic documents for higher studies in Singapore, academic document translation is equally important if you are applying for jobs outside your own country.
If you are applying for an overseas job for the first time then you must also submit the translated copies of all your education documents. Any perfect translation of transcripts, diploma certificates or any other proof stating your academic achievement is enough to successfully apply and get a job in a foreign country.
Thus, at SingaporeTranslators.Com, the native Singapore translator goes beyond the basic transcription and translation of documents. They not only just translate it but also perfectly localize your document into the language of the country where you are migrating for a job or study.
Moreover, the translation of the documents by the expert translators is done in such a way that the target audience from the foreign country can read your document accurately without tampering the meaning of the original document.
Conclusion
Therefore, now you are informed regarding where to head for to get academic certificate translation services of your academic documents for higher studies i2 Singapore. At SingaporeTranslators.Com, you will get help from the professional translators which makes the job of translating documents easy and precise.
---
---