Posted By Singapore Translators | Publised At 04/12/2021
Last Modified: 12
th
Oct 2023
Now that you have thought about death and its aftermath, the most difficult part of the process is over. You have made clear your wishes, and your loved ones are well cared for in your will. But there is one last step to complete.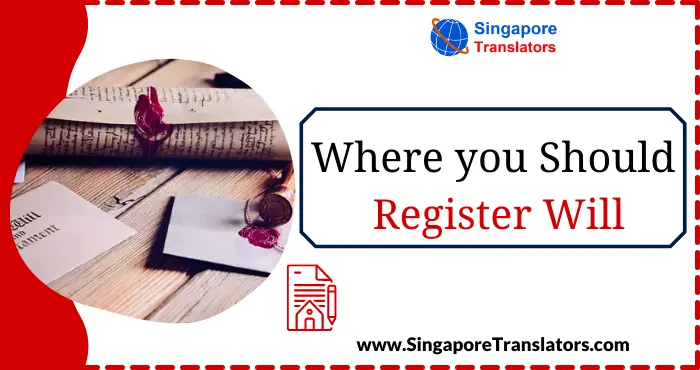 To make will go well in the right hands and properly executed, the executors should possess and have complete access to the drafted will to file in the Family Justice Courts for Grant of Probate. As a result, it has become extremely important to keep your will safe and secure and ensure it has access to your reliable executor.
What You Need to Consider
Safety should be the topmost priority when deciding the right place to keep your will. Since it is one of the important documents and especially for the sake of your child's future, you should choose the place wisely. It must be given in a safe hand or place so that it do not get tempered or destroyed easily. Tampered means illegitimate alterations, smudged ink, and even torn pages, which could lead to dreaded legal proceedings over the validity of your will. Your executor should also have access to your will after your death.
Get Fast & Accurate official notarization for ICA, MOM, MFA.
It sounds very strange when you come across numerous people who do not actually take care of their will and simply leave it at their home or office table. If you do so, not just your will might get misplaced, but it can also be accidentally destroyed under uncertain circumstances. For example, the caretaker of your house might throw the will considering it as a useless paper without keeping you informed regarding the same. In that situation, your executor may need to quickly search your home to look for the will, which could take unnecessary time and resources.
In today's world, you have other options for storing your will.
Will Custody
There are numerous professional will custody service options you can get in Singapore to keep your will safe and secure. A number of firms offer the option to store a digital copy of the will and keep the original inside a fireproof and water-tight safe. Using these services prevents forgery and tampering. They are priced at around $80 per annum for lifetime custody or $800 for yearly custody.
Deposit Boxes in Financial Institutions
The safe deposit box service is the second option you can look for in Singapore to keep your will at a safe place. Local financial institutions like DBS offer you a safe deposit box service. But unfortunately, this service is quite costlier since its rates are around $250 per annum for a small-sized box.
Choosing this service will only be worthwhile if you plan to store other valuable items in the box, such as expensive jewelry and title deeds.
Register Your Information at the Wills Registry
Now the final option is wills registry. This grants you to share all the will information with them, and this will help your loved ones to access the will even after your death.
The Singapore Academy of Law manages the Wills Registry. It provides those who make wills for a small fee ($50) with a convenient and safe place to store their will information. Don't worry about the system's deleted information after some years. Since this system retains the information for up to the upcoming 120 years following the date of birth of the person drafting the will.
Wills Registry keeps the following information:
Details about the person making the will
Date of the will
The person responsible for drafting the will
Details regarding the location of the will
Do note that your actual will not be kept in the registry.
The reason behind using the will registry is that your loved ones will be able to determine that you have drafted a will and get all the possible ways to retrieve your will. This applies regardless of where the will is kept at home, in a safe deposit box, or under custody.
Conclusion
So by now, you might have received the complete understanding of the right and safe place to keep your will and after your death your it gets into the right hand. Read each detail carefully. except this, you can contact Singapore translators in order to get proficient Court Orders Translation Services Singapore, translation services Singapore, Malaysian High Court Translation Services at Cheap Price.
Hire a Language translator for converting your legal & Other Documents.
---
---