Posted By Singapore Translators | Publised At 08/31/2019
Last Modified: 31
st
Dec 2019
145
Whenever you need Singapore translation services to translate a document, the first thing you do is hiring a professional translator to do the necessary document translation. Before starting the work of translating, the translator asks some questions from you regarding which type of translation you require.
They will ask if you need the document to be notarized certified and sworn.  Before, you are confused with these things you must clearly know about various types of translations.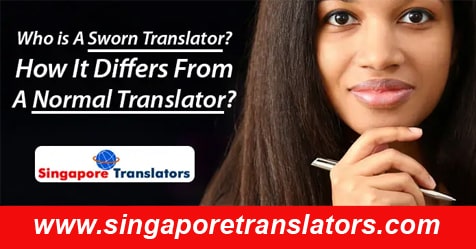 Moreover, if you are going to hire a sworn translator then you must know everything about it. You must also know how it is different from a normal translator. Additionally, if you are looking for such type of translators online then SingaporeTranslators.Com is the best option for you. Here you can get all types of translation services from the experienced translators.
Must Read:- Who Can Translate Legal Documents?
Who Are Sworn Translators?
Sworn Translators are those translators who perform the task of translation after taking oath in court. A sworn translator is also called a public, official, legal and certified translator. After translating the documents they provide authorized signature and seal. This is also regarded as an official document especially in case of immigration.
The documents translated by the sworn translator are absolutely genuine and has great value if you use it in foreign countries. A sworn translator is best needed to translate all types of legal documents. Moreover, they also have the authority to translate and authorize copyright certificates and documents of a company. All types of company-related paper works are done by sworn translators.
Who Are Normal Translators?
Any certified and qualified translators are called normal translators. These translators after translating document need to gather at the office of the notary and sign an affidavit. This affidavit is proof of showing the translated documents translated by them is just the original representation of the original document.
Hire a Language translator for converting your legal & Other Documents.
Though the normal translators cannot give authorized seal and signature to the legal documents, they can still do a legal document translation. Mainly, they are specialized in translating education documents such as mark sheets, transcripts of educational institutes and academic certificates.
How Are Sworn Translators Different From Normal Translators?
There are various reasons which make the sworn translator different from a normal translator, which are as follows:
A sworn translator when translates a document, they are not required to go to a notary public for authentication. The seal and sign of a sworn translator are only enough for proof of authentication and quality. Unlike this, a normal translator needs to go to the notary to prove authentication.
In the eyes of law in Singapore, the document translated and authorized by the sworn translator is treated as a legal document. It has the same value as that of an official document. But, in case of the translation services offered by the normal translator, it will be treated only as an official document unless and until it does not bear sign, signature, and approval from a notary public.
Forsworn translation, the translator only needs to be skilled enough to be an expert sworn translator. Their seal and sign are enough to make the document certified. On the other hand, every normal translator after translating a particular document needs a notary public to verify and validate the quality of the document translation. Once, it is verified by the notary or any government official, it is treated as the translated version of the original document.
A sworn translator needs to be an expert and a learned professional who has full knowledge of linguistics, legislation, and terminology. Their entire translation works are followed by a special code of ethics and strict rules. They use and follow a perfect agreement to format the page of a translated document. They are also recognized as an expert translator who can become an efficient legal expert. But, a normal translator can only translate a particular text of a document. They are not meant to provide authorization to the document.
A sworn translator is specialized in translating official documents such as birth certificate, marriage certificate, divorce notice and certificate, wills and property-related documents. On the other hand, a normal translator is specialized to offer academic translation services in translating academic documents, books, websites, etc.
The translation price paid to the sworn translator is quite expensive. Unlike the worn translator, a normal translator offers translation services at a very cheap price. You can professional and certified normal translators online. In Singapore, there are various online translation agencies that provide translation services at competitive rates. The most reliable and best one is SingaporeTranslators.Com.
Hire a Language translator for converting your legal & Other Documents
You cannot communicate freely with the sworn translators, but you can freely talk and tell about your requirements. The sworn translator can only translate the documents and they cannot improve or try to adapt it to the specific readers. But, a normal translator makes the document more accessible to the readers.
The normal translators deliver the translated copy in the form of hard copy, while the normal translators electronically deliver the translated copy in the form of e-mails.
Thus, these are differences between a sworn translator and a normal translator. You can choose any one of them for your translation task on the basis of your requirements, needs, and purposes.
Conclusion
Now that you have been informed about who is a sworn translator and who is a normal translator. You have also been informed about the differences between these two translators. If you want a sworn translator then you can visit their office for discussing translation projects.
Moreover, for normal translation, there are various online translation agencies like SingaporeTranslators.Com who can offer the best and timely translation services in all over Singapore. Moreover, if you want Korean translation services, you can hire Korean translators from SingaporeTranslators.Com.
---
---