Posted By Singapore Translators | Publised At 09/18/2019
Last Modified: 3
rd
Jun 2022
1032
The mode of translation to spread business is done by Google Translate and certified translation service providers where professional translators do the translation. There has been constant debate regarding which are the best – Certified translation services or Google translate. You must know that apart from in-depth translation, the certified translation service providers also offer services of editing, proofreading, and revision to ensure flawless translation.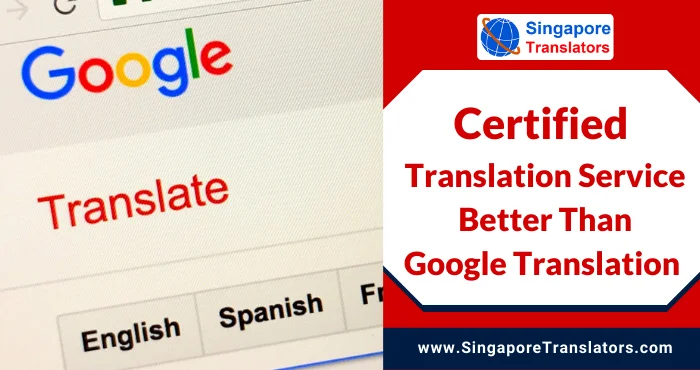 On the other hand, Google translates just do word to word translation. So, let us check out which is the best to offer translation services – Certified translation services from professional translators or Machine translation by Google Translate.
Importance of Online Certified Translation Services in Areas of Business
When you have a sprawling offline business in Singapore you can even promote your business online too. The best way to promote your business online is via creating your company or business's website where you can list all the products and services offered by your company or firm. You can even post ads or advertise your businesses on various websites with effective content describing what all your business is about and what you can offer to your customers.
In this way, you are able to get the attention of many probable customers and clients.  On the other hand, if your company websites offer details and information about your products and services only in your native country language, the customer crowd will not be that big. If you want customers and clients from other countries as well to know about your business then you must get certified translation services in multiple languages.
This is done to attract more clients and customers to spread your businesses in other countries as well. People using the Internet in other countries will able to know about your businesses. Thus, it is up to you what path you choose to translate your business and marketing documents in online. It can be either certified translation from professional translators or just word to word translation by Google Translate.
Important Tip:- Any Random Translation Services Hired For Business Expansion Can Be Harmful
Certified Translation V/S. Google Translate
Most of the businesses in Singapore lookout for cheap and reliable translation services.  Some business organizations think that it is easy to get a translation of all business promotions and website content with the help of Google Translate. This is just a simple word to word translation with no services of editing, proofreading or plagiarism checking at all. In addition to this, certification is out of the question to let alone the quality of translation. On the other hand, certified professional language translators in Singapore are professional language translators who offer personalized business translation in multiple languages. They are also specialized in the translation of multiple languages without any kind of difficulty.
Get Fast & Accurate official notarization for ICA, MOM, MFA.
Though Google translate does a free translation but is also associated with various drawbacks too. It is a machine translation mainly and human translators have no place here. You will just have a word to word translation of the text into one language to another language as per your language choice. Though it is absolutely free of cost, you cannot simply depend upon it for online business promotion.
What is The Difference between Certified Translation Services and Google Translate?
There is a huge difference between the translation services offered by the professional translator from a certified translation company and the Google Translate. The differences are discussed as follows, which are:
Mode of Translation: If you take certified translation services from the professional language translators, they will provide accurate translation without changing the information of the background.  The services of professional translators are not done by machines instead they translate it with the help of their skills. On the other hand, though Google translate is done online but it purely machine-based. It is operated by a computer. You can drag the chosen text and paste it into the box and choose the language which you need a translation in. This translation will not be an accurate one and will have lots of mistakes and errors.
Skills:  Google Translate only does word to word translation with no extra services. But in the case of professional translators offering certified translation services, you will get only quality and accurate translation of all your documents and website contents of your company's products and services. Moreover, editing, proofreading, and revision are also done by the professional translators which Google Translate cannot do at all.
Explanation of Background Information:  Professional translators from certified translation service providers can perfectly translate the document by providing a perfect explanation of background information and details of the original document in another language. They can perfectly explain all the content of the documents like medical documents, legal documents, academic documents, business promotion websites, product broachers, etc in another language. The translators at certified translation service providers have high skills and knowledge of various terminologies in each field. Thus, all these things make a professional translator provide the best translation and Google Translate is lagging behind in offering quality translation.
Multi-lingual Translation: The free translation services of Google Translate are very limited. They can also provide the wrong translation which can cause the wrong result. If it is a medical document or a business document, any wrong and inaccurate information can lead to a disaster. Moreover, Google translate offers translation in limited languages and uses less vocabulary. On the other hand, certified translators from professional translation companies can offer translation in more than hundreds of languages. Even they have full knowledge of various vocabularies used in varied languages.
Must Read:-Type Of Certified Translators Help Required In Translating Official Documents?
How Certified Translators Offers Better Services Than Google Translate?
You know that certified human translators have more caliber than the machine-based computerized Google Translate. You would usually prefer to take translation services from the human translators at professional translation companies that provide certified translation services. In Singapore, you will get the best translation with proficiency only at translation service providers such as SingaporeTranslators.Com.
Now let us check out how certified translation professionals offers better services than the machine translator called Google Translate. These are as follows:
Hire a Language translator for converting your legal & Other Documents.
A professional translator from the certified translation service provider can translate over 200 languages while Google Translate is limited to only 103 languages.
A professional translator translates keeping in mind about the cultural difference between the two languages. But Google Translate does the only word to word to translation.
Google Translate offers translation of text content only. But it lacks understanding of the original language. This will result in making errors, mistakes and inaccurate translation. But, professional translator before translating the text understands the context. They also translate the text using perfect and accurate grammar.
Conclusion
You cannot deny that Google Translate offers translation at free of cost. Sometimes free of cost services can also harm you if the quality is not at all maintained. Google Translate does word to word translation without understands the background information in the target language for translation. This leads to inaccuracy, misunderstanding and even distress.
No 1 Online Translation Services for Document & Legal Translations in Singapore.
Thus, it is clear that instead of Google Translate you must choose professional translators at various certified language translation service providers to offer you translation services. One of the reliable professional translations is offered by SingaporeTranslators.Com at great pre with full accuracy and proficiency. Thus, get connected with the translators soon at www.singaporetranslators.com.
---
---