Posted By Singapore Translators | Publised At 08/03/2019
Last Modified: 28
th
Aug 2021
1020
Certified translation of one language from another language is a very tricky task in Singapore.  Moreover, when you are listening to a voice recording and then translating the recordings into a script of another language is also very difficult for non-experienced people. So, this is the reason why it is important to hire an expert and native professionals from Singapore for translation services.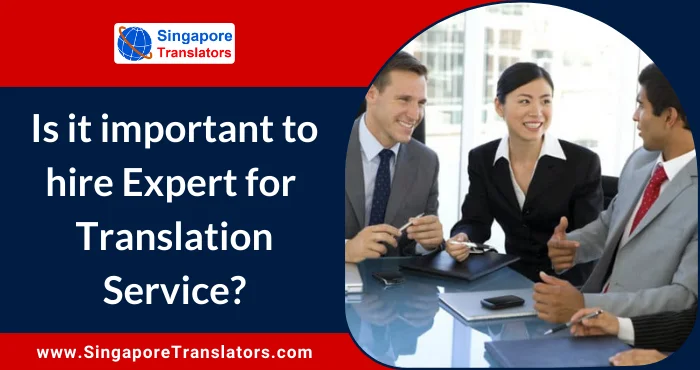 The translation must be done with precision and this can be done only through an experienced translator in Singapore. If you have a business and are dealing with international clients then it is important to let the professional translators handle the translation works related to all the company deals with the clients.
The chosen translator must have a new level of professionalism and accuracy. If you don't hire a good translator soon, you may be saving some extra few dollars. But what you are losing is business quality.
Moreover, you are just pushing your business backward instead of taking forward. However, here are the few reasons which will help you hire the best translation professionals if you want to let your business grow even in the international markets.
Importance of Hiring Experts for Various Translation Activities
Being Observant To Correct Culture:  A document, voice or video translation must not only be grammatically correct but also should be properly translated into the language culture too. When you are hiring a translator for a particular translation purpose, you must keep in mind that the chosen translator should be well-educated and proficient in the target languages.
The Singapore Translators must also be proficient in the language culture along with its various dialects. For example, when Procter & Gamble has launched Pampers diapers in Japan, they did not have success in the first place.
Get Fast & Accurate official notarization for ICA, MOM, MFA.
This was because the US-based diaper company has promoted the product with the picture of a stork giving baby on a diaper packet which has confused the Japanese audience.
Later on, Procter & Gamble realized that as per the Japanese folklore, babies were delivered on giant floating peaches. Thus, to avoid any kind of cultural differences you must hire a translator who has full knowledge about the target audience's language and culture. If you do this then it will never allow you to make mistakes.  It will also avoid you causing insult to the audience of that language and culture.
Maintaining Consistency: It is important to maintain consistency, especially in the business world. If you own a business, then consistent work and consistent communication are equally important to successfully run your business.
If you want to have good business relations with your international clients in Singapore then you must need consistent professional translators to keep your business consistent.
For example, when America's famous fast food outlet called KFC entered the Chinese market with the slogan "Eat Your Fingers Off" which was not accepted by the Chinese people.
Later on, the slogan is "Finger- Lickin Good" which was accepted all over the world including Japan. This shows that even big companies need proper translation services and they cannot escape without getting translation help from the translators.
Most of the big companies while launching their product need to promote various languages across various countries. This is done so that the product reaches to various parts of the world and also delivers this consistent message. However, the best translators will work with the same team until the end of the entire professional translation services to show consistency.
Knowledge Of Special Terms: A good translator must be aware of various special terms and terminology of the target language they are translating. Sometimes problems arise when translators are given to translate technical terms. It happens in some companies that the staff who considers themselves fluent in a certain language takes up the translation job.
Hire a Language translator for converting your legal & Other Documents.
But they cannot show fluency since they are not used to the complex terminology of that second language. So, when it comes to business or corporate translation, one needs help from a professional translator who is specialized to cover the translation of complex words and terms.
If you want a translation of technical manuals, legal papers or marketing papers, etc where special terms and terminology is present, it best to get professional translators to handle it. They will positively give accurate translation within a short period of time.
Get Benefits Of Translation Memory:  A good translator makes the uses of translation memory who have worked with a particular company for translating their document which is full of terms and phrases previously. This is the database of terms and phrases which are translated previously. If any translation project comes which has those terms, then it is very easy for the translator to do their work effectively.
They can save their precious time and check the database for translating terms. In this way, they can save time while working with the same client. Moreover, this will also lead to increased revenue. In addition to this, if your translator makes the use of translation memory then it can also cut the cost incurred in the translation service.
This happens since terms are already translated and localized earlier. There are many companies such as SingaporeTranslators.Com who never charge for delivering stored content.
Thus, these are some of the key aspects which you must know while taking translation services from expert translation professionals. Thus, it is evident that hiring professionals for translation are very important. Therefore, if you want translators for your business and also for your business relations outside your country, then it is the right decision you have made.
A professional translator who addresses all the translated documents shared between you and the company belonging to another country will save you from cultural blunders. They will also help you to avoid any potential embarrassment in the near future. In this manner, you will able to build a very healthy business relationship with your foreign client.
No 1 Online Translation Services for Document & Legal Translations in Singapore.
Conclusion
Therefore, now that you have known how it is important to hire expert translators to handle the translation job. So, you can contact SingaporeTranslators.Com for getting wide varieties of translation services. You can count on the expert help of getting cheap translation services from more than 300+ translators who are proficient in over 80 languages.
---
---