Posted By Singapore Translators | Publised At 22/07/2021
Last Modified: 13
th
Oct 2023
In Singapore, employers must pay their foreign employees a minimum salary in order to be eligible for a work permit. This is also known as the "minimum salary threshold". The rules around this requirement vary depending on sector and occupation.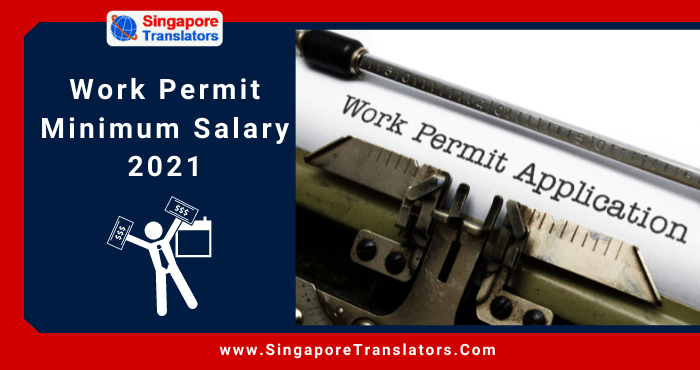 However, if you wish certified translators to translate ICA documents into English and increase the chances of your application getting approved. Then quickly contact Singapore translators and take benefit of better quality translation.
Minimum Salary requirement for Employment Pass Holders
Singapore Authority, i.e., Ministry of manpower, recently declared that there would be a rise in the minimum salaries of the foreign professional workers and mid-skilled workers.
In Singapore, employers must pay their foreign employees a minimum salary in order to be eligible for a work permit. This is also known as the "minimum salary threshold". The rules around this requirement vary depending on sector and occupation.
Get Fast & Accurate official notarization for ICA, MOM, MFA.
The most recent update in salary requirements was declared on Friday, Feb 18 Budget speech the minimum qualifying salaries for new Employment Pass (EP) and S Pass applicants will rise by S$500 from September. Here's what you need to know about the new minimum salary requirements for 2023.
Starting now, the minimum salary to apply for an EP will be S$5,000 instead of the current S$4,500. For those in the financial services sector where starting salaries are already high, this new requirement will be S$5,500 instead of the old amount of $5,000.
Mr. Wong said that the qualifying salaries for older EP applicants, which go up incrementally with age, will also be raised concurrently. For renewal applications, these changes will take effect from September next year to provide businesses enough time to adjust.
The minimum qualifying salary for new S Pass applicants will go up to S$3,000 from the current S$2,500. In the financial services sector, a higher minimum qualifying salary of S$3,500 will be introduced.
Mr. Wong said that the minimum salary for new S Pass applicants will be raised in September next year and then again in 2025.
However, the Singapore government has introduced even higher minimum salary requirements for employment in the financial service sector. Singapore ministry also declared that S pass job opportunity would be addressed only to the fair consideration framework (FCF) advertisement requirement.
This requirement is mainly introduced to make sure that such type of job is offered to the local candidate. However, it can also be offered to the foreign candidate only if there is no local candidates who get qualified or want to work at this job position.
Why qualifying salaries are changing?
Singapore government requirements for issuing work passes in Singapore are updated from time to time to fulfil the hiring requirements of Singapore-based companies and provide specific employment opportunities for local candidates.
After that, the Singapore government has monitored the impact of the Coronavirus pandemic on the domestic and global economic situation to check if any further update is required.
As a result, several business sectors have been opened again; the continuation of business activities has been uneven and is also expected to remain the same in the upcoming future. However, employment has also been decreased in some sectors. In contrast to some other sectors, there is a greater shortage of skilled manpower, which negatively impacts business growth and recovery.
Considering all the situations, the Singapore authority has decided to update the minimum salary requirement for the employment pass (EP) holder and S pass holder. These complement the extension of the job support scheme and the establishment of job growth incentives, earlier declared.
In short, these salary requirement changes provide significant support to attract several businesses expand local employment along with the comprehensive measure which supports local job seekers to secure meaningful work.
Higher salaries in the Financial Services sector
Singapore authority has recently updated the salary requirements for all the sectors of the economy. It is the first time that the Singapore authority has established higher salary requirements for the specific job sector.
Though, it is said that the salary requirement in the financial industry has always been higher when compared to other industries. The reason behind the high salary requirement in this sector is that the industry has more interest in hiring local job seekers with suitable qualifications.
So, if you are an applicant seeking to apply for a job in the financial services sector, then you must be aware of the new salary requirements declared by the Singapore government.
It is important to note that the higher minimum salary requirement will be applicable from September 2021 and September 2025 respectively for EP and S Pass applications. Therefore, it is advisable to start preparing for such job positions as soon as possible.
And, also ensure to meet the qualifications required for the job and submit your application beforehand to make sure that you can get a competitive salary. With this new requirement in place, employers will have more confidence in hiring local candidates and creating more lucrative jobs opportunities for Singaporeans.
Fair Consideration Framework (FCF)
The fair consideration framework has introduced criteria for all Singapore employers to provide the country's local workforce with fair consideration for available employment opportunities.
In these kinds of jobs, Singapore employers cannot discriminate against any local applicants based on several characteristics that are not related to employment, such as nationality, gender, age, or race.
According to the fair consideration framework (FCF), it has been said that every Singapore Company should be fair enough in the candidate selection process and properly check all the documents to select the particular candidate over others.
Previously, the fair consideration framework asks the employers to upload the job requirement on My Career Future (MCF) to inform local job seekers regarding the available job positions.
The new announcement done by the Ministry of manpower involves the following two changes:
Expansion of fair consideration framework job advertisement criteria to all S passes applications
Ministry of manpower planning to extend the fair consideration framework advertisement criteria to S pass application which was submitted after 1 October 2020. This is a great initiative taken by the Ministry of manpower to provide several job opportunities.
However, this will significantly create awareness among local job seekers and require Singapore employers to make more efforts to consider local candidates.
The minimum fair consideration framework (FCF) job advertising time for employment pass and S pass application will get doubles to 28 days.
In order to give extra time to local job seekers to respond in regard to job vacancies and Employers to properly check the applications, the minimum time for FCF job advertising for both the application will get extended from 14 days to 28 days. These new changes for new EP and S pass applications will be implemented from 1 October 2020.
Additional considerations for EP and S Pass applications
Besides the previous salary requirements which were applicable for all the Singapore companies to hire employment pass applicants and S passes, the Ministry of manpower decided that they will give more attention to determine EP and S pass applications no matter employer:
Has Discriminated foreign workers over the qualified Singaporeans
Has taken the help of local Professionals, Managers, Executives, and Technicians (PMETs) in their employment; and
Has been responsive towards the government efforts to support, train and hire more Singaporean Professionals, Managers, Executives, and Technicians (PMET).
Impact analysis for current EP and S Pass holders
Changes in the minimum salary criteria will have a minor impact on present S pass an employer pass holder, as the new changes in salary requirement are only for minimum salaries. Apart from this, Singapore companies willing to sponsor S passes and employment passes for their employees must provide increased monthly salary if their work visa gets approval from the Ministry of manpower. For example, the company suggests applicants applying for employment passes that their proposed minimum monthly salary should be S$8,000.
New family visa rules for intra-corporate transferees
According to the new changes introduced by the Ministry of Manpower (MOM), foreign workers of multinational companies who are promoted to the Singapore-based company's branch, subsidiary, or affiliate as an Intra-corporate company transferee (ICT) and holds valid employment pass. However, in some situations, they might not be allowed to bring their family members or spouse with them through a Dependent pass or long-term visit pass (LTVP).
Hire Singapore certified translators for MOM Related Documents
We hope after reading the above article, all your doubts related to the latest minimum salary criteria 2023 might have cleared, and if you are preparing to get employed in Singapore based company, then make the strategies accordingly to avoid rejection.
You can even hire our certified freelance translators to get any type of translations at affordable cost. With the help of freelance translation, you can avail of translation from your home. There is no burden of any work and you can request according to your schedule without any pressure.
Besides this, to acquire accurate and quick work visa translation or any other immigration document translation service, you can choose Singapore translators. Our professional translators have more than ten years of experience in providing Singapore translation services. So quickly connect with us to acquire the best translation service.
No 1 Online Translation Services for Document & Legal Translations in Singapore.
---
---