Burmese Translation Services Singapore is the finest service supplied by Singapore translators. We work with 500+ language professionals who will translate your document in just 24 hours.  We guarantee you effectiveness & high quality of any translation undertaking at low translation service cost. Grab English to Burmese translation service or vice versa in just few clicks.
You can translate any type of document with Singapore Translators
Financial proposals
Loan documents
Company documents
Ownership transfers
Guarantee documents                                                                                                                                                               
Burmese Translation Services Singapore offers translation for various documents like –                                                                                                                                                                                             
 Birth Certificate
Driving License
Court Orders
Divorce Certificate
Academic Papers
Marriage Certificate
Death Certificate
Academic Degrees & Certificates
Employment Pass, etc.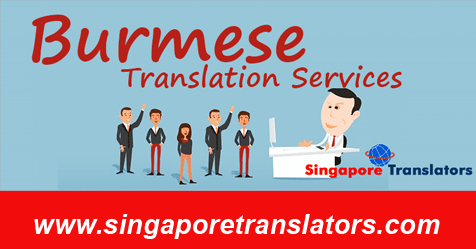 Burmese Translation Services Singapore by 500+ Professional Translators 
There are numerous instances where you may need authorized Burmese Translation Services Singapore for documents that you are presenting to some of the authorized institutions inside Myanmar. An authorized translation is a translation made by a Burmese translator. They are an expert translator and have official approval that completely conversant in both languages. This is because the translation has similar legal value as the source manuscript and should fully translate the source document.
For outstanding Burmese Language translation services, look no further than Singapore Translators. We draw from a group of over 500+certified native translators who can offer the highest-quality Burmese translation solutions on time and at affordable prices.
Moreover, Singapore Translators is the major language services supplier to be fully certified, ensuring that all of your Burmese translation jobs will constantly meet the most stringent standards for quality and precision. Contact Singapore Translators for a free quote on Burmese translation or some other combination of translation and associated business services.
Highest Quality and Certified Burmese Translation Services Singapore
It's been confirmed that one way to professionally engage global customers through quick and accurate document translation services. Having your websites, commerce documents, training materials, and marketing collateral efficiently translated in Burmese, which is linguistically and culturally exact, can go a long way in building up your company's brand personality.
Hire a Language translator for converting your legal & Other Documents.
This is why you require Singapore Translators, a language business leader for on-demand and expert English to Burmese translation services across all content channels and strategy. We patented on-demand Myanmar translation solutions to let our clients get quality language services in real-time 24/7, helping them beat their rivalry and get ahead faster in the Myanmar market.
Our company employs several of the most qualified specialized native linguists and subject matter experts in Myanmar and support them with our AI-powered localization computerization technologies to create the ideal machine-human Burmese translation solutions.
We provide Burmese Technical Translation Services
Technical translations are a specialism at Singapore Translators. We are standard suppliers of translation services for main Japanese household appliance manufacturers, automotive manufacturers, etc. From customer products to professional products, gas & oil, heavy machinery, light machinery, plant gear, and engineering processes, Singapore Translators has the precise translator and translation tools to effectively translate into Burmese.
How We Provide Burmese Translation Services Singapore
Singapore Translators' Burmese translation procedure is all about simplicity, speed, & service. We know the fact that enterprise customers often have basic translation requirements such as plain text, simple Word papers, and press releases that, with the exclusion of the language-translation job, can be effortlessly processed routinely without human intervention.
Manual tasks such as file study, quotation preparation, and invoice/billing can now be streamlined and automatic using our AI-powered, online translation management system. This self-service model is quick and cost-effective but still delivers the best human translation services.
At the same time, we also recognize our customers have more difficult Burmese translation requirements such as software localization, multifaceted documents, videos/voiceover, & API integration with CMS systems. For these needs, Singapore Translators provides full-service solutions that bring the best client experience.
Get Fast & Accurate official notarization for ICA, MOM, MFA.
On average, 80% of venture Burmese translation projects can utilize our self-service models to attain efficacy and cost savings. On the other hand, the remaining 20% go through our customary project management procedure for the most excellent business outcome. Our company also provides French Translation Services Singapore.
Why Choose Singapore Translators for Burmese Translation Services Singapore
We have wide-ranging familiarity in translating all kinds of financial papers and can translate English to Burmese accurately and rapidly. It is significant when translating financial papers to preserve the format or to use an approved conversion format so that the receiving power will be certain that the translation precisely reflects the original.
This can be very significant, and in some situations, documents that not efficiently translated or poorly translated rejected. This can add expenditure and time to the financial procedure.
Time-Tested Burmese Translators
Burmese the major language of Burma also officially known as Myanmar. It is spoken by over 30 million persons as their mother tongue, & as a second language by several nationals of Burma. All our professional Burmese translators are local speakers of the language. They translate as per the newest translation certification standard. And also translate in expert fields and across a different range of sectors in the Burmese language.
Certified Burmese Translations
As a leading provider of flawless Burmese translation services, we work hard to bring value for money. Our low charges reflect our promise to deliver authentic, across the board affordability. Thousands of worldwide clients trust our fully certified Burmese Translation Services Singapore. We can generally process your passports, marriage, birth, and educational certificates within 24 hours.  Our company can also provide you with Cambodian translation services as we have a pro-Cambodian translator in our team