Choose Singapore Translators if you are looking for certified Business Translation Services in Singapore for the purpose of ICA officials. We are popular translation services in Singapore working with 500+ professional translators over 200 languages like Malay, Chinese, Thai, Korean, Japanese, Spanish, etc at a low translation service price.
You can translate any of your business document with Singapore translators like – 
Transnational documents
Business Creation Documents
Compliance & Regularity documents
Business Insurance
Business Reports
LLC
Business Legal Translation Documents –
Patents
Trademark Filings
Registration Documents
Regulations &  Laws
Technical Documents, etc.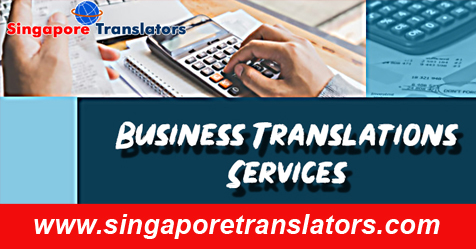 Professional Business Translation Services in Singapore
Global businesses and multi-national associations rely on Document translation services to communicate, increase sales, and manage day-to-day operations. It is critical that business papers and posts be well-written and evenly significant that they are well-translated and communicate the planned message.
To that end, Singapore Translators offers business translation services provided by a knowledgeable team of translation experts. We recognize the confront facing worldwide businesses in today's very regulated and viable marketplace and the significance of getting corporate communications right. From monetary reports to contracts & agreements, many companies trust Singapore Translators to offer business translations that are precise, culturally relevant and correctly formatted. We ensure proper localization for the target spectators and takes into account neighbouring linguistic preferences and your preferred business terminology.
Today, many businesses are turning their attention to the internet. These companies need a desktop publishing service that can create custom brochures and other printed materials quickly for an affordable price without compromising the quality of work or waiting weeks before seeing any kind of result.
Business Translation Services Are the Key to Global Business Growth
As business is becoming more and more global, business translation is very significant for any corporation aiming to work at a global level. However, business cultures still differ from one nation to another in terms of standard practice, prospect, manners, & styles of writing.
The way to close a business deal in Japan is not unavoidably the similar way to close a deal in the USA, which means that our business translators and proofreaders require familiarity of the business civilization of both countries: where the text to translate comes from, & where it is going to be read.
Business Document Translation – A Matter Of Credibility
An excellent business plan is significant for financing, for finding partners, & for securing investors–in short, your business plan is necessary for the potential success of your corporation. If your plans include going worldwide, are you prepared to present your objectives in remote nations where you don't speak the words?
How will you converse with new partners and endorse your corporation to prospective customers who speak Spanish, German, or Japanese? These global investors and executives can speak a little English, but aren't you more likely to get their favor and belief if you offer business documents translated in their local tongue?
Characteristics of Top Business Documents Translations Services
Localization of substance, in terms of translation services Singapore, needs considerable familiarity on the part of the translation experts. Top translations companies are capable of offering their patrons with all way of translation services for the timely, dependable, accurate and contextually right translation of business documents. Most of the times this kind of service will be accessible via software programs; another consideration to remember is that of the charge of the translation services package.
Get Fast & Accurate official notarization for ICA, MOM, MFA.
A corporation should usually not be chosen on cost alone as this may offer a skewed representation of its excellence. It is a clever practice to do a little study into the costs-per-translation by the leading online translations companies. The charges are significant, and most of the times the software will be capable of translating similar phrases, concepts and papers automatically – offer the context are clearly understood. The rate of translation is one more consideration. Among the top service professionals, fast translation of material is the standard. But pace must not take the place of quality. The latter attribute must never give up.
The world's finest translations services companies do significant work in several areas including the likes of the following: desktop publishing/translations services and document translations. Numerous of the top translations services offer added value in the form of Standard English writing services. This latter part is an effectual way of considerably reducing translation costs. The top translations services cater to all kinds of businesses, from small businesses to medium-sized to government level business.
Steps to Global achievement
We have built an extremely knowledgeable team of professional linguists & subject matter professionals to assist translate your business papers with the top level of quality & speed in over 100 languages. We are the top language translation services provider in the industry.  Just send us the papers or upload them to our online portal to get a real-time estimate. Upon your authorization, translations will start right away. We can provide most business document translations in 24 hours or less.
500+ Dedicated Translators
To make sure the most excellent technical accuracy and linguistic constancy, the Singapore Translators model is to build a devoted team of linguists with both language translation knowledge and the precise subject matter proficiency to match your company's business needs. We also occupy terminology management solutions and translation memory expertise to help our linguists create quality results continuously. Singapore Translators translate a variety of business documents counting financial reports, contracts & agreements, annual reports, training documents, and websites. And here is the industries we deal with:
Agriculture
Arts & Entertainment
Construction
Education
Financial
Food & Beverage
Government
Health & Medicine
Legal
Media & Communications
Real Estate
Tourism
We keep your private data secured
Having an expert grasp of the linguistic touch in contractual matters provide you with the upper hand – and can even be vital in ensuring that your firm remains compliant with the web of the system in foreign markets that you might not have considered. We are proud to present a complete, all-in-one service. We leave no stone unturned to treat your global headaches.
Hire a Language translator for converting your legal & Other Documents.
Our expert recognizes the threats that infuse each step of a multilingual supply chain. We have proactively pioneered measures to defend your assets in this weak sector. To offer assurance, we have adopted a controls-based approach to make sure we conform to the top standards of information safety in the language services business – in fact; we were the first expert language services supplier to have attained certification under the international standard for data safety.
FAQs
Q1. What sort of accuracy does your business translation service provide?
We are dedicated to providing you with the most accurate translation business translation service without compromising with the deadline specified.
Q2. What quality does your business document translation service possess?
At Singapore translators, we offer you high-quality business document translation service without delaying the deadlines. We have highly certified translators holding great expertise and knowledge in delivering quality translations.
Q3. Do you provide refunds for the business report translation service?
The business report translation service we offer are not refundable after the payment has been made for them. Therefore, make sure that you have the right intentions when ordering translation services. In addition, we offer a complimentary revision service if an error is noticed in the text. If applicable, we will make changes at no charge.
Q4. How do you guarantee confidentiality in business translation documents?
Being a reputable translation service provider, we completely understand the privacy concerns of the clients. Therefore, considering the client's expectations, we have introduced the confidentiality agreement and ask all our clients to sign the agreement. In this way, we guarantee the security of the business translation document and original documents of the clients and protect them from unauthorized access.
Q5. What can be the estimated price for the business translation service offered by you?
For a business translation service, it is difficult to estimate the price because it depends on the number of words, the skills and the type of translation that should be used. This type of service has several aspects that affect the price. For example, adding other translation services (for example, editing, proofreading, notarization, etc.) to your word translation may raise the price slightly. No worries, you can still expect a reasonable translation service from Singapore translators.
Remember, for urgent documents translation; you will have to pay additional charges.
Q6. Is a hard copy option available for the business document translation service provided?
The business translation is available in a hard copy. If you require a hard copy, please inform our translators of that. If you want to get a hard copy, you will have to pay for each copy separately since its price is not included in the business document translation costs.
Q7. Where can I use the business document translation service?
There are numerous places where you can use the business document translation service provided by our translators. If you wonder where you can use them, you are granted to use the translated document when choosing to open a company branch overseas while filing returns and many more.
Q8. In which format does your business document translation provide?
Business document translations aren't delivered in one prescribed format; instead, they are delivered to clients in their preferred format. The client's requirements determine format preferences. For this reason, we provide the client with the option to choose whether he or she would like the translation delivered in PDF, Word, Excel, PowerPoint, or HTML format.
Q9. Do you offer a notarization service for business document translation?
As a part of our services, our agency notarizes business-translated documents. However, this service is provided specifically for those clients who require this service.
Q10. Do you charge extra for urgent orders, and will you provide discounts?
Yes, if you are ordering urgent business document translation, you have to pay additional charges. Also, we will provide you with great discounts and offers on documents translation. For further queries concerning the translation, you can directly reach out to us at info@singaporetranslators.com.