Our native certified Cambodian Translators will acknowledge quickly and effectively to all your ICA Cambodian Translation needs. Singapore translators work with 500+ language proficient translators in various areas of specialization.
You can translate any of your document by native Cambodian Translators
Patents
Corporate Affairs
Software
Academic Documents
Advertising & marketing Manuals
Medical Record
Marriage Certificate
Divorce Certificate
College & University Diplomas
Secondary School Certificates, etc.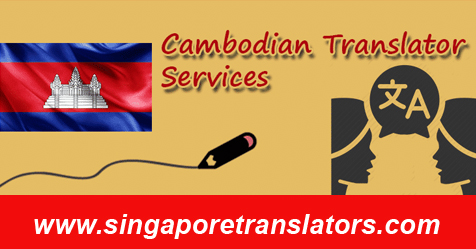 Hire Cambodian Translator For Language & Document Translation Services in Singapore
Cambodian language which is also recognized as Khmer is generally spoken by the natives of Khmer is the certified language of Cambodia & is used in mainly social contexts counting administration, corporate world, learning at all levels, & in the mass media. Cambodian is spoken by around 7 million public living there, about 90% of the inhabitants. Hiring a Cambodian translator is very vital for Language translation services in Singapore. It helps people to develop their business and corporate life across the globe.
We at Singapore Translators have expert  Cambodian translators capable of Cambodian translation services.  They will offer you with premium translated papers. With experts working from across the globe, we are capable of pleasing over 3,000 clients global, & this number keeps increasing. Using the full width of knowledge and ability of our translation squad, we present a broad range of lucrative Cambodian linguistic services to various clienteles and Department for Culture, Media and Sports & BBC.
With an enthusiastic squad of Cambodian translator ready to respond to your Cambodian translation requests. We capable of processing shorter documents within 24 hours and professionally handle larger projects quickly and precisely. To know more about Cambodian languages and culture, you must visit our translation agency in Singapore online. Here we provide a range of services including academic translation services, Medical translation and more.
500+ Experienced Cambodian Translators For Providing You High-Quality Services
Singapore Translators has created a diverse group of Cambodian translators to sustain your translation requirements. Depending on the subject stuff of your papers all of our translators are local speakers, with a minimum of 5 years' knowledge in Cambodian translation or interpreting. We are consequently capable of handling any document that needs to be localized into or from the Cambodian words.
Get Fast & Accurate official notarization for ICA, MOM, MFA.
At Singapore Translators, we present a leading Cambodian translation service that is also budgeting friendly, with no compromising on excellence. Working across most expert fields, our worldwide client base enjoys some of the most viable rates internationally. Our cost-effective and certified document translation services can rapidly process your passports, birth, marriage and educational certificates. Safety and precision are supreme when it comes to translating your executive documents. As Certified corporation as per iso standards and Goldman Sachs 10KSB Programme Partner, we constantly strive for quality & apply excellence control on each step of our translation process.
A Khmer Language Professional For Your Campaigns and Industry Papers
So if you have customers or suppliers based in Cambodia, we can adapt your manuals & user guides with English to Khmer translation, or any papers or audio-visual materials with a Khmer to English translation.
If you require an impartial interpreter for your industry meetings, we can arrange it. And if you require a Khmer localization professional and Cambodian translator for your product, we also provide. A Khmer language professional for your campaigns and industry papers, we've got you covered.
Medical Cambodian Translation and Interpretation by Cambodian translator
Providing access to healthcare and facilitating statements between Cambodian-speaking patients & their hospital is one of the most significant objectives of language services providers. To make sure that quality access is given and that clear communication can happen between doctor and patient, our constricted Cambodian translators and interpreters are efficiently trained and educated in particular medical terminology and HIPAA training.
Their capability to offer accurate and concise explanations of multifaceted medical concepts ensures accurate Cambodian translation Services in Singapore from doctors and faultless understanding from patients. From the clinical trial survey, informed consents, patient surveys, process explanations, to prescription information, these linguists are ready to give excellent Cambodian medical translation and interpretation services. We also provide Thai translation services as we have a team of professional Thai translators in Singapore.
Hire a Language translator for converting your legal & Other Documents.
Advantages Of Hiring Cambodian Translator From Singapore Translators
Round-the-clock operations: With our worldwide operations, our main concern has been to serve our customers promptly on time. You can get in touch with us 24/7, and we will be happy to help.
Knowledgeable Workforce: Qualified translators with over 3+ years of knowledge and dedicated project managers operating to provide you better.
An extensive variety of languages: We are capable of translating around 130 languages.  From the most extensively used to the most uncommon ones providing controlled and targeted messages in all languages.
The extensive variety of subjects: We offer translation services in an extensive array of subject areas, including legal, technical, brochure, medical, website, economic, pharmaceutical, aerospace, etc.
Quick turnaround times: We present a rapid response without compromising the excellence of our service. We complete urgent translation projects quicker and with a similar accuracy that you would suppose from long-term projects.
Confidentiality: Our Translation Services in Singapore maintains a strict private translation policy.  In spite of whether the translation project is the translation of an authorized contract or something much more common.
Variety of Services: Our other services in Cambodian to the English language are provided by Cambodian Translators voice-overs, Cambodian interpretation, transcriptions, and multilingual search engine optimization.
FAQs
Q 1. Can your Cambodian translator translate documents at an affordable price?
Yes, our Cambodian translator offers you an accurate translation service at an affordable price. The most amazing thing about our translators is that we do not compromise the translation quality even at affordable rates.
Q 2. How your Cambodian Translator guaranteed the confidentiality of documents?
As part of our Cambodian document translation or project, a confidentiality clause is included, guaranteeing that your information will be secure and safe with us. The customer's confidential information will remain confidential and secure, and therefore, no customer information will be released to anyone.
Q 3. What kind of quality does your Cambodian translator give?
Our Cambodian translators provide you with the top-notch quality translation service. This is because of the years of experience and dedication of our Cambodian translators; we are able to deliver a Cambodian translation service of the highest standard.
Q 4. What makes Cambodian Translators different from other translators?
What set us apart from all other Cambodian Translation service providers is the availability of sufficient resources and a team of dedicated translators who are always ready to assist you in delivering high-quality translation at a cost-effective price.
Q 5. What are payment methods does your Cambodian translator accepts?
Basically, we have flexible terms and payment methods for the convenience of customers looking for Cambodian translation services. They can use credit, debit, or PayPal cards to pay. Ensure that you are clear about the payment terms and methods before proceeding. If you need any further assistance regarding payment terms and methods, you can directly contact us by email at Info@singaporetranslators.com.
Q 6. Will your Cambodian Translator provides a hard copy?
Yes, our Cambodian translators also provide hard copies of the translated documents. We provide all services under one roof, including producing hard copies of the translated documents. We recommend that you reveal all your requirements to our translators in advance if you wish to get a hard copy of the translated documents.
Q 7. What kind of refund policy does your Cambodian Translator give?
We do not provide any kind of refund policy. That's why it is always recommended to get a complete understanding of all the details prior to proceeding with acquiring the translation service. As once you have made the payment for the translation service, we cannot refund it. Our team is available to make any required corrections or amendments to the translated documents, and no additional charges apply for any corrections or modifications.
Q 8. Is there a format does your Cambodian Translator gives?
There are several formats from which you can choose to receive the Cambodian translated documents. Depending on the requirements of the client, we deliver the document accordingly. Our team can translate documents in any method that suits your needs, from PDF to Word, Excel, PowerPoint, Powerpoint, .tiff, .html, .htm, and .xhtml.
Q 9. For how long does your translation valid that has been done by a Cambodian translator?
There is no such expiry date of the Cambodian translated documents provided by our translator. The translated documents provided by us will remain valid as long as their original documents are valid and not changed.
Q 10. Can you notarize the document which is translated by Cambodian translators?
Yes, our Cambodian translators provide the notarization of the translated documents. If you need the translated documents to be notarized, you must clear this to our translators. Our translators manage everything from proofreading to notarization.