Singapore Translators offers high-quality certificate translation services in Singapore. If you are needy to translate your certificates in an inexpensive manner then Singapore translators is the best choice for you. We are certified translation services in Singapore which deliver the certified document to complete the ICA official's needs.
You can translate any of your document with certificate translation service
Marriage Certificate
Divorce Certificate
College & University Diplomas
Secondary School Certificates, etc.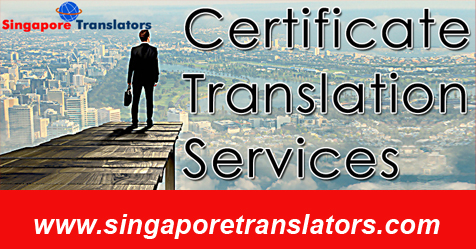 Certificate Translation Services From Native Professional Translators
Translation means conveying or assigning from one language to a different, but in extensive terms, it does not mean only this. It has turned out to be extremely much a broad term as it includes numerous global services such as Certificate Translation Services, website localization, & legal document translation, etc.
Certificate translation Services: Moving from one nation to another turns out to be much harder when it comes to a nation with a diverse language. This requires having your papers such as birth certificates, passports, driving licenses, etc. translated into a suitable local language. For this, we require expert services for certificate translation copy, certification and notarization of the paper.
A Certified Translations is a written paper used for authorized purposes, which constitutes a lawful record attesting to the translation's precision when it is critical that the creative meaning of the source paper content has not been affected in any means.
Certified Translations are frequently used for legal and educational necessities. It is part of the US requirements for meting out of migration applications, where all documents, counting passports, adoption papers, birth certificates, and marriage and divorce certificates in addition to death certificates not printed in English have to be translated and approved. If you require any kind of Document Translation services, you can simply contact Singapore Translators.
Why Choose Certificate Translation Service?
The translation is useful to get rid of diverse kinds of language-related obscurity.  If you desire to launch your own industry or apply for a legal document, you must submit the necessary certificates. Few persons want to carry out these tasks in the non-native country, but they fail to recognize where to get quality Language translation services to translate Certificate to English.
Here at Singapore Translators, We are the squads of expert certificate translation professionals who offer the best translation services at reasonable rates. Our certification translation is appropriate for people who desire to translate their native or other certificates from one language to a different language. Translating the certificate is not an easy task so that you can appoint the right company. We have a group of capable translators who specialize in handling all kinds of translation.  The excellent thing about our Singapore based translation service is that it uses premium translation techniques to offer certified translation services with better precision.
We Serve You Best Certificate Translation Services In The Least
We have a specialist and certified team of native certificate translators who offer genuine translation from different languages to the English language. When you choose to get the certificate translation, you can make sure the whole range of certificate translation packages offered by us.
It is this translation of a certified document (such as marriage, patent documentation, birth certificates, contracts, etc.) that has been certified as consistent and is, therefore canonical for submission to extensive domains of official bodies.
Get Fast & Accurate official notarization for ICA, MOM, MFA.
The translation is not a one-size-fits-all procedure; it is necessary to be aware depending on the status of your project; your translation might crave extraneous levels of certification to be suitable for the project.
International embassies, organizations and other such constitutional bodies usually aspire for diverse certifications when dealing with the copy out chronicles like the notarial and official certificate, legalized translation or an official declaration. Proficiency and ability are the traits to make sure you spontaneous, lucrative and safe assistance.
Why Choose Singapore Translators
Streamlined work process: Since the last 15 years, we are providing genuinely translated files to our global customers. The credit for this goes to our sleek work procedure, which helps in keeping with up with the time deadline and the excellence level.
Highest quality level: We believe that excellence is the main factor that decides whether or not a translated text or file will assist the customer in accomplishing his objective. Thus, we ensure that the quality quotient in the translated output is constantly higher. For this to happen, our group of quality supervisors involve severe checks at every step of translation and ensure that final translated productivity is error-free.
Fastest Delivery: Time is extremely precious, particularly for business owners. Delay in the implementation of any plan can cost them a lot. Consequently, keeping this in mind, we present the translated papers within the best turnaround time. In urgent situations, we even bring the translation output within 24 to 48 hours.
Privacy and Confidentiality: All of the translators in our society sign an NDA in order to work with Singapore Translators. The clientele is covered back-to-back by our terms and contract. For assured legal professional corporate we sign client-specific NDAs, please get in touch with our legal department using the Contact Us form.
Certificate of Accuracy: We offer customers with translation certificate services on demand. Our certificate accepted by US courts countrywide, embassies, migration services, and other official administration organizations. Please note that we do not offer notarized translation. For notarized translation, you have to go physically to a public notary.
Hire a Language translator for converting your legal & Other Documents.
What type of other translation services we provide
Business Translation: Foreign languages represent confront for numerous businesses; all companies have bilingual employees members and interpreters in order to decode business papers and related things.
Technical Translation: Technical translations extremely demanding and require accomplished expertise.  Our Certificate Translation Services follow standard quality check procedures to render a delicately written and accurate translated text.
Document Translation: We translate different financial documents like product statements, Market research, audit reports and other related papers. Our company also provide Academic Translation services along with proofreading and editing services
Legal Translation: We focus on providing top-class legal translational services to our customers on a high priority basis. We offer high-priority language translation services for all aspects of the court case, from main documentation to supporting resources.
FAQs
Q1. Does your certified true translation offer any refunds?
Sadly, you cannot get a refund once you've paid for our certified true translation service. That is why you need to be absolutely sure whether you intend to acquire the translation before you pay. However, if you require any modifications to the translated documents, our translators will manage them with no extra charge. So, whenever you feel the need for amendments, always bear in mind that our translators are always there to assist you.
Q2. How do you ensure the quality of certificate translation?
We attempt to clarify the translation requirements of the client before beginning any translation work to ensure that the quality of the translation work is precise. At our agency, we have highly certified translators holding the required skills in providing high-quality certificate translation.
Q3. How much does it cost for certified true translation?
Depending on the translation type and the skill set required, the price of certified true translation can vary greatly. The cost of translation can also differ slightly or significantly depending on the approach and procedures used for the translation. In addition to word translations, prices might increase slightly if additional translation services are added, such as copyediting, notarizing, proofreading, etc.
Several discounts are available for bulk translations from Singapore Translators. For more information, please email us at info@singaporetranslators.com. Additional charges may apply if an urgent translation order is required.
Q 4. What are the payment methods of document translation certification?
With our flexible payment options, clients can choose from credit cards, debit cards, and PayPal accounts to pay for their certified true translation services. To request more information concerning payment terms or methods, don't hesitate to contact our translation service Singapore directly using the email address Info@singaporetranslators.com.
Q 5. Your certificate translation services are accurate to what extent?
With certification translation service provided by our certified translators, accuracy is a great deal of emphasis. Our agency's motto is centred on providing quality translation rather than quantity. The results of this have led to a more accurate translation service. However, we also have reliable translators who have enough experience delivering premium work that will never let you down.
Q6. What will be the predicted deadline for certificate translation?
As much as our team is dedicated to completing translations whenever possible, we cannot predict a time frame for certificate translation upfront since it completely depends on how much effort is put into translating each one. No need to worry, as we never miss the deadline stated on the submission form.
Q 7. Does the come in certificate translation hard copy?
Yes, we can provide hard copies of the certified translation as a part of our translation package. You can pick whether or not to get hard copies, depending on what you are looking for. We will be happy to provide you with hard copies of the translated document whenever you desire one. Additional fees may be charged based on the number of copies you request.
Q8. Is your certificate translation is different from another translation service?
Yes, certificate translation indeed differs from other translation services because every translation comes with its own methodology, approach, and cost.
Q9. How to format your certificate translation?
As for our certificate translation service, there is no specific format that our certified translators use since it does vary depending on their clients' needs. Our translators are able to deliver the file into numerous formats, including PDF, Word, Excel, PowerPoint, Powerpoint, and .tiff.
Q10. Is there any need for notarization in certificate translation?
Yes, you might require notarization in certificate translation as it will make your document valid in a foreign country as well.