Singapore Translators offers high-quality certificate translation services in Singapore. If you are needy to translate your certificates in an inexpensive manner then Singapore translators is the best choice for you. We are certified huge certificate translation services in Singapore  For ICA which will fulfill all your certificate translation needs.
You can translate any of your document with certificate translation service
Marriage Certificate
Divorce Certificate
College & University Diplomas
Secondary School Certificates, etc.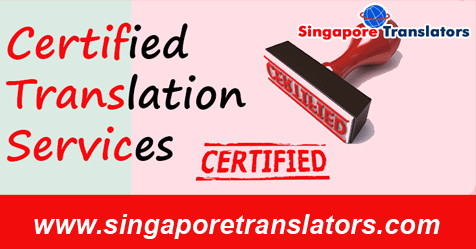 Certified Translation Services By Professional Translators of Singapore Translators, a Leading Company in Singapore
These days Certified Translation Services are very vital as many industries not accepting translated papers without proper certifications. Certified translation is a technique of verifying that a translation is a precise and authentic copy of the original document. It is frequently necessary by government agencies, insurance companies, solicitors and other specialized bodies as evidence that a paper a proper copy of the original, the only difference being the words.
In numerous situations, a translation alone will not be sufficient, and a certificate of translation is necessary in order for the translated paper to be accepted.  Any translation is entitled to be accompanied by a credential of translation, in spite of the paper that has been translated. It can be everything from a single page marriage certificate or qualification certificate to a long legal document.
Singapore Translators is frequently asked to offer Certified Translation Services, for an extensive range of purposes. Moving abroad and buying assets overseas are a general reason for certified translation to be requested. Usually, the certificate of the translation will narrate to documents like birth certificates and marriage certificates, although the translation of monetary documents, service contracts, and other such official procedures may also have to be certified.  We at Singapore Translators provide you with all sorts of translation services such as Medical Translation services, Academic Translation services, Life science translation services and many more.
Certified Translation Services can be provided by Only Expert translator.
The translator should sign a paper assuring that the translation is a perfect replica of the original language, and the translation is certified. A notarized translation needs a notary public to sign the translated paper. A notarized translation normally requested by different high schools and universities when working with coursework and diplomas in an overseas language. Certificate translations are compulsory for official documents such as business contracts, immigration papers, birth certificates, and court records.
Hire a Language translator for converting your legal & Other Documents.
A notarized translation marked by the translator in front of an attorney, who adds their signature and stamp to give proof of the validity of the translation. This signed document recognized as an affidavit. A certified translation doesn't need signing in front of a notary and consequently requires no affidavit. If you are looking for official translation services Singapore approach Singapore translators right away.
Comprehensive and Extensive Certified Translation Services
Competitive Prices
At Singapore Translators, our rates are some of the most viable in the globe we offer a multivariate of translation providing and packages that ensure that our clients get the top worth for their money. We have tailor-made services for our clients that make sure that every project that we convert or localize ends up making certain that our clientele get the best Document Translation services in the market for their money's worth. We here at Singapore Translators ensure that our customers get certified translation services at reasonable rates in the market.
Expert Translators
At Singapore Translators, we aim to offer our customers the top quality result for their certified translation services. One of the major ways we utilize to get a cutthroat edge over our competitors is by using professional translators who have local experience in the target language that they are translating to in addition to having expertise in particular industries that they are taking part in. With the use of these professional interpreters, we ensure our customers get the most excellent services possible.
Hire a Language translator for converting your legal & Other Documents
24/7 Support
It is significant for them to work with Singapore Translators. With Singapore Translators, you will be getting the best certified translation services in Singapore. When you work with us, you are certain to get the top translation services with the best client support. Our support group makes it their mission to offer its customers round the clock client support. We believe that clientele deserve our unrestricted attention, which why no matter what your query is, you can be certain that our Support team will solve your troubles to your likings.
Why select Singapore Translators for Certified Translation Services in Singapore?
Translation Cost:  Whatever financial plan you have in mind – talk to us. Our scale and proficiency mean that we are unbelievably cost-effective. So that we pass on the efficiencies to you, our client.
Accuracy: We have drawn up a set of cautiously drafted guidelines and events, and every single document that passes through our hands – from a single-line motto to the book-length project or more – analyzed, translated, formatted, checked for accuracy and proofread numerous times over.
Technology: We have superior tools like SDL Trados Studio, Wordfast, Poedit, Logoport..etc. To make sure that your translation is consistent, expert and accurate
Native Translators:  Certainly, we only use local speakers for our Language translation services to ensure you get a rightly pitched finished product.
Fast Turnaround Time:  We will constantly get your project back to you within the agreed time and surely no compromising on excellence either.
Responsive: We constantly try to reply to customer queries in less than 10 minutes.
ISO Certified Translation organization
We are a certified translation corporation in Singapore. ISO standards an internationally recognized quality management system; this means that you can be certain that you are getting an excellent certified translation service in Singapore.