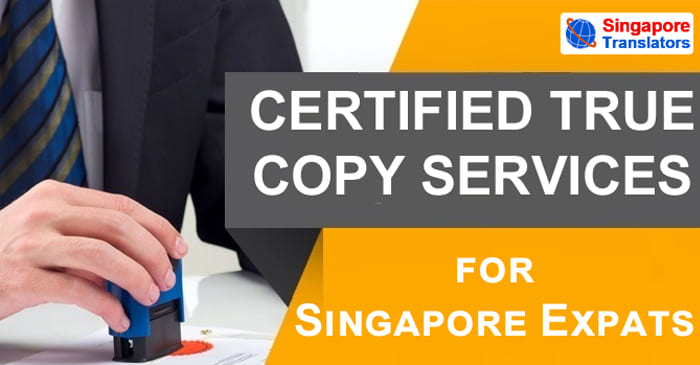 If you are thinking about setting up your business abroad then true copy certification must be required. Singapore translators are providing true copy certification with high quality, fast service at affordable prices. We also provide certified copies of your documents that are required when you are applying for studies in abroad.
Documents provided by our company are legal and authorized by government bodies in Singapore. So do not worry about the authenticity of the document provided by Singapore translators. We provide true copy certification on documents such as:
Educational certificate
Utility bills
Emigration documents
True Copy Certification requirement in Singapore and other countries
True copy certification is required before applying your documents abroad. In other country translation of original documents is required. So after translation, true copy certification will determine that the translated document is genuine and identical to the original document. Sometimes it is required to notarize the copy of the original document within the same country.
And the process of true copy certification will be different in both of the conditions. A certification on a copy of an original document is required for judicial and government purposes. Suppose your mother wants to give you the authority of managing her bank accounts. Then that requires a copy of the certified power of attorney.
Get Fast & Accurate official notarization for ICA, MOM, MFA.
True copy certification for any kind of document
Identification documents such as passport, driving license, birth certificates, education certificates, identity cards, bank statements and utility bills are required to be certified when they are used in another country. A copy of an original document requires true certification.
That certification will determine that the copy is genuine and related to the original document. If you are searching for copy certification then singaporetranslator.com provides you authentic and fast service.
Easy and Safe Processing of true copy certification in Singapore
Firstly, the original document holder requests the true copy certification service. Original documents are required for the certification of copied documents. Custodian needs to provide original documents so that notary person can cross-check the documents.
After this authorized person compares the copy document with the original document. For true copy certification copy documents must be identical to the original documents. And after clearing the entire conditions notary person will certify that the copy is accurate and complete. Our company will provide you an easy and transparent process tracking benefit.
No 1 Online Translation Services for Document & Legal Translations in Singapore.
Importance of true copy certification
Replace a misplaced or lost original document: – Whenever original documents of company or individual are lost or misplaced then a certified copy of that document is helpful. That certified copy of the list document can work on the place of the original document.
Additional proof of authenticity: – Some states allow fax filling or electronic filing of documents. And the documents approved by the state may not look official even they are official. So, true copy certification will help in providing additional proof of authenticity.
Providing true copy services from the past 10 years with benefits
Proof of authenticity: – Certified copies provided by the Singapore translators are authorized and legalized by government bodies. If you want to use copied documents either within Singapore or outside Singapore do not worry about authenticity.
Affordable price and instant service: – Certified experts from Singapore translators are providing true copy certification at affordable prices. You can get certified copies of your documents such as driving license, passport, medical, college documents, birth certificate, bank statements, etc instantly. That will save you time and money as well.
An easy and simple process of certification: – All the services offered by us are easy to process. If the applying process is complex then it will create problems for their users. That is why the simple process is used in Singaporetranslators.com that enhances the experience of their users.
Copy certified documents can be used as originals: – Certification of the copy documents by the experts of Singapore translators will allow you to use them as original documents. If by a chance you misplace or lose your original document then you can use the true copy certified documents as the original one. That will provide you additional safety to your original documents.
Hire a Language translator for converting your legal & Other Documents.
Conclusion: – A true copy certification is either helpful for a company or an individual as well. If a company is expanding to the global level then copy certification will help in the legalization of their original documents in other countries. And an individual can truly copy certify his identification documents such as driving license, passport and education documents. Authorized and legal professionals of Singapore translators will provide you reliable and fast service.