Cheap translation services by Singaporetranslators.com are most accurate and serve you quality at an affordable cost. Singapore Translators provides Cheap Translation Services that will fit into your pocket. We offer professional translation services in more than 200 languages including Malay, French, English, Arabic, Japanese, Spanish, Chinese, Korean, Hebrew, Spanish, Farsi, Thai, Spanish, etc.
 Some of the Translation Services list that can be availed at a cheap price
Website Translation
Medical Translation
App Translation
Book Translation
Instant translation services for any document 
Passport
Immunization Cards
Medical Reports
Court Orders
Technical Manuals
Medical Manuals
Employee Manuals
Divorce Certificates
Personal Correspondence
Death Certificates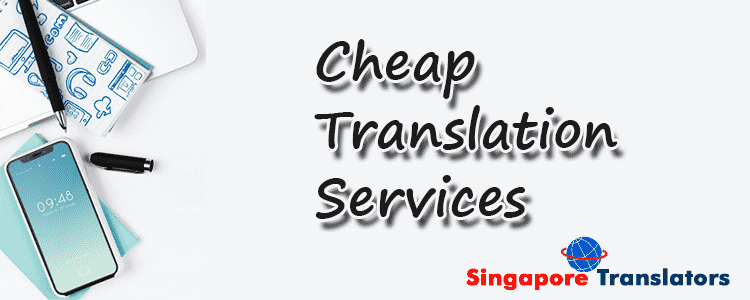 Hire Professional Translators At Prices That Will Suit Your Pocket
Several companies that have operations around the globe utilize cheap translation services Singapore to keep overhead costs down. As their revenues are directly dependent on the sales acquire in other countries, translation is vital, but it doesn't have to be precious. In order to retain operational effectiveness within those countries, low-cost translation is very important to keep the gears of the company turning. Low-cost translation and high-quality translations go hand in hand with Singapore translators.
Singapore Translators is a global Document Translation services provider that provides low-cost translation services with remarkably quick turnaround times. We have an extremely capable and experienced team, of over 15,000 expert translators working 24×7. Our translators are locally located in their local country and only work in their native language. We are extremely particular regarding high-quality services and have a quality check team in place. We can translate into 73 diverse languages and can work on 2,000 language pairs to present complete cheap translation services in Singapore.
Cheap Certified Translation Services in Singapore
With the dawn of the internet and more effectual and fast transport, we have seen the globe become a much smaller place. It is now just as simple for you to do business with a corporation on the other side of the globe as it is to work with somebody a few towns away. This has caused an upsurge in demand for cheap translation services all around the globe.
Numerous businesses currently get products from countries such as China while numerous others export their services and products all around the globe. The only problems with doing this are generally one of communication. There are simply numerous languages to converse in if you desire to do business all over the place. Hiring your own professional translators or using in-house staff that has a perceptive of the languages is rarely cost-effective. It is far better to constantly look for reasonable language Translation services that will be capable of getting your translations done for you speedily and accurately at a price that you can afford effortlessly.
Cheap Translation Services from Singapore Translators
The cheap translation is presented by Singapore Translators, the top company in the industry to offer the most competitive services to our customers. We offer Academic Translation services in all languages that are broadly spoken around the globe we offer both regionally and globally spoken language translation services.
Get Fast & Accurate official notarization for ICA, MOM, MFA.
We have an extensive network of translators around the world joining us to provide a wide-spread range of cheap translation services that our customers expect from us. If you are seeking the cheap translation organization that can meet all your demands and expectations, then we justify being your choice of the service supplier.
Reliable Team of 500+ Native Professional Translators
Do you require cheap Language translation services for the individual website or the educational document? Possibly you have to implement hard technical translation or medical documentation? Can't figure out how to decode a document from English to Spanish for business? We have an assessment for everyone. Our translation specialists come from diverse spheres and have different backgrounds. And that specialization allows us to choose just the right translator for your project.
What language you prefer to be conscious that you receive only 100% quality translations completed by our affordable translation services. All our cheap translators Singapore are well-versed diverse languages and highly educated and qualified. We choose only the top professionals on the web to make sure your project could be translated and written on the highest level. Our professionals have proficiency in various areas, being particularly well-liked in such common requests as business translation, financial translation, and legal translation, legislative and insurance. Have no worries if you have a dash turnaround project because when it comes to adjusting to the time limit, there are no equivalent cheap translation services of the same effectiveness level. Find here the best translator for the most excellent project ever!
We Provide Our Translation Services in 200+ Languages
We offer professional translation services in all main languages including, French, English, Arabic, Japanese, Chinese, Korean, Hebrew, Spanish, Farsi and numerous other languages. In addition to it, we offer regional language translation in Tamil, Malayalam, Telugu, Marathi, Bengali, and several other languages.
We never limit our translation services to any particular language and thereby take the effort to present any language services. Our experts with the focus to offer translation services, ensure that our cheap translation rates are also low and reasonable.
We with the mission to offer the most flexible and reasonable services to all, make the charge of translation low. Regardless of low rates, we make sure to offer the highest quality translation services to our clients; therefore without a doubt, you can knowledge the highest quality and precise translation in many languages as you want it.
If you are seeking a cheap certified translation, then we can offer the best translation services anytime for any project.
We are available 24/7 to help you
Another benefit of working with us is the fact that we are here for you 24/7. Experts all set to guide you with your translation. With us, you can get your solution in minutes and have your translation sent to your email.
Hire a Language translator for converting your legal & Other Documents.
We are here around the clock. This means you can approach us for services at any time. And we will make sure you with the excellent price and best quality at the same time in one place. You can calculate the cost of your translation on your own, just by using our certified translation tool!