Get your college application translated within 24 hours with Singapore Translators by 500+ language experts working over 200 languages like Malay, Thai, English, Korean, Spanish, Chinese,  etc. Singapore Translators offers quick and professional translation of College applications and documents into English for worldwide students. We specialize in transcripts, reference letters and other supporting papers necessary for your college application.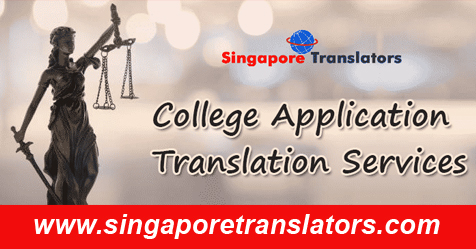 Finest College Application Translation Services In Your Budget
Translation services Singapore, academic translation services, essay translation services, language translation services, Editing & proofreading translation services
If any of your papers you are submitting are not in English, the original should be integrated with a fully certified translation by an expert translator. Assessment of school transcripts starts with precise, reliable certified translations. Our College application translation services are a recognized leader in the translation of educational and personal documents for college admissions applications and other authorized purposes. We are Singapore Translators and are capable of providing you with high-quality language translation services at a very cheap cost.
Specific Academic Document Translation Instructions
Follow all and every instruction the academy provides for submitting educational documents and their translation. Failure to do so could slow down the college application procedure or even eradicate you from consideration.
For instance, numerous colleges and universities need a certified academic translation by an expert translation company Such as Singapore Translators. The school can also demand that the document translation and the new document be in the same format for simplicity of reading and judgment.
The Singaporean college may have particular requirements for the original documents, as well. You may need a novel stamp or seal from the school you attended. Certain papers may also require being on the official letterhead.
What Is a Certified Translation?
Most individuals have a spontaneous understanding that translation renders written content from one language into a different. Certified translation entails even more.
A certified translation generates an authorized record. In fact, diverse governmental organizations, agencies and evaluation services might even have particular requirements for certified translations.
We follow the strictest standards for certification. Expert translators attest to the precision of all Translation services Singapore, and every page of your translation is sealed to reduce the possibility of fraud.
Academic Translation For Course Material
Once you have been acknowledged and are attending the overseas university, managing the course material can be a bit of a responsibility as you study in your second language. This is particularly true for course content that is awfully technical.
No 1 Online Translation Services for Document & Legal Translations in Singapore.
Academic translation can help in a variety of ways, providing a clear conversion of any document, recording or other content relevant to your education, including:
Course material
Lectures
Podcasts
Relevant articles
Textbooks
Seminars or conference material
Research papers
Dissertations
And more
If there are verbal communication barriers that could potentially stop or impair the learning procedure, working with an academic translation service on the most significant matter can save a great deal of time and annoy.
Ensuring Quality Academic and College application translation services with Singapore Translators
The academic translation is a varied beast, far and above ordinary translation – particularly where technical terms come into play. Choosing somebody who is flowing in more than one language to handle the conversion can lead to several troubles. In situations where the academic translation is essential, the most advantage will come from working with an expert individual or agency that has a great deal of knowledge with the academic discipline in the query. In That case, hiring Singapore translators will be a good option for College application translation services
One might wonder about the reason of this apparently bureaucratic element in the translation procedure, but many times this has come useful when the question around disregard in translation or misinterpretation or responsibility of a wrong translation has surfaced in several cases. This becomes a rigorous point when one is dealing with authorized documents. Or visualize the case of a legal set of translation work where some oversight or recklessness or mistaken interpretation of key issues or even inadequate capabilities to undertake the translation correctly can exponentially rise into enormous problems.
We Serve You Quality Translation Service In Low Translation Cost
Translation rates are determined on numerous factors beyond the fundamental art of translation or the necessary experience and credentials of the translators. Companies, occasionally, have the policy to comprise revision rates in their basic package while other companies only charge for basic translation in their crucial package.
Hire a Language translator for converting your legal & Other Documents.
Although translation rates per word are the most ordinary method, it is significant to consider when to use different methods. Most of the time, hourly rates or page rates may help costs. Every translation project must be individually measured. Some translation service providers have particular benefits and discounts for persistent customers, which benefits customers and translators alike. Rivalry and a wide range of translation services and Editing & proofreading translation services accessible also allow customers and translators to negotiate the top fees and conditions. Translators can grow as they continue working, and potential customers have where to select from according to their requirements.
Get the lowest translation rates with Singapore Translators
Cheap translation services – We offer cheap, yet precise College application translation services in Singapore for just about all need. If you are a business seeking the most excellent bang for your buck, use our cheap translation services: accurate translation from and into English at the most excellent rates you can find.
No hidden charges – While other corporations could charge more based on whatever motive they could find, we don't! We do not have any secret charges, and we don't charge additional for proofreading or revisions, ever! Get in touch and spot what we can do for you.
No rush rates – Need to have your translation in a rush? We can do it for you, and there will be no additional rush rates. Our similar flat fees apply to insistent projects in addition to for projects needed to be finished over the weekend, there are no such additional rates with us.