Putting your thoughts into words is now easy with Singapore Translators. We are popular copywriting services in Singapore which is known for its quality and affordability. Singapore Translators works with 500+ professional copywriters who are ready to help you 24*7. We provide you best in the least charges of copywriting in more than 200 languages like Malay, Chinese, Japanese, Thai, Spanish, etc.
The four copywriting services provided by Singapore translators –
Writing
Rewriting
Editing
Critiquing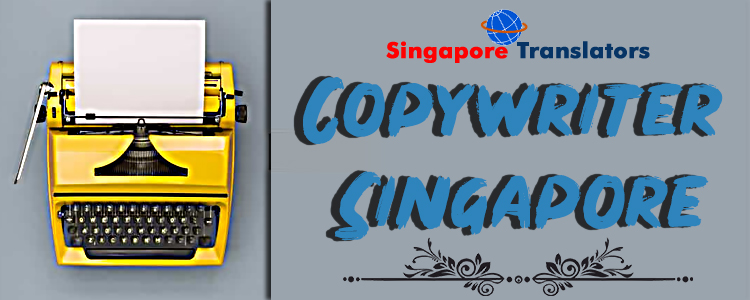 Copywriting services provided by Professional Copywriter Singapore that put your thoughts into words
We make it quick and simple to get good content written by professional Copywriter Singapore who comprehends what you desire to say before they even start writing. Our attentive assignment procedure carefully matches your job with a suitably skilled writer and makes sure your pleasure by seeing that all your necessities are converse in advance.
Before you start seeking outside copywriting services you'll have to know what copywriting is. Essentially copywriting services are those that twist words into marketing yield for your company. Copywriting services can include using text to support a person, a business, an idea, a creation or a service.
Effectual copywriting tells a story. Numerous of Google's newest updates have had a strong focus on the effectual, user-friendly copy that helps respond searchers questions.
Our language translation services experts recognize not only how to translate – and write well – but also draft in a way that serves equally people & algorithms. We can create effectual copy to use throughout your website, SEO-friendly images to assist your products rank, strong & succinct email campaigns, or blog posts that improve your visibility and trustworthiness as an expert.
Significance of Hiring a Copy Writer in Singapore
Numerous entrepreneurs are more than pleased to dole out a lot of cash to appoint creative graphic arts specialists. These same people, though, struggle along being their own copywriter in its place of hiring outside copywriting services.
If an advertisement is crafted badly, with weak and unconvincing words, or if a booklet looks like an amateur put it together, not only will it not carry in industry, but it could use several of the business previously with the firm. Even if the spelling & grammar is superior if the copy is boring it won't market your firm well. Here is where outside copywriting services give for themselves several times over.
Get Fast & Accurate official notarization for ICA, MOM, MFA.
Copywriting services can be broken down into four diverse facets. You may require all four, or you may require one. It depends on your time, knowledge & skill limits.
The idea of writing as one of the copywriting services seems quite obvious. The professional copywriter takes your idea & puts it into words that put yours & your firm's most excellent foot forward. It could also be regarding writing a speech for you to deliver on a diverse but related topic that presents you and professional in your business or possibly in the field of your avocation or hobby. Our professionals are also capable enough to provide you with scientific translation services as well as editing and proofreading services.
Copywriting Services Provided by Singapore Translators
Your products and services should be described not only for potential customers but also in terms that search engines recognize.
We create a content marketing tactic that brings into line with your core values & your audiences' wants, requirements, and favored ways of consuming content. That's the power and significance that content has in the contemporary age.
Blogs
Engage your spectators with thought-provoking, industry-leading posts that update and amuse.  Our blog writing services offer relevant content, crafted to drive traffic & rank.
Engage your audience
Expand your reach
Establish authority
Website Content
Generate a lasting message that sells your goods and promotes your goods 365 days a year.  Using search engine-friendly conditions, we can assist tell your business story. We also help you to raise your industry in the global market with the help of our Ghostwriting services in Singapore.
Build brand understanding
Tell your industry story
Optimized page copy for SEO
Press Releases
Feel the power of customized press release writing from Singapore Translators.  Providing the right message and good distribution, our press release marketing services acquire the word out rapidly and efficiently.
Control your story
Increase exposure
Multi-channel distribution
How Singapore Translators Create Papers That Provide Real Impact
The reason for copywriting is not just only to amaze, but also attain specific industry objectives. At Singapore Translates, we do it well, as we approach the task properly. Each copywriting project begins by analyzing the objective audience, their needs & your offerings. Our expert copywriters then translate your answer into the words that your spectators need to read and be certain of the value of your services. The result is a greatly higher conversion for your industry
Hire a Language translator for converting your legal & Other Documents.
Only you recognize your industry better than anybody else; that is why we first learn from you about your industry and then translate that considerate into the highly effectual copy. We include your feedback and develop the ultimate content. We also provide academic translation services along with quality copywriting services.
Whatever Be The Medium We Can Assist You Sell More
We offer copywriting services to Singapore for all media kinds including brochures, websites, direct mail, and other advertising materials. Whether you are seeking to create an expert copy for offline marketing or require a web copywriting service, you can constantly rely on us. A Singapore copywriter will deliver alert content for your medium, targeting your clientele psychology and offering them the preferred answers. We are the best copywriting agency that can assist you with all kinds of copywriting requirements.
Why Choose Singapore Translators for Copy Writing Services in Singapore?
Creativity: We strive to make your copy exclusive and able of getting the reader's awareness from the first sentence. This we achieve by presenting an interesting opening sentence that ties with the common message and spirit of your industry.
Conversion: Converting your spectator into a buyer is the exclusive purpose of copywriting. Our writers organize a variety of approaches in order to make sure high conversion rates. This means presenting your creation in the most excellent possible way and highlighting your benefits over the competition.
SEO: SEO is an essential part of online marketing, and so we ensure that each copy produced is correctly optimized to make your website searchable through search engines.
Flexibility: Not all goods or services are the same, so, not each copy can be written with the same approach; this needs flexibility. Our skilled specialized copywriters are not only able but excel at just that. Our writers come from diverse backgrounds and have experience writing in an extensive range of styles.