Are you searching for  Court Certified translation services in Singapore for ICA officials as per ISO standards at a low price? Singapore Translators provide court certified translation services in 200+ languages like Malay, Chinese, Spanish, Japanese, French, Thai, etc. You are required to translate various types of certified documents for legal and court use. These documents include
Legal contracts
Birth certificates
Marriage certificates
Divorce notices
Wills
Testaments
Patents
Product and service registration documents
Trademark filings
Legal disclaimers
Laws
Regulations
Confidentiality agreements
Legal certificates
Government and legal ruling
Technical documents or credit letters, etc
The legal translators take special care in translating all your legal documents. They are an experienced team of 500+ qualified translators who gives high quality and valuable translation of legal documents at very cheap prices.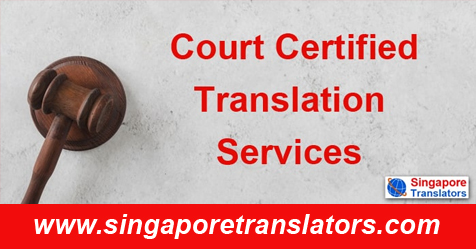 Court and its legal activities have always been the part and parcel of society. You can hire professional legal translators in Singapore to translate various types of court-certified translation and court translation services in translating marriage certificate,  power of attorney, affidavits and other legal documents by the government offices, private organizations and individuals of various ages.
This is especially done to communicate and have businesses with employees, customers, and clients around the world in a compulsory legal manner. Thus, court certified translation is important and is also called legal translation and notary certified document's translation.
Any type of document meant to be used for civil or criminal judiciary purposes is called legal or court-certified translation. You can get translation services for court through any legal professional. But, if you want to get your legal document translated then you can get those services through various language translation companies in Singapore.
These translation companies recruit or hire professional translators to translate your legal document or court-certified document. Most of the people in Singapore go for the SingaporeTranslators.Com to get court certified translation services from professional translators for all types of court-certified document translation.
What Are The Types of Documents in Legal Translation or Court Certified Translation?
In the last few years, there has been an increase in the translation of various types of official documents like birth certificates and marriage certificates due to globalization and the increase of global migration for jobs, businesses, and a better life.
Legal translations are also available in areas of business. You are required to translate business documents such as. Legal translation of court-certified documents is very complex and must be handled with great care. Most of the legal and court-certified documents contain complex legal terminologies, and hence they should be translated with utmost care. This is important since legal terminologies might even confuse native speakers. Even a small translation mistake can put you at risk.
Get Fast & Accurate official notarization for ICA, MOM, MFA.
Moreover, there are also some documents which do not needs to be court-certified such as personal documents like personal letters, website contents, menu card of hotels and restaurants, appointment letter, nutrition labels, etc.
How To Get Court Certified or Legal Document Translation Services?
You need to find the right service provider who can perfectly translate your court certified or legal documents. In Singapore, you will get various translation service providers who offer online translation services of court and other legal documents at a cheap price and in a hassle-free manner. Most of the people in Singapore desires only the best translation company, and SingaporeTranslators.Com is one of the best names in the list of top language translation companies offering legal document translation services in Singapore.
It is important to find the right translation company since it clearly understands the nuances of legal translation. It also sticks to translate the document by following the best industry practices and the appropriate power of technology. You will even get the best quality translation services through properly managed legal translators who very qualified and experienced. These translators regard the practice of law as a cultural pursuit, and therefore it is important that the legal documents' target language, context, and terminology is deeply understood by the professional legal Singapore translators.
How to Choose the Right Legal Translation Company
The first task you need to do while choosing the right legal translation company is to think about whether you need a legal translator or any other professional translator. This will depend upon your use of that legal document. If you are going to translate just a simple agreement then you are better without taking any help from a professional legal translator.
However, if you have a legal document with implications of commercial or legislative then it strictly advised to take translation help from a legal translator.
Secondly, it is very important to look for the best translation company that can provide your accurate certified translation of your legal and court- certified documents. You must avoid choosing the wrong translation company since the result of the translated document can be a disaster and can even put you at risk or any kind of legal action against you.
Hire a Language translator for converting your legal & Other Documents.
When you are talking with a translation company it is important to tell the professional translators there about the purpose of the document and to which audience type you are going to translate the document. Once you make these requirements clear to the translator they will use the best translation type by providing you with the best services to translate the legal or court-certified document.
What Are The Best Professional Legal Translation Services You Are Seeking?
While you are seeking the best services for legal translation of court-related documents, it is important to choose the right and appropriate professional translators. These translators must be from a good Singapore based translation company that specializes in providing a legal translation of all types of court documents.
So, when you have selected the best translation company along with the best translators then you are assured of getting the following services which are:
Accurate legal translation of documents by certified language experts who are the native speakers of the target language. For example, if the target language is Malay, then you will get help from the native Malay translators to translate the legal document.
The translation is done only by those legal translators who have significant experience in translating legal documents such as copyright, intellectual property rights, business law, etc.
These translators translate all your legal documents by translating even the complex legal terminologies in an accurate way and in a perfect manner.
These translators can also provide audio transcription. They provide the perfect translation since they are very expert and have deep knowledge of various features of law and legal systems.
The type of translation of legal documents and other certified court documents provided by the translators is so authentic that the tone of the translation exactly matches the original legal document.
After the translation is complete, they provide the final touch to make it a perfect one by editing, proofreading and revising. They also make use of plagiarism tools like Turnitin to eradicate plagiarized phrases and sentences.
Conclusion
Thus, it is very profitable to take court certified translation services from the best translation companies in Singapore. The best one among all the top translation companies is SingaporeTranslators.Com. The legal translators there take special care in translating all your legal documents. They are an experienced team of qualified translators who gives high quality and valuable translation of legal documents at very cheap prices.