Whether you want Croatia Translators for industry meetings, legal, medical, or even personal motives, Singapore translators can give you friendly and specialized bilingual experts. Our certified Croatian to English Translation Services in Singapore for ICA is accessible 24/7 for all your language translation needs over 200 languages like Malay, Chinese, Japanese, Thai, Korean, Spanish, etc.
You can translate any of your document from Croatian to English & vice versa like – 
Court Orders
Technical Manuals
Medical Manuals
Employee Manuals
Divorce Certificates
Personal Correspondence
Death Certificates
SPM certificate, etc.
When you require Croatian to English translation Services, Singapore translators are constantly ready to manage your request. With outstanding reviews and positive feedback from hundreds of pleased clients, our outstanding quality work speaks for itself.
Affordable Rates
Expert, Proofreaders, Editors
On-Demand Access to top languages
Thousands of globally satisfied Clients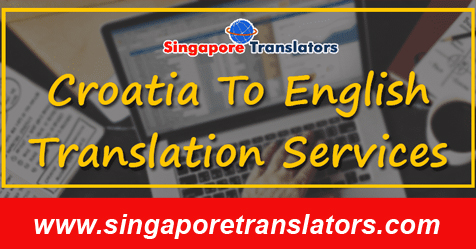 Croatian to English Translation Services in Singapore from Certified Translators
Croatian which is mostly spoken in Croatian is a South Slavic language. It is mainly spoken by the Croats living in Bosnia & Herzegovina & the Croatian minorities live in the nearest countries. The demand for Croatian to English translation Services is quickly expanding, and we have the top team accessible, with wide-ranging experience in a wide range of translation work. This means you can be sure that when you use our Language translation services, you will get the most excellent possible job done to the top standard.
The nation of Croatia has united with the European Union & which means that Croatia has to turn out to be a grand place to do dealing in and with. They need to be capable of translating new and existing papers to the Croatian language and take benefit of these new opportunities is something that we at Singapore Translators can help you with. This extends to non-standard papers such as technical documents that need absolute precision. In addition to website and software localization that needs cautious consideration of context.
A language with such a prosperous history certainly requires top quality translation services, which Singapore Translators proudly offers. Our large team of very capable and knowledgeable professional Croatian translation experts offers Croatian to English Translation Services in Singapore combined with an extensive variety of languages. We have frequently been providing Croatian translation services to the great fulfilment of our customers. For the advantage of Croatian translation buyers and as well as service suppliers, we have compiled the system of services.
Quality Translation Services for Croatian to English translation in Singapore
Our highest quality translations are certain and accepted internationally. You can constantly trust our certified Croatian Translators for the most excellent outcomes. To help meet every client's necessities, we translate varieties of documents including certificates, decrees, legal documents, & much more. Our accomplished Singaporean native Translators offer document translation services suitable for any applications, & worldwide business.
Croatian to English translation Services By Professional Translators in Singapore
For our English-Croatian translations, we only use knowledgeable, local Croatian translators competent in translating into local dialects such as Chakavian, Shtokavian, and Kajkavian, all of whom focus on several diverse areas of translation to provide the best possible results for our clientele. We then have the paper proofread by a third party and make sure that the formatting is right, all of which culminates in the condition of a final translation of outstanding quality.
Get Fast & Accurate official notarization for ICA, MOM, MFA.
Whether your Croatian-English translation project is multifaceted, technical or more basic in nature. Singapore Translators always has knowledgeable translators on hand to deliver, with proficiency in several areas, from technical computer jargon to lawful terminology.
All our Croatian to English translation performed by local English speakers with applicable qualifications in Croatian translation.
Singapore Translators Provide Trustable Croatia to English translation Services 
All of our translation methods and systems specialized and follows the highest worldwide standard accessible in the translation sector.  Our English to Croatian Translators is greatly skilled inside the translation business.  And our arrangements for in-house examination and endorsement make sure every client gets the best quality of translation services accessible today.  We offer certified translation services for practically every country together with legal translation services. We also provide academic translation services for students as well as for academic industries.
Expert Medical Croatian to English Translation Services in Singapore & Interpretation
Providing access to healthcare and facilitate contact between Croatian patients & their doctors is one of the most decisive objectives of the language services supplier. To make sure that quality access is given and that obvious communication can occur between doctor & patient, our contracted Croatian translators and interpreters are efficiently trained and educated in particular medical terminology and HIPAA training.
Their capability to offer accurate and concise explanations of multifaceted medical concepts makes sure accurate Croatian translation from doctors and ideal understanding from patients. From scientific trial questionnaires, patient surveys, informed consents, procedure explanations, to instruction information, these linguists are ready to offer outstanding Croatian medical translation and explanation services.
Why choose Singapore translators For Croatian to English Translation Services?
These days, document translation is between the pillars of worldwide communication. Singapore translators offer Croatian to English translation services as part of our major services. Our professional Croatian Translators work exactly the way you believe they should. They are reasonable, easy, and offer modified solutions with unparalleled quality.
Hire a Language translator for converting your legal & Other Documents.
All Singapore translators' representatives have extensive experience in words management and can efficiently manage any project. We are your one-stop Croatian translation organization based in Singapore. Our company supports your global communiqué hard work via effectual business and practical translations services. We offer particular translation services in over 200+ languages such as french Translation Services Singapore.  And covering an extensive range of industrial sectors.