You just simply scan your certificate, fill the order form and get your death certificate translated within 2 hours with Singapore translators. Yes! this is true! Singapore Translators is a certified leading translation service in Singapore for completing ICA official's work. Which is known for its super-fast delivery, reliability, high-quality work & affordability?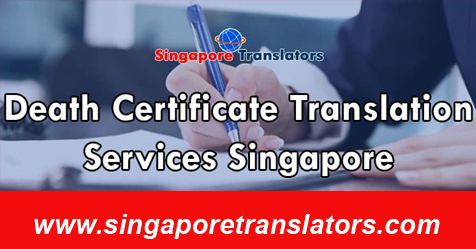 We are working over 200+ languages & have a team of professional native translators. Death certificate translation was never so easy before Singapore Translators whose main objective is only customer satisfaction.
Death Certificate Translation Services In More Than 200 Languages pairs
You can translate your death certificate in any language
Chinese To English & Vice versa
Malay To English & Vice versa
Spanish To English & Vice versa
Japanse To English & Vice versa
Korean To English & Vice versa
Thai To English, etc
Best Death Certificate Translation Services In Singapore At Valuable Price!
Death Certificate is one of the numerous significant documents that government agencies need. Getting such a document translated can be a disturbing and touching task. At Singapore Translators, we are sensitive to the difficulty of the client. And wish to provide an easy process to obtain the Death Certificate translation services Singapore. Frequently for legal and immigration purposes, time is a restriction.
As mentioned above a death certificate is one such manuscript for which we have provided language translation services since fairly some time. While working on translating death certificates, we understand how significant they were and that numerous noteworthy decisions were dependant on death certificates. These choices, ranging from legacy issues to life insurance compensation could be delayed if the original death certificate was not in a tongue that the concerned decision-makers could recognize.
Singapore Translators established to make high-quality legal translation services accessible in Singapore to everybody for low rates. This is a huge order, as language translation can be necessary for text related to just concerning anything. But keeping with our point, we keep adding to our language translation services and providing quick translation for everybody.
Get Fast & Accurate official notarization for ICA, MOM, MFA.
At Singapore Translators, we have the best expert translation providers working with us and always get satisfactory feedback from our translation customers. Our massive team of language translation providers drawn from a worldwide pool of translation talent. We have translators focus in a wide range of language pairs, & you can expect to acquire death certificate translations between almost every language pair like translate certificate to English.
Yes! Of Course, Death Certificate Translation Is Mandatory
A death certificate is a manuscript that required in case of immigration or record-keeping. Most natives opt to translate the death certificates of their loved ones to sustain a record with themselves. This is why a professional Singaporean death certificate translation service is a necessity for numerous individuals.
Singapore Translators a globally acclaimed, expert translation agency having almost two decades worth of familiarity in translation services. But the translation of papers is not the only service provided by the experts of Singapore Translators. Read on to find out what other things this skilled translation agency offers to its international customers:
Team Of Native Professional Translators In Singapore Is Ready to Help You 24*7
Death certificate translation needs careful attention to lawful linguistics or legal English, in addition to familiarity with bureaucratic writing in different countries. These translations recreate the data on a death certificate precisely, making it easier for you to handle the authorized affairs which frequently accompany the passing of a loved one.
Our knowledgeable translators acknowledged the legal procedure and government document language of numerous different countries, allowing the death certificate translations to be made in accordance with the legal procedures of particular nations.
Wrong death certificate translations can make a range of problems. Legal affairs may take longer to resolve, making it hard for the wishes articulated in last wills to be followed, and needless frustrations with the lawful system could result.
Hire a Language translator for converting your legal & Other Documents.
Singapore Translators provides the highest-quality death certificate translations Singapore, which frequently required in order to resolve the lawful affairs of a departed relative or loved one. These translations are made with the utmost standards of authenticity, accuracy, & attention to delivery times.
How Our Expert Translator Works For Translating Your Document – 
We use local language speakers to deliver precise and legitimate death certificate translations, which carefully checked by linguists earlier than submission.
As experts in the legal process of numerous different countries, our death certificate translators have access to legal papers. It ensures that your original language death certificates correctly translated.
You Can Translate Any Type Of Document From Singapore Translators
Marriage Certificate
Divorce Certificate
Police Clearance 
Immigration Certificate, etc.
Why Choose Us For Death Certificate Translation Services In Singapore 
You just trust us once, this will benefit you in many –
Timely Delivery – A correctly translated death certificate will resolve in the fast and painless resolution of lawful affairs, which is why our teams of linguists work to make sure that death certificate translation will be of the utmost accuracy and quality, and that they can meet any time limit.
Cost-Effective Prices – When a person seeks to translate his papers, the cost is one of the deciding factors on which he makes a collection for SINGAPORE TRANSLATION SERVICES is translation charges. We understand that charge constraints on persons frequently force them to choose for cheap services that have low quality.
Multi-format Support – Singapore Translators delivers specialized death certificate translation services in Singapore in the format of your preference. Whether your papers in the format of PDF, DOC, XLS, XliFF, or CSV format. Also, be assured of a seamless and professional document translation service for your papers.
Fast Delivery – As talked about above, the expert and qualified linguists of Singapore Translators deliver the translation services rapidly and professionally, even before the due date is over. This is because these linguists have executed the translation of more than 30,000 papers so far, with each of them catering precisely to the requirements of our customers.
No 1 Online Translation Services for Document & Legal Translations in Singapore.
This is why these customers rely on the fast and quick services of Singapore Translators.  As any delays in the services can mean inefficiencies for the clients and could result in client dissatisfaction. We also provide proofreading and editing services to our customers.