Writing a dissertation is not a simple procedure. Rather, it takes time & focus to mark it. We are a dedicated organization to offer the best dissertation translating service to our customers. Singapore Translators a leading name in the industry of translation services providers in Singapore. We are here to get you your dissertation document translates with no altering any meaning but in a diverse language that you preferred like Malay, Chinese, French, Japanese, Thai, Korean, etc.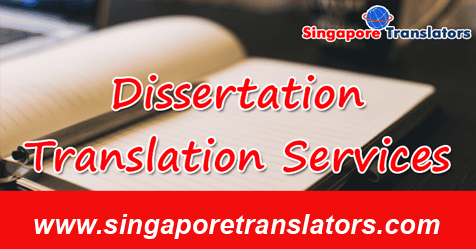 Of all dissertation translation services Singapore, we are the supplier of the best translation service at a very reasonable rate. You can effortlessly get high-quality, specialized dissertation translation services at a reasonable rate.
Hire Reliable and Professional Translators in Singapore for Dissertation Translation Services
A person willing to do his masters has to select a particular topic within his subject area. A long written work recognized as the dissertation is truly necessary throughout his perusal of a Ph.D. or doctoral program. It is compulsory for the scholars to submit their dissertation to the University for acquiring a degree. Even there are numerous students who not conscious of a particular language in which the dissertation is done.
We can now offer them with online dissertation translation services in Singapore. With the aid of the standard tape of dissertation translation supplier, students are truly happy to gather data, thought and study. We can also offer the dissertation editing & proofreading services to fix the issues of your previously written dissertation.
High-Quality Translations services Available for Your Dissertation
Singapore Translators concentrate on the translation of academic papers, in addition to foreign language research. We work with thousands of capable and knowledgeable native-speaking translators and ghostwriting services Singapore are consequently capable of carrying out translations in a very extensive variety of languages.
All of our translation jobs handled by expert translators who local speakers of the target language. We present fast service of translators that specialized by accredited translation organizations.
Our Translation service provides support to researchers & scholars who are more comfortable writing in a language other than English. Every manuscript allotted by area of study to make sure accurately translated field-specific terms.
Get Fast & Accurate official notarization for ICA, MOM, MFA.
When your paper revisits to you, it will be indistinguishable from papers written by our expert local English speakers. As our Translation service geared toward organizes a high-quality, publication-ready manuscript, we advise you to offer us the final draft of your paper.
The Need for Academic Translation Services
Journal piece of writing is precious references in justifying novel findings and these papers similarly pave the way for novel discoveries. However, these academic references are generally available in certain languages.
As new academicians accumulated from different parts of the globe, the need for these journal articles and other precious references cannot be overstated. But, due to language obstacles, these references deemed unreachable.
Through academic translation, these papers can now be shared easier among numerous academicians. In addition, more people can share their educational work, essay reviews, theses & dissertations through this type of service.
There are certainly numerous suppliers of dissertation translation services. The task now is to be able to find a trustworthy provider, which can make sure high quality and precise translations.
You need to make sure that your ideas translated evidently and that your references are as well reasoned. It is highly significant to be capable of getting a translator which purposely caters to your individual field as your goal is to be capable to share and gain access to clear information.
We Have professional Singaporean Dissertation Translators for All Your Academic Requirements
The major goal of Dissertation translation is to be capable of presenting research and novel findings towards the further development of the field without having to be concerned regarding language barriers.
Hire a Language translator for converting your legal & Other Documents.
In order to effectively attain this goal, it is extremely suggested that you only avail of our specialized services from professional dissertation translators in your field. For scholars needing translation services, including graduate students, require dedicated thesis writing, we offer personalized translation services catering to an extensive spectrum of fields and topics. We also provide copywriting services for clients in Singapore.
Our staff of expert thesis writers, skilled thesis translators, and dissertation translators has different specializations, ensuring that we are capable of catering to a similar variety of customers.
We promise that we are capable of delivering our service on time, and we offer accurate translation services, ensuring that your work's note and results are conveyed exactly. Moreover, we make sure your privacy and safety as you avail of our services.
We recognize that as well as a nurturing environment, research & thesis-writing are very competitive, and this is why we put a high value on your safety. Moreover, we extremely value your approval. We put huge encouragement to the precision of the translations that we offer because we aim to convey your concepts.
Why Choose Singapore Translators for Dissertation Translation Services
Academic research very competitive, and researchers stressed to get their results published. With Singapore Translators, researchers supported during the publication procedure, with an extensive range of goods and services that assist them to improve their articles prior to submission. With more than 100 years of knowledge in the scientific publishing procedure, Singapore Translators has the proficiency and tools to help researchers reach the utmost standards.
No 1 Online Translation Services for Document & Legal Translations in Singapore.
Free Revision
If your paper rejected due to English language errors after we've shortened it, we will present you with free revisions.
Native English-speaking editors
Singapore Translators Language services performed by native certified translators Singapore, who will get better your text, from correcting spelling and punctuation to improving sentence arrangement and word preference.
Different formats
We work with your files! Research papers, reports, books, Ph.D. dissertations, grant applications, and PowerPoint presentations.