Get your divorce certificate translated for immigration, visa and legal purpose by esteemed certified translation service in Singapore that complete ICA  officials and other official's needs. Singapore Translators not only works for quality but also cares for your budget. You can convert your separation certificate in more than 250+ languages like Malay, Chinese, Japanse, Spanish, Korean, Thai, etc. Scan your document, fill the order form and get your divorce certificate by email. Our native professional Singapore translators change your divorce certificate in the language you need to translate.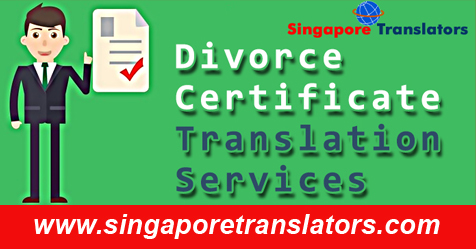 Divorce Certificate Translation Services in Singapore by Professionals
Divorced and planning to move abroad? Still uncertain what to do? Thinking why you do need to have divorce certificate translation services? Let's set this directly. You are planning to move on to another country that has a diverse working language of the nation you presently live in.  When you choose to end up a relationship lawfully, you need to fulfill the authorized formalities, so that there is an evidence of your division. This will show that you don't have a legal connection with anybody and a divorce statement translation will be required.
Getting a divorce is never simple. Yet sadly, numerous marriages do end in divorce. Should you have to translate your divorce judgment, Singapore Translators will offer you an official, certified Legal Translation services that will be acceptable by all authorities, embassies and administration offices. Click here to acquire an instant price quote for divorce decree translation services.
Some nations might have a policy that needs your divorce certificate, and all other lawful documents related to it. To offer these, you must have them translated. In the US, you will need to utilize divorce certificate translation services in order to have your divorce translation made and certified. You will require an expert translator to do this for you. Here, the most noteworthy thing to keep in mind is that you don't only require a translator, but you'll also require a legal consultant. And you must only be heading to a Document Translation services provider where they recognize how to take care of things in the most expert way.
Why a divorce certificate translation services required?
Divorce certificates are life-changing papers that are pushed aside by the adverse receivers who desire never to have to look at them again. We recognize your pain and quandary. Singapore Translators is also very sorry for your pain, suffering, and loss. But the sad reality is that there is a reason that paper was ever required. This is a significant document that will roam around with you just like your birth certificate or your marriage certificate, excluding that your birth certificate makes you happy and this one makes you look about for Kleenex.
A divorce declaration is formulated in an extensive variety of not only languages but also styles and spiritual contexts that come into play while handling the paper. The religious insinuation of any and all marriage contracts also needs religiously apt processes to reverse the union. So we have seen the most different treatment of this issue in numerous varied geographical locations.
How long does it take to translate My Divorce Certificate?
We do our top to ensure that our Certified Language translation services are not complex or expensive. Depending on the words and time we can translate your Divorce Certificate in 2 hours via our fast service. If the document isn't necessary urgently, then we reduce the cost, and we ensure that you are given all the information so you can choose whether you require our express service or standard service.
Our Divorce Certificate Translations are:
Fully certified
Authenticated
Fully approved
Why our Divorce Certificate Translation Services is best?
At Singapore Translators, we have a fervour for what we do, and we consider providing high-quality translation services. We make sure client satisfaction at all times.  Language translation incredibly specialized service that needs proper training to get the professional quality expected in the business. We are incredibly much aware of the risks linked with using untrained translators and interpreters including the high possibility of the message getting changed in the conversion.
Can I Get Certified Translation In 24 Hours?
If a certified copy is required, our expert translators will do this for you. A certified translation comes with a stamped report from the translation corporation, which declares that the paper has been correctly translated and is precise. If you're dealing with USCIS, this is precisely what you need. We are cheap, and we deliver high-class services to you. Most papers are translated and sent back to you in 24 hours. We also provide academic translation services for scholars.
How Much Price For Translation?
When it comes to Divorce certificate translation charges, we couldn't find any organization to charge less than Singapore Translators. We offer high-quality translations at the most affordable rates in the industry for this level of quality & the divorce certificate translation services are no exemption. Feel free to lookup for yourself and request around for quotes, you will desire to save this page first because you will get back to us.
Can You Ensure Translation Quality
The most excellent part about our translation services that we rely on the top translators for divorce certificate translation services. Our professional team includes legal experts as well, who offer complete and valid solutions to our translators. We believe that the translation of divorce credentials is a complex task.  And thus, our translators and proofreaders constantly working with our team whenever such a detailed and delicate job comes up.
FAQs
Q1. How long has your divorce certificate translation been valid?
The divorce certificate translation services provided by our translator doesn't come with any specific validity. However, the validity of the divorce certificate translation service depends on the original document. This means upon the expiry or alteration in the original documents; the translated document might also expire.
Q2. Do you need to notarize the divorce translation into English?
Having the divorce translated document notarized is essential as it is what makes the divorce translated document valid in foreign countries. Our translators can assist you in getting notarization services since we are dedicated to providing you with the best service available.
Q 3. Where can I use these divorce translations?
There is a number of situations where you can use the divorce translation service provided by our translators. If you are a foreign individual intending to marry a Singaporean, you will be required to provide the divorce certificate translation provided by our translators to get entitled to marry Singaporean. Besides this, there are also several other situations where you can use a divorce translation service.
Q4. Can you refund customers who use divorce certificate translation services?
Sadly divorce certificate translation services are not refundable once you've paid. Therefore, you should not pay before ensuring that you need it. We are unable to issue a refund after you have paid. That is why we recommend that prospective clients must confirm their commitment to buying our translation services before ordering our divorce certificate translation service. Don't worry. Our translation service Singapore is certified and don't provide irrelevant translation; still, if you wish to get any alterations to the documents, we will be more than willing to assist you without charging an additional fee.
Q5. How do you ensure high quality in the certified translation of divorce certificates?
For a high-quality divorce certificate translations service, we ensure that the translation requirements of our client are clarified before starting work. As soon as we have clarified all the requirements, the rest will be managed by our dedicated team of translators. Since our translators are professional and passionate about delivering high-quality translations regardless of document size.
Q6. Does the divorce certificate translations come in hard copy?
Our divorce certificate translations do provide a hard copy of the translated divorce certificate. However, hard copies are not included for free with the translation. Instead, each hard copy is subject to an additional fee. You will be charged for hardcopies depending on the number of copies you need.
Q7. When will you be able to provide a translation for a divorce document?
The time frame for translation cannot be predicted in advance due to the fact that each translation is unique and entirely dependent on the amount of time put into the process. But don't worry; our translators don't let you wait for long. We usually manage to translate a divorce document well before the deadline specified in the submission form without sacrificing the quality.
Q8. What format do your translators follow for divorce translation?
Our translators do not follow any set format as it completed depends on clients changing requirements. We are pleased to provide clients with divorce translation in a variety of formats. However, we manage to deliver the document in PDF, Word, Excel, PowerPoint, and PowerPoint formats.
Q9. Under what range will certified translation of divorce certificate come?
There is no such specific range for the certified translation service for a divorce certificate. Because translation methods and procedures can vary, translation prices may also vary, depending on the specifics of the file. The translation price will depend on the client's requirement regarding the particular file that needs to be translated. If additional translation services, such as proofreading, editing, notarizing, etc., are added to a word translation, the costs may increase slightly.
Q10. Do your divorce certificate translations offer discounts?
Yes, our translators offer you amazing discounts on bulk document translation. For any assistance concerning the discounts and offers, you can directly reach out to us at info@singaporetranslators.com.