Forget your worries about your official documents being translated well and relax! because its quite easy to hire a translator from premium document translation service in Singapore. Singapore Translators is the leading court-certified Document Translation Services in Singapore which is known for its inexpensive errorless high-quality work for all types of documents. We have IS certified, reliable language translating services for ICA works with having 200+ languages like Chinese, Spanish, Japanese, Malay, Arabic, Korean & Thai document translation to English, etc.
We have team of well versed native translators who are capable enough to translate any of your major documentation translation need like –

Birth Certificate Translation
Divorce Certificate Translation
Police Report
Police Clearance
Migration Certificate
Court Documents
Driving License, etc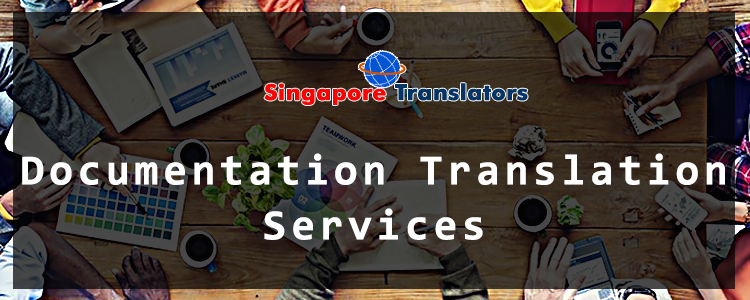 Singapore Translation Services by Singapore Translators That Never Compromise With Quality and price. 
With people or businesses widening their existence across all geographical boundaries, language obstacles have reduced to least. With an extensive range of our translation services for documents, an entity or an individual can effortlessly barricade the limits and plan to enter their preferred geography.
While entering some geography, translating documents and a set of papers is a need that is justified by our best document translation services Singapore. Our services make sure we meet the culture and emotions of the locals while securing precise and timely delivery.
Where to translate official documents? At Singapore Translators, Our proficient translators deliver a high-quality official translation of documents Singapore in various areas like sales/marketing, business documents, financial, legal, medical & technical. We have a recognized network of expert online translators in over 100 countries & in over 70 languages. Our skilled translators cautiously selected based on their educational and industry experience and based on their appropriateness to translate official documents. All of the certified translation services that we offer are 100% human-only document translation is used in our work procedure.
Ensure quality and accuracy in all kinds of document translation services
Are you wondering how to translate official documents? Alright, we have certified experts for official document translation services who ensure quality and accuracy in all types of documents includes:   
Technical Document Translation: Translation of technical papers is what you require for the international task when you have to converse with your foreign customers, contractors or associates. Technical Document Translation services offered for all types of technical translations be it large business projects in oil and gas, technology development projects, manufacturing, production, structure.
 Business Document Translation: Translation of business documents is completely essential for international relations and communication. Any information switch in terms of business needs the translation of documents into the language of the seller or buyer. Any advertising campaigns must be introduced in the language of the target spectators for successful endorsement of goods and services abroad or internationally.
 Medical Document Translation: Translation of medical documents extremely critical when the patient is treated abroad in an overseas nation which language he or she does not recognize. Any medical inspection reports, including the scans like MRI, must be understood for further proper and exact prescription of health care & medicines.
Legal Document Translation: Translation of legal documents is vital when it comes to different court proceedings, prosecutions, lawsuits, judicial settlements, court trials. Also, it is extremely important for the translation of a contract, terms, and conditions, examinations, qualifications, patents, laws, regulations, integration documents, register certificates.
Why Outsource Document Translation Services?
Have you faced being confronted with presenting information in the customer's local language? Every document you generate represents your industry in the global arena. When your content speaks to clients in their local language, they are more likely to do dealing with you.
Get Fast & Accurate official notarization for ICA, MOM, MFA.
At Singapore Translators we make sure of the precise official English translation of documents of all your business papers. With a capable team of proficient native-language translators well equipped to handle foreign translation requirements, our translation document services that can help you get any paper translated with simplicity.
We are the Best translation for documents (Basic)
Having been in the translation business for about two decades now, we have gained adequate experience to cater to any of the clients' requirements. Our squad comprises some of the most talented and skilled translators who can translate document in Singapore to cater to some of your requests. Singapore Translators provides the following documents translation services –
User and instruction manuals
Reports and presentations
Bills/forms
Insurance claims
Financial and legal documents
Journals and magazines
Licenses
Business correspondence
Bank statements
Foreign language translation services are made in Spanish, French, Russian, German, Swedish, Arabic, Polish, & Italian, etc.
Why Only Professionals For Documentation Translation Services Should Be Trusted –
The translation is not a simple task; it needs professional document translation services and subject matter experts reference for 100% precision. If this system not followed, then the high probability of miscommunication remains at large. To keep away from some discrepancies professionals such as at our platform Singapore Translators helps users in the Documentation Translation.
Another major reason for the Documentation Translation through professional translation services for documents is due to the fact that the papers are lengthy and the huge quantity of data needs a complete team of experts to finish the task effectively within a shorter period. Such a facility is accessible at Singapore Translators, and we have a panel of professional translators.
Features Of Singapore Translators
We are a quality-aware translation company in Singapore that offers error-free Documentation translation services to our worldwide clients. We follow strict quality control actions to make sure client satisfaction. After the conclusion of translation, the source text undergoes editing, proofreading, and feature assurance measures. We try our top to produce the text, which is evenly effective in the target language as in the original.
Hire a Language translator for converting your legal & Other Documents.
Quality Translators: We work with only top-quality professional translators from around the world. We are discriminating, choosing only a small fraction of applicants to join our team of professional linguists and translators.
Honest Pricing: Singapore Translators dedicated to maximum transparency with our document translation customers. This is why we publish our costs and have no hidden fees.
Fast Turnaround: Our customers value quick turnaround time for their Certified Translation Services and business document translation. While turnaround times differ by language, we usually can return a short document within a few hours.
Safe Documents: We intend to make long-term relationships with our customers. We recognize that our customers value their privacy, particularly when it comes to individual or private business documents.
FAQs
Q1. Is your service for translating official documents available 24X7?
Yes, we have official document translation team members available weekdays, evenings, and weekends if you need urgent assistance. You must schedule an appointment for immediate assistance in advance by email or phone.
Q2. Does your agency offer valid translations of documents?
There is no specific validity of the translation of documents provided by our translators. Since the validity of any translation remains until the expiry or alterations in the original documents.
Q3. Do you offer discounts on your document translation services?
We offer a wide range of discounts for all of our clients. If you order in bulk, you will receive an even greater discount. Those who wish to receive more information can contact our team directly at info@singaporetranslators.com.
Q4. How much will a documents translation service cost?
Getting a precise estimate of the cost of an official document translation can be challenging since they differ based on the number of words you need to be translated, the level of skills you require, and the type of document you require. In addition, the cost will increase if you add editing, proofreading, notarizing, etc. Furthermore, urgent translations will be more costly.
Q5. Does the translation of documents guarantee confidentiality?
It is our policy to take precautions to ensure that all clients' confidentiality is protected. We are a trusted translation firm, and we are aware of clients' concerns regarding their privacy. In this way, the translation of official documents for our clients is protected against unauthorized access and ensured to be confidential.
Q6. How high is the quality of the document localization services?
Providing document localization service of high quality is a specialty of our professional translators. We pride ourselves on our quality translation service by using only translators who have extensive experience translating very high-quality documents.
Q7. When can a document translation service be expected to be completed?
The length of time a translation service will take depends on several factors, including the number of words, the language used, and the amount of effort spent on the translation. Nonetheless, our team of experienced translators will deliver your translation within the deadline you specified in the application form.
Q8. When your translators deliver documents translation, what format do they use?
The translation of official documents is what we offer. However, we do not provide them in a predetermined format. Instead, we deliver them according to our client's requests, so it is up to them to choose what format they desire. Translations are provided in PDF, Word, Excel, and PowerPoint formats to cater to the preferences of our customers.
Q9. What is the refund policy for Singapore document translation?
Our Singapore document translation services are non-refundable after payment has been received. Please ensure you need our services before placing an order. If there are any mistakes in the document, we offer free revisions.
Q10. Would it be possible to obtain a hard copy of the translation of documents?
Hard copies of translated documents are definitely possible. However, you will have to pay separately for hard copies, as we do not include them in our document translation service cost.