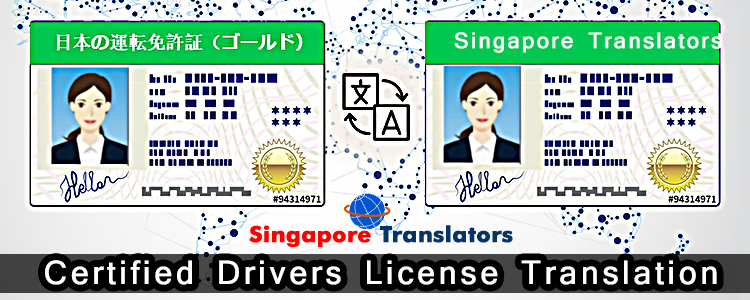 Certified Driving License Translation Services in Singapore
If you are setting up to drive in a foreign nation, you'll possibly need a certified driving license translation services in order to rent a motor vehicle. This can come as a blow to several travelers who find this out at the rental counter. We present expedited turnaround and, where possible, super accelerate services for situations like this. Our trusted drivers licence Translators have effectively translated lots of  driving licenses for Malay, Spanish, Chinese , Japanese clients. Singapore Translators your best bet for a precise Drivers License Translation services delivered speedily and affordable.
Singapore Translators has seen driver's licenses are translated for different reasons by the travellers who are going overseas nations. Many countries settle down on the issuance of a driver's license if they see that you have obtained a driver's license in your local country.
Properly Translated Driving Licence is required in Many Jobs –
There are also jobs that need that you show a driver's license in order to be valid and so you get your properly translated driving licence .
There are numerous points at which the conversion of a driver's license can be difficult. Firstly, the contents of the driver's license diverge from nation to nation. Some countries issue appropriate books while other countries only issue cards. Numerous countries have levels of driving proficiency that is not universally familiar. That's why translation of a driving license from machines or any other  can turn into a problematic Endeavor. So always hire a professional and experienced driving licence translation specialist
When is a certified translation of driving license required?
There are numerous reasons for getting a certified translation of the driving license. A few are as follows:
The profession you applied for, out of the country, requires a driver's license & you are including your driver's license in the request. If the driver's license was an issue in your local language, then it will have to be translated.
In case you travelling out of the country and think that you will be issued a provisional driver's license if you can show your driver's license from your resident land.
If the driver's license that your nation of residence has issued will be acknowledged by your tour destination, such as entire Europe, North America, and the Middle East among numerous other regions.
You might also have an individual and special circumstance that may need that you get your driver's license translated.
These are a few of different reasons a person needs a Legal Translation service of driving license. Occasionally the translation needs to be notarized as well, and if you require a notarized translation, we can do it just as simple.
What to do when driving license translation required?
When you require a driving license translation, you get filled with doubts. It is really an extremely imperceptible matter, translating a driving license. When you obtain your driving license, you had been through a hard screening procedure. The training, the tests and the certification, it was an exhausting procedure in itself. And now that you lastly have it, it's not excellent for use in a different nation.
So yeah, you could get concerned, but not with us. At Singapore Translators, we have been translating driving licenses for the public all across the globe. We don't want you to live with no the luxury of driving your personal car, no matter where you live. A driving license is mainly significant for people who look for a driving job in a different nation. Most of the times, such expert opt for an international driving license but if you are not among them, you've got nothing to be concerned about. We will decode your driving license keeping the precise information intact.
Our specialists will decode your driving license and any other paper that you might require in the country where you are travelling to, so that you can focus on other things that matter.
Why Hire Singapore Translators For Translation Services?
With 54,000+ customers and tens of millions of words translated, Singapore Translators is one of the most trusted sources for online language translation services in Singapore. Our staff of certified driving licence Translators knows to complete your project on time with a high degree of precision while our support staff is accessible to you each step of the way. Read through our customer reviews to hear direct how we constantly live up to our promise of rapid turnaround times and grand quality delivering you the best value in the translation business.
Get certified driving license translation quick! You can order certified driving license translations by the filling the form on this page. Our driving license translation service given by certified translators based in Singapore. Certified license translations are sent to your email, & hard copy posted if required.
24/7 Regular Customer Support
A very responsive and informative client support is our precious facility. We offer human support to our customers to ensure maximum client satisfaction through the 365 days of the year.
Multilingual Support
We have effectively expanded our client coverage through outstanding and strategic multilingual support services. You can actively engage our services irrespective of your society, and we will deliver outstanding services in 100+ languages that meet your project necessities. We also deal in academic translation services.