At SingaporeTranslators.Com, you are able to get DTP services for various types of fields in 200+ languages like Arabic, Spanish, Thai, Korean, Chinese, French, etc. The DTP services are offered by Singapore translators in different fields including:
Agriculture
Engineering brochures
Brochures of educational institutes
Government organizations
Healthcare
Market research brochures
Real estate brochures
Hospitality
Tourism & Travel
visiting cards & stationery
DTP brochures, books, charts, newsletters, and translated materials.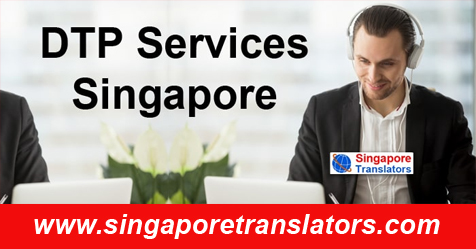 There is a great need for skilled professionals who can provide excellent DTP (Desktop Publishing) services in Singapore. Most of the companies and even individuals need DTP services for professional and personal uses for various reasons. They often look for good agencies who can offer them the services of DTP in perfect quality and also within their spending limits.
In Singapore, one can trust those types of DTP service providers which is regarded to provide the best DTP services in Singapore to offer you the right solutions. At SingaporeTranslators.Com you can expect that kind of top-rated DTP services where computer professionals create and designs using the latest page layout software. So, let us check it out how best DTP services are provided in Singapore.
What is DTP (Desktop Publishing) & its Advantages?
DTP (Desktop Publishing) is simply the creation of designs of documents with the help of the page layout software on a personal computer or desktop. DTP is different from the traditional printing process and typography. It involves the use of publishing software that can generate or create layouts and make typographic quality texts and images.
The associated software with DTP is Excel, Adobe Photoshop, Adobe Illustrator, Adobe PageMaker or Quark Express and Microsoft word. This software is used to create page layout and design including making of typographic quality texts and images in the document or web page.
DTP has its own advantages in the field of the publishing industry. With the application of desktop publishing, you print and produce high-quality documents at fewer prices within a reduced period of time.
Get Fast & Accurate official notarization for ICA, MOM, MFA.
Moreover, DTP also increases the productivity that is producing more webpage layouts and other documents with less production cost. Using DTP also increases the more page design production, improves the high level of creativity, and also increases the appearance of all your digital documents. If you want you can even take a print of your newly designed and newly created document.
When & Why DTP Services Are Required To Take?
Whenever you go for taking any translation services to translate your documents you might already be using DTP. It is usually used when you are translating a document like a PDF file or a brochure with a prearranged layout or images. Generally, DTP is done while translating a document or after completing the translation. Customers like you who were taking any translation services are usually informed about the DTP services which are associated with translation. So, it is clear that every time you are translating a document, you are also using the DTP services also.
When you are translating a text, you just don't translate the words. You will also have to take care of the page layout in such a way that the translated document's layout looks the same as the original document's layout. This is because when you are translating a text then the words seem to increase up to 30% in a particular sentence. It will look much disorganized if DTP task is not carried out.
Professional DTP Services in Singapore
Professional DTP Company in Singapore provides the best services which are widely available in Singapore in major cities like Hougang, Tampines, Sengkang, Serangoon, etc. There are various translation companies in Singapore that also offer unmatched quality DTP services.
The translation company like SingaporeTranslators.Com is very famous in offering DTP services in any translated work. They offer services to all your global DTP needs with great capabilities and the latest technology. Moreover, all the DTP services provided are customized as per your specific requirements and needs.
Most of the customers have great trust upon our DTP services, due to the following services offered to them, which are:
Publication of organized images, documents, web pages in a standard format. All the documents are laid –out and formatted perfectly.
Creating, developing and editing of various courses and contents for various client's need. This is done with a distinctive method and innovative strategies.
High-Quality standard and timely delivery of all types of DTP projects.
DTP related services like DTP samples, DTP file conversions, and DTP resources are also available upon your request.
When you take our DTP services we ensure to serve you till the final document along with its content is finally printed. Here, we offer best print management services, working closely with our team of printing associates.
We, at SingaporeTranslators.Com provides all-inclusive DTP services for web contents, academic documents, study materials and books, medical content, article, business and technical newsletters, marketing & advertising materials, blogs and reviews.
DTP services through us are also available in a wide range of languages like English, Malay, Tamil, Mandarin, Cantonese, Bengali, Arabic, Spanish, French and many more…
DTP services are offered in areas of banking & finances, manufacturing & engineering, healthcare, insurance, online learning or e-learning, information technology, advertising & marketing, etc.
Why Choose Our DTP Services in Singapore?
We offer a wide range of quality services in areas of DTP. Some of the reasons which are advising you to take DTP services from the best computer professionals at SingaporeTranslators.Com are as follows:
Hire a Language translator for converting your legal & Other Documents.
Our team from DTP Singapore service providers is capable of checking which fonts are compatible with the document.
They are efficient in carrying out the complex task of page layout and formatting.
They strictly check the results post DTP work by proofreading.
Our teams of professionals are one of the best typesetters in Singapore. They have advanced knowledge of design, the latest software used and industry knowledge along with logo designing.
When you are taking DTP services for the translated document, our professionals also have the knowledge of that language since they are native translators. So, there will be absolutely no mistakes at all in the areas of typesetting and translation.
DTP services given by our team of professionals is accurate. They are experienced in providing accurate content spacing and appropriate line-break positioning.
Conclusion
You must take DTP services to make your translated documents more organized with appealing looks. Moreover, it is also important to get DTP services for using the latest technology and services which are available only in online DTP services provided by SingaporeTranslators.Com. Thus, get the best services from the professional Singapore DTP makers and content translators in order to make a productive document that might be of great importance.
FAQs
Q1. Translations of DTP papers provided by your company are accurate to what level?
At Singapore translators, we provide you with the highest level of accuracy. However, you can rely on our translator to provide the perfect translation service for your DTP documents. Even we are a well-known translation agency Singapore that offers accurate translation service at reasonable prices in strict accordance with deadlines and quality specifications.
Q2. How do you accept payment for DTP translation services?
To facilitate the convenience of customers seeking DTP translation services, we offer flexible terms and payment methods. Customers can choose to pay with credit, debit, or PayPal cards. Please check out our payment terms clearly before proceeding. You can directly contact us at Info@singaporetranslators.com for any further assistance you need regarding payment methods and terms.
Q3. How much does your service for translating DTP papers cost?
Many factors affect how much a DTP paper translation costs, such as the number of words the translation entails, the needed translation skills, and the type of translation required. There may be a slight increase in price if other translation services are added on top of your word translation, such as editing, proofreading, notarizing, etc. Urgent translations will undoubtedly be more costly, but everything will be within your budget and reasonable with Singapore translators.
Q4. If you translate the DTP document, is there a specific format you follow?
Documents DTP translations aren't delivered in a specific format; instead, they're offered in whatever format the customer wants. The format chosen by the customer depends on his or her needs. The type of translation we deliver depends on the client's preference. We can provide translations in PDF, Word, Excel, PowerPoint, and HTML.
Q5. How long does it typically take to get DTP translation services?
In general, the time required for publishing translation services cannot be predicted since many factors, including the number of words, the language used, and the depth of effort, influence the length of time required. Your translation will also be delivered within the timeframe specified in the submission form by our team of experienced translators.
Q6. In regards to the service of translating the DTP, do refunds exist?
The service for DTP document translation will not be refunded once the payment has been received. Make sure you need the service before you place the order. Furthermore, we offer free revisions if you detect any errors in the document. If changes are required, we will do this at no extra charge.
Q7. Does your firm provide notarizations for the DTP-translated documents?
Our agency offers the notarization of translated Dtp papers to those requiring this service. However, this service is available only for those requesting it.
Q8. Is there anything you can do to protect my Dtp documents?
Regarding the DTP translation services we offer, Singapore Translators promises to be completely confidential and secure. In order to guarantee the protection of their information, we require that all of our clients sign a confidentiality contract. We can therefore provide DTP translation services in the most secure manner possible.
Q9. Would your office be able to supply me with a hard copy of the DTP document?
There is no problem getting a hard copy of the Dtp document translation. If you want hard copies, you must notify our translators in advance. You are required to pay for each copy separately. You can pick up the copies from our office.
Q10. Can your DTP translator translate documents into any language?
Whether you intend to translate documents into any foreign language or where you are coming from, our Singapore translators can help you. Our translators are proficient in converting dtp language documents. Over 500 of our language experts are fluent in multiple languages, including Bahasa, Malay, English, French, and more.