Singapore Translators provide finest electricity bill translation services in 200+ languages like Malay, Korean, Thai, French, Spanish, etc.  We are a leading translation service provider in Singapore whose main objective is customer satisfaction.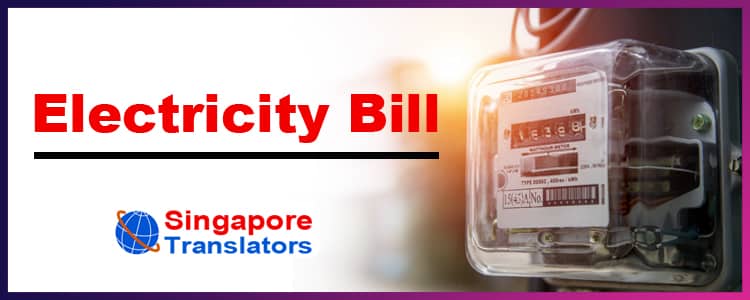 Peoples from other parts of the globe migrating to Singapore need to do various kinds of formalities and paperwork. This is very important for their immigration process in a safe manner. For visa and immigration application they need to translate many ICA supported documents.
Electricity bills are also one of them. Electricity bills are translated for visa application, gaining PR certificate, etc. After you migrate to Singapore, translated electricity bills are also used as address proof to gain new connections of electricity. It can also be used for other official and daily basic purposes.
Accurate & certified electricity bill translation services can be obtained online at various translation agencies in Singapore. SingaporeTranslators.Com is one such translation company that offers the top-class translation of all types of documents including utility bills like electricity bills. This translation company hires professional translators for you so that you can have accurate translation help through them at cheap prices.
What Are The Advantages of Taking Electricity Bill Translation Services From Singapore Translators?
There are various uses and advantages of having electricity bill translated by professional translators in Singapore. Translated electricity bills from native to the English language are used for various official and personal uses. This has been discussed in detail below:
Get Fast & Accurate official notarization for ICA, MOM, MFA.
Use Translated Electricity Bill As Address Proof:  You can use translated electricity bills as your address proof in countries like Singapore. Your old electricity bill features the address of your permanent address, and hence it can be used as an address proof along with your present Singapore residential address to take up a new electricity connection or home phone and internet connection. Moreover, it is also used for visa and immigration purposes.
Apply For New Home Services: Translated copies of electricity bills from your previous native address can also be used to get new home-based connections and services. This includes a mobile connection with a new sim card from any local mobile operator in Singapore. Moreover, you can even have banking services or directly open a bank account in Singapore.
Important Document For Visa & Immigration:  Singapore based ICA officials also permits translated electricity bill documents as proof of your address. Since it is an authentic document to prove your original home address. Thus, the translation of electricity bills is important for visa and immigration.
Why Trust Electricity Bills Translation Services by Singapore Translators?
Your trust upon entrusting all the translation work upon the translators at SingaporeTranslators.Com will never go in vain. This is because that these translators are very qualified and experienced in providing certified and accurate translation services of documents like electricity bills.
The reason to trust translation services provided by the Singapore translators are as follows:
Multiple Language Translation: You will get translation services to translate all types of documents in many languages if you want. The Singapore translators offer the best electricity bill translation in English, Chinese, Arabic, Spanish, French, Tamil, etc.
Accuracy:  Assured native translators are only hired for translation because they have accurate knowledge of both language and its usage of tone perfectly.
Authenticity:  The professional Singapore translators translate all the printed content of the electricity bill in the most appropriate and exact manner. They just translate the words and never distort the content in the original electricity bill.
Accepted as a Valid Document:  The high-quality translation of electricity bills is widely accepted for many uses at global organizations like ICA, Immigration team, courts, companies, educational institutes, etc. Moreover, if you require, notary services are also arranged after translating the documents.
Hire a Language translator for converting your legal & Other Documents.
Top Quality Translation Services: SingaporeTranslators.Com offers nothing less than perfect translation services of documents like the electricity bills. Extra services of editing, proofreading and revision are done after translation. This is to maintain the top-quality of the translated electricity bills. In this manner, flawless and error-free translation services are offered by the professional Singapore translators at SingaporeTranslators.Com.
Conclusion
The translation of the electricity bill is very advantageous for you as discussed above. It is the most important document of address proof. If you are migrating to Singapore, it is better to translate your local electricity bill from your native place. It has various uses and is also regarded as an important document for obtaining an Electricity are  Singapore visa, Singapore PR certificate or new home connection in Singapore. Thus, hire Singapore translation professionals to provide accurate and authentic electricity bill translation at cheap prices within the deadline.