SingaporeTranslators.Com is the leading service provider of document, video and other types of translation services in Singapore. When peoples approach the professional email translators from this translation agency for email translation they get the best works of translated documents in the form of emails. We are working with 500+ professional translators over 200 languages like Malay, Chinese, Spanish, English, Thai, French, Korean, etc.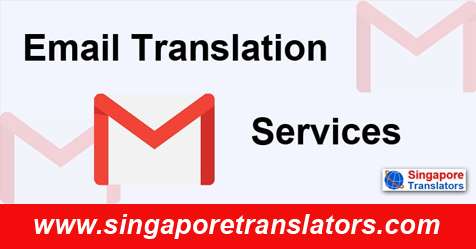 Emails are one of the important means of global communication in today's modern world. This is the most common and fastest means of communication where peoples connect with each other irrespective of the location. When peoples belonging to different language and culture communicates through emails, then the need for availing email translation services arises.
Most of the educational institutes, companies, and other organizations rely heavily upon the only source of global communication – "Email". Thus, in Singapore where various peoples from different cultural backgrounds meet online, "Email" is the primary source of communication.
There are various translation companies offering professional email translation services that are quite common and are widely available. In Singapore, there are various translation companies which offers premium services to translate email composed from one language to another. In this context, you will get reliable, cheapest and accurate email translation services from one and only SingaporeTranslators.Com.
Why Do You Need Email Translation Services?
You will feel the need to get email translation services when you will receive an email in a language in which you are ignorant about it. The world is a small place thanks to the development of the internet and the World Wide Web. So, when peoples exchange emails between peoples with different cultures and language differences, the lack of a common and shared language arises as to the main problem. Thus, in this regards, you need to get a translated copy of the emails which you have received in a different language.
Emails are widely used for sectors like education purposes, jobs, corporate communication, business & marketing. So, when you go beyond the language barrier and communicate with the people via email in these sectors, there is also important need and requirement for email translation services.
Features of Email Translation Services through Us
The translated documents are also accepted and used at all government and private organizations such as Courts, Business organizations, government authorities by the ICA (Immigration and Checkpoints Authority), LTA (Singapore Land Transport Authority) and MOM (Singapore Ministry of Manpower).
Get Fast & Accurate official notarization for ICA, MOM, MFA.
Following are the features of email translation services you will get at SingaporeTranslators.Com, which are:
Professional translators help in all kinds of document translation and typeset services in various languages especially the best email translation.
A great and strong strength of over 1,000 translation specialists delivering consistent translation projects of multi-lingual emails every day to our customers.
Multi-lingual translation professionals offering a translation of emails for many languages which includes Chinese, French, German, Spanish, Portuguese, Italian, Malay, Indonesian, English, etc.
Authentic and accurate translation of emails with the right tone.
Conclusion
As you know, email is one of the most important means of the cheapest and fastest communication medium. Emails can be connected with each other wherever you.  So, when emails are exchanged between various language and cultural groups, translation of emails are required. Thus, you can get accurate email translation services from SingaporeTranslators.Com in an accurate manner at affordable prices online.