Choose Singapore Translators if you are looking for certified Employee Handbook Translation Services in Singapore for ICA officials. We are popular translation services in Singapore working with 500+ professional translators over 200 languages like Malay, Chinese, Thai, Korean, Japanese, Spanish, etc at a low translation service price.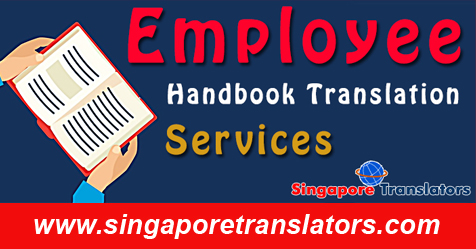 Employee Handbook Translation Services Singapore For Top Agencies
An Employee Handbook is a tool of communication among the employer and his workers. It explains the rights and responsibilities of each worker. So it is constantly significant to get your company's image, objective, mission, rules, and regulations clear to your own workers. Most companies in the US and all over the globe hire employees from diverse cultural backgrounds.  Occasionally employees speak a diverse language. Hence it is necessary to communicate your company's rules in the words of your employees. So Employee Handbook Translation services required to make it easy.
Among our specific translation services, we present, drivers license translation services. At Singapore Translators, we constantly assist our clientele to translate their materials in a range of languages. The intention of our translations is to attain better communication among businesses and their workers particularly when it comes to Employee Handbooks translation services. We also offer cultural research and brand name consulting services from diverse language viewpoint.  To recognize what your brand is referring to, and in diverse countries before launching a new product or service which is a big market benefit.
Our group has worked in thousands of overseas language documentation in different sectors that range from technology, engineering, software, sports, education, journalism, economics, business, insurance, finance, marketing, and publicity to law, government, social sciences, physical sciences, and numerous others. Some of the languages that we have worked on are Spanish, English, French, Chinese, German,  and dozens of additional languages.
How much does it charge to translate an employee handbook?
You can get an immediate price quote online for translating your employee handbook by visiting our translation service website. Just upload your employee handbook and choose the languages to get a cost quote in seconds. Then, complete your order rapidly and effortlessly by clicking Checkout. The cost of translating an employee handbook will rely on the translation languages and the extent of the document.
Get Fast & Accurate official notarization for ICA, MOM, MFA.
Experienced HR Translators for Employee Handbook Translation Services:
Our local network of translators come from a range of countries and is all set to offer you with culturally-appropriate translations of significant HR papers. We can offer Language translation services that target either an extensive range of local-speakers or a particular demographic depending on the national origin of your company's Hispanic employees.
Human Resources documents are cautiously crafted to obviously explain policies, state & federal regulations, and security procedures. By working with Singapore Translators our Employee Handbooks translation team, you ensuring that the translated papers are just as cautiously crafted. We understand that maintaining a protected and informed workforce is vital to your business's success, and our English- Spanish translations reproduce that.
We cater Employee Handbook Translation to all industries and customers
Our translation company helps public communicating with natives from other countries through expert translations. We are extremely concerned with quality and constantly employ only top translators available. If you are still in the query to get Employee Handbook Translation services than hurry get it right away.
Role of the handbook in Boosting Employer-Employee Relationship
The corporation employee handbook must be one of the first formal communications that you will have with a worker after they are hired. Ensure the first impression is an excellent one. The handbook or manual must be easy and not overwhelm the worker with policies and actions.  In the occasion of a dispute or poor presentation review, this will be the first place that the worker turns to.  If the guidelines are to be followed by the work than it must be in their native language to make them comprehend the "do's and don'ts" while performing their duties.
Most easy looking translation projects are not actually easy when it comes to employee handbook translation. We work with the mainly capable and expert interpreters who are very knowledgeable in handbook translation. We also provide Academic Translation services for students learning in overseas countries.
Hire a Language translator for converting your legal & Other Documents.
Below Few Of Our Top Feature Which made Us Leading Translation agency
Turn-Around Time: We work in a group of two on every project and our average turn-around time is three days for a forty-page instruction manual. We are capable of using two squads to complete one project; however, in order to sustain uniformity throughout the document, it is most excellent for the same team to complete the whole project. Employee Handbook Translation Agencies claiming to complete handbooks work in 24 hours or less normally divide the handbook among several translators, which results in a low-quality translation.
Our Native Expert Translators: Our group consists of experts who focus on specialized document translation services. All of our translators have college degrees from the top organization. They also have expert training in translation and have many years of knowledge. Simply speaking two languages does not be eligible one as a translator.
Communication: When you call or email, you will talk with experts for Employee Handbook Translation who will be capable of assisting with your project. We do not employ answering services, so when you call; an informed person will be able to help, constantly.
Certification: Just having a translated version of a paper is not constantly sufficient lawfully. For that reason, we capable of providing a written certification letter, also recognized as a translator's official declaration. This document offers evidence that your translation has been translated & edited by an expert translator; it is valid in federal, state & local courts. So what are you waiting for hurry grab this opportunity and avail Employee Handbook Translation services from us?
FAQs
Q1. Is confidentiality guaranteed in the translation of employee handbook documents?
We have put in place confidentiality contracts, which ensure that all clients' privacy is protected. We are a reputable translation agency, and we fully understand the concerns clients have about their privacy. Therefore, our clients' employee handbook translation documents are protected against unauthorized access and ensure their confidentiality.
Q2. Are you able to notarise Employee handbook document translation?
Yes, we do provide a notarization service for the Employee handbook document translation service. This service is only rendered if requested by the client.
Q3. In what price range do your offered employee handbook translation services fall?
Costs of employee handbook translation vary depending on the nature of the text to be translated, the number of words to be translated, and the language you need it translated into. Usually, the price of a translation is reasonable when only requiring word translation but may increase if editing, notarization, etc., is required. The price may increase additionally if you need urgent translations.
Q4. Are there any specific formats you follow when providing employee handbook translation services?
The format of the employee handbook documents translation will depend on the format that the client requests. We don't provide employee handbook documents translations in any specific format; we offer them in the same format request by the client. We have multiple format options to choose from i.e., PDF, Word, Excel, and PowerPoint formats.
Q5. Can you tell me how long translations of the employee handbook Singapore taken by your translators?
It is currently hard to predict how long translations of employee handbook Singapore work will take, as the word count, the language, and the intensity of the effort determine the translation length. Furthermore, all our translators have extensive experience, so they will deliver your translation within the time frame you specify in the submission form.
Q6. Does your employee handbook translation company provide you with hard copies of the translations?
It is possible for you to receive hard copies of the employee handbook translated documents. However, the cost for acquiring the hard copies does not fall under our employee handbook translation service. This means you will have to pay separately for the hard copies.
Q7. What level of quality can we expect for employee handbook document translation services?
Employee handbook document translations services provided by our translators are of the highest quality. The secret to our quality translation service is dedication and commitment by our translators, who have extensive experience translating high-quality documents.
Q8. What is the refund policy for the employee handbook translation service?
Once we have received the money, we cannot refund any translation fees. However, if you require any changes, our translator's team is happy to make those changes free of charge. We apologize for being unable to refund the translation money. That is why we recommend that all of our customers be certain they will be obtaining the translation services before making a payment.
Q9. What discounts do you offer for employee handbook translation?
We indeed offer you great discounts for employee handbook translation service, but it's pretty challenging to describe the discounting rates we provide to our customers. Since the rates keep on fluctuating from time to time. We have more significant discounts for those clients looking to place a bulk order. For any further queries concerning the discounts for document translation, you can directly connect with us at info@singaporetranslators.com.
Q10. Is your translation agency providing valid employee handbook document translations?
Employee handbook translation service provided by our agency doesn't come with any specific validity. Since the validity of the translated document provided by our translator depends on the validity of the original document. If the original document gets changed or expires in the future, then the translated document might also become invalid.