Get translation services for translating employment contract translation by expert and professional Singapore translators. At SingaporeTranslators.Com, you will get the authentic translation at a low translation cost. Singapore translators working with 500+ language professional translators over 200+ languages like Malay, Chinese, Korean, Japanese, Thai, etc. These translated copies of employment contracts are accepted by all government and private organizations.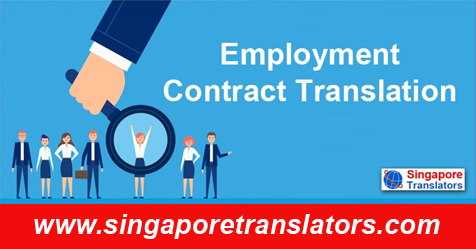 Why Should You Need Employment Contract Translation Services 
Availing Singapore based employment contract translation service is very important after you get a contractual job at a foreign place. In Singapore, currently, huge number of hiring is going on for various employees on contractual basis in different companies and industries in other countries. The selected candidates along with the appointment letter are also given the papers of employment contracts.
So, if you got a job at a non-English speaking country, then you have to go for employment contract translation services in case the employment contract is issued in the English language. Simultaneously, if you got a job in a country where the official language is English, then you must translate your employment contract documents into the English language unless the original contract papers are issued in a non-English language.
The employment contract is valid for a year or two or even more. After the expiry of the employment contracts, it has to be renewed. The decision to renew is completely depended upon the employer on the basis of the employee's performance. Finally, when you want to go for an employment contract document translation in Singapore, it can be done online. There are many translation companies offering online translation services. Only, SingaporeTranslators.Com has that capability to offer accurate and affordable translation in more than 100 world languages without any errors or mistakes.
A Reflection Upon The Business Needs for Translating Employment Contracts
Though, translation of employment contract documents is quite not necessary or mandatory. If you personally want to translate the document into the language of the target country in which you have got job then you may go ahead for having translated documents of Employment contracts. Moreover, this decision of yours will be beneficial in the future especially for using the signed and certified translated documents in foreign offices.
Get Fast & Accurate official notarization for ICA, MOM, MFA.
This can be explained as, In Spain, though it is not mandatory to have Spanish translated employment contract documents. But, you need to file and submit employment agreement papers to the employment officials at the Government of Spain.
Employee Contracts Translation Services Offered By Online Translators
Most of the aspiring employees who have got a well- paid job opportunity foreign places, must employ online professional translators to translate their employee contracts papers and its related documents. Good quality professional translation services in Singapore are available only at SingaporeTranslators.Com. Following are the type of employment contract translation services offered, which are:
Certified Multi-Lingual & Multi-Industry Employee Contracts Translation: The professional translators offer all types of employment contract translation services in areas of business organizations. Law firms and also for the privately for those people who have the urgency to translate their document of employment contracts. They also provide official employee contracts translation services that are fully and legally accepted at courts, embassy offices or any other government and private institute. Singapore translates documents of employment contracts in over 150 languages.
Cost-Effective & Accurate Localized Translation:  At SingaporeTranslators.Com, all the translated documents are done at a very affordable and cost-effective price. Moreover, some of the documents of employment contract papers are filled with terminologies related to finance and economics. The team of native translators offers to translate all the terminologies accurately using the proper tone.
Carefully Edited Translation of Employee Contracts:  After the translation of your employment contracts are done, before delivering the final translated document, it is checked strictly to find errors or mistakes by editing and proofreading.
Why You Should Choose Singapore Translators For Employment Contract Translation Services
You must choose the translation services from the SingaporeTranslators.Com for translating employment contracts because of the following reasons, which are:
Hire a Language translator for converting your legal & Other Documents.
Expert Accurate translation with quick delivery.
Quality & Error-free translation.
Strict Deadline.
Certified translation with notary facilities.