You can get fast and cost-effective employment pass translation services for all your official documents online in more than 200 languages like Malay, Chinese, Japanese, Thai, English, Korean, Spanish, German. etc. In Singapore, you can get a quick, accurate and affordable translation of employment pass. This is possible only with the professional translators' assistance available only at the renowned translation agency called SingaporeTranslators.Com.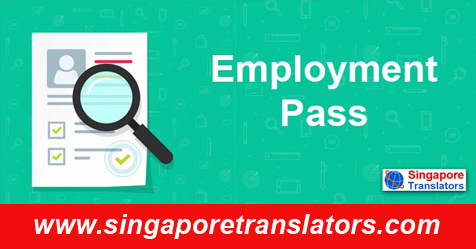 Why You Should Need To Translate Employment Pass
Employment pass is a very important document in the field of jobs and employment. Moreover, for legal and immigration uses you need to get services of employment pass translation. There are various translation companies and language translation agencies in Singapore which offer fast and affordable translation services. They offer affordable and accurate translation of all the important documents, such as the employment pass.
Online is the best medium to look for translation companies offering accurate and affordable translation services of employment pass. One of the most renowned translation companies is SingaporeTranslators.Com which offers an accurate and trusted translation of every type of documents. The professional translators translate the employment pass in the most accurate manner within the time period.
 Importance of Employment Pass in Singapore
In Singapore, an employment pass is regarded as a work visa that aims at skilled professionals like managers, executives and other specialists of various professions.
Moreover, the Singapore organization of MOM (Ministry of Manpower) also allows business entrepreneurs and other business owners to have an employment pass after establishing their business or company in Singapore.
Get Fast & Accurate official notarization for ICA, MOM, MFA.
Documents Required For Getting Employment Pass
Employment translation is done only after you get your employment pass in Singapore. You also need to submit some of the supporting documents in order to get an employment pass. The following are the details of documents that are required to get an employment pass. The documents which need to be submitted along with the application form of employment pass are:
A copy of your passport.
Educational certificates.
Personal details of the applicant.
Latest and updated business profile and company information which is mandatory to be registered at Accounting and Corporate Regulatory Authority (ACRA).
Screenshots of verification results regarding proof of your candidature and qualification. Verification agencies and educational institutes in Singapore offer to verify your qualification online. All you need is to submit the screenshot of the verification result and the genuine web address showing the verification result.
Moreover, if you have your documents in your native language, then you submit these documents in English translation. The translation can be done by any of the good document translation companies. You can take the services from the professional translators at SingaporeTranslators.Com.
Getting Employment Pass from Various Organisations i
n Singapore
The professional who wants to work or open their business in Singapore can get their employment pass from the following organizations, which are:
Dentists can get their employment pass from Singapore Dental Council.
Diagnostic radiographers, Occupational therapists, Physiotherapists, Radiation Therapists, and Speech Therapists can obtain their employment pass from the Allied Health Professions Council.
Doctors can get their employment pass from Singapore Medical Council.
Lawyers can get their employment pass issued from the Legal Services Regulatory Authority.
Therefore, there are also other organizations in Singapore that offer employment pass to various professionals who desire to work here.
Hire a Language translator for converting your legal & Other Documents.
What Are The Various Singapore Translation Services Offered To Translate Employment Pass?
As a professional when you get your employment pass, you need to translate it for various official and legal purposes. It is quite useful to keep a translated copy with you. At SingaporeTranslators.Com, you will get professional native translators' help to translate your employment pass. Following are the services provided by them:
The translators have superior language skills which make a translation of documents easy.
At SingaporeTranslators.Com, you will get native translators who translate the entire original text by understanding it. They translate from one language to another using the right tone.
They also provide the services to editing and proofreading to ensure that the translated document is error-free and flawless.
Conclusion
Therefore, it is very beneficial to get your employment pass translated by professional translators once you receive it from the respective organizations. At SingaporeTranslators.Com, professional translators are always available for you to offer all kinds of translation services 24*7 at affordable prices. Moreover, they also deliver the translated documents at your email address within the deadline.
FAQs
Q1. Is there a way to obtain a hard copy of the employee pass translation service?
We can provide you with hard copies of the translated Employment pass documents. The cost for getting hard copies of the documents is not included in our employee pass translation service. You will have to pay separately for hard copies.
Q2. What is the refund policy for Singapore employment pass translation?
When payments have been received for Singapore employment pass translation, we cannot issue refunds. Please ensure you need our services before completing your order. If there are any errors in the document, we offer free revisions.
Q3. Do you use translation software to translate employment passes?
No, we don't use any software or tools for translating employment pass documents since our team is a group of professionals taking pride in translating employment documents at an affordable rate.
Q4. Do you provide Employee pass document translations in any particular format?
A specific format of translating Employee pass documents may not be the best option for the client. We can extract a translated employee pass into any format the client desires. All kinds of documents can be acquired in PDF, Word, Excel, etc. formats.
Q5. How do you accept payment for employee pass translation?
We offer many convenient options for payment, including credit cards, debit cards, and PayPal accounts. Any additional information on payment terms and methods can be obtained directly from Singapore Translators by emailing Info@singaporetranslators.com.
Q6. Do you also provide notarization for employee pass documents translated by your trusted translators?
The service of notarizing Singapore employment translations certificate is provided when requested by clients. However, we do not provide this service automatically.
Q7. Is my translation of employee pass documents confidential?
A reputable translation agency is aware of clients' concerns about confidentiality, which is why all of our agreements with clients include confidentiality clauses as a means of ensuring clients' privacy. This protects the employee pass translations and clients' original documents from unauthorized access and ensures the safety of the documents.
Q8. What is the cost of employee document translation?
Translation costs of employee documents can be challenging to estimate since they vary according to the quantity and nature of the words you need to be translated. These factors, as well as the type of translation you need, determine the price. The cost will increase if you need additional services (e.g., edits, proofreading, notarizing, etc.). Urgent translations will also incur an additional fee.
Q9. Does your employment certified translation service offer any discounts?
Yes, all of our respective clients receive amazing discounts on our employment certified translation service. However, bulk orders will receive a higher discount. If you would like to get more information about the discounts, please reach out to info@singaporetranslators.com .
Q10. Do you provide translation services for employment pass documents 24 hours a day, seven days a week?
Our Employee pass translations team is available seven days a week, 24 hours a day, including weekends, but if you need immediate assistance, you need to schedule an appointment in advance by email or phone.