You can get fast and cost-effective employment pass translation services for all your official documents online in more than 200 languages like Malay, Chinese, Japanese, Thai, English, Korean, Spanish, German. etc. In Singapore, you can get a quick, accurate and affordable translation of employment pass. This is possible only with the professional translators' assistance available only at the renowned translation agency called SingaporeTranslators.Com.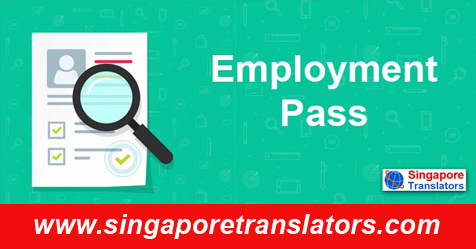 Why You Should Need To Translate Employment Pass
Employment pass is a very important document in the field of jobs and employment. Moreover, for legal and immigration uses you need to get services of employment pass translation. There are various translation companies and language translation agencies in Singapore which offer fast and affordable translation services. They offer affordable and accurate translation of all the important documents, such as the employment pass.
Online is the best medium to look for translation companies offering accurate and affordable translation services of employment pass. One of the most renowned translation companies is SingaporeTranslators.Com which offers an accurate and trusted translation of every type of documents. The professional translators translate the employment pass in the most accurate manner within the time period.
 Importance of Employment Pass in Singapore
In Singapore, an employment pass is regarded as a work visa that aims at skilled professionals like managers, executives and other specialists of various professions.
Moreover, the Singapore organization of MOM (Ministry of Manpower) also allows business entrepreneurs and other business owners to have an employment pass after establishing their business or company in Singapore.
Get Fast & Accurate official notarization for ICA, MOM, MFA.
Documents Required For Getting Employment Pass
Employment translation is done only after you get your employment pass in Singapore. You also need to submit some of the supporting documents in order to get an employment pass. The following are the details of documents that are required to get an employment pass. The documents which need to be submitted along with the application form of employment pass are:
A copy of your passport.
Educational certificates.
Personal details of the applicant.
Latest and updated business profile and company information which is mandatory to be registered at Accounting and Corporate Regulatory Authority (ACRA).
Screenshots of verification result regarding proof of your candidature and qualification. Verification agencies and educational institutes in Singapore offer to verify your qualification online. All you need is to submit the screenshot of the verification result and the genuine web address showing verification result.
Moreover, if you have your documents in your native language, then you submit these documents in English translation. The translation can be done by any of the good document translation companies. You can take the services from the professional translators at SingaporeTranslators.Com.
Getting Employment Pass from Various Organisations i
n Singapore
The professional who wants to work or open their business in Singapore can get their employment pass from the following organizations, which are:
Dentists can get their employment pass from Singapore Dental Council.
Diagnostic radiographers, Occupational therapists, Physiotherapists, Radiation Therapists, and Speech Therapists can obtain their employment pass from the Allied Health Professions Council.
Doctors can get their employment pass from Singapore Medical Council.
Lawyers can get their employment pass issued from the Legal Services Regulatory Authority.
Therefore, there are also other organizations in Singapore that offer employment pass to various professionals who desire to work here.
Hire a Language translator for converting your legal & Other Documents.
What Are The Various Singapore Translation Services Offered To Translate Employment Pass?
As a professional when you get your employment pass, you need to translate it for various official and legal purposes. It is quite useful to keep a translated copy with you. At SingaporeTranslators.Com, you will get professional native translators' help to translate your employment pass. Following are the services provided by them:
The translators have superior language skills which make a translation of documents easy.
At SingaporeTranslators.Com, you will get native translators who translate the entire original text by understanding it. They translate from one language to another using the right tone.
They also provide the services to editing and proofreading to ensure that the translated document is error-free and flawless.
Conclusion
Therefore, it is very beneficial to get your employment pass translated by professional translators once you receive it from the respective organizations. At SingaporeTranslators.Com, professional translators are always available for you to offer all kinds of translation services 24*7 at affordable prices. Moreover, they also deliver the translated documents at your email address within the deadline.