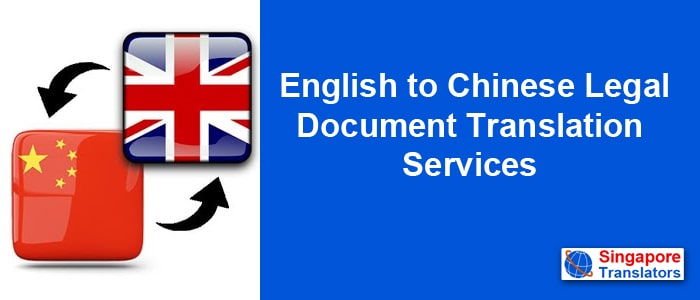 Chinese translation services are very popular and best among all the services provided by the Singapore translators. If you need a Chinese translation of your English legal documents then you can hire Singapore translators to translate your documents online. There are many translation companies in Singapore like SingaporeTranslators.Com which offers the certified translation of English to Chinese legal document translation services.
Here native Chinese translators who have knowledge of English and Chinese language are qualified to translate your English legal and other court-related documents into the Chinese language. This translates can speak, read and write both English and Chinese language. Therefore, hire native Chinese translators at SingaporeTranslators.Com to translate your English legal documents into Chinese.
Importance of Getting English to Chinese Legal Documents Translation Services
Legal documents are one of the most important documents in one's life. If you are going to use that for court or legal purposes outside Singapore especially in China, translation is necessary and in addition to this services of certified translation along with notarization are also equally important. This is possible only at Singapore's premium translation company – SingaporeTranslators.Com. Here, you will get accurate English to Chinese translation of legal documents from native Chinese translators at affordable prices at this best Translation Company in Singapore.
It is important to translate your English legal documents in the Chinese language if you are going to use the documents in China. The Chinese language is the native and official language in China, so if you want your Chinese audience to read your documents and understand your views then it is highly recommended that you translate the English documents into the Chinese language. Certified and notarized legal document translation should be done so that the translated documents can be used for legal and official purposes in China.
There are also many Chinese people who don't know the English language, so when they receive legal papers in English from Singapore they need to translate it in Chinese to read and understand it. Moreover, there are also many people from Singapore and other countries who also go to China for jobs, travel, and study. So, to finalize the requirements of documentation they need to submit legal papers like birth certificate, police clearance certificates, etc. Thus, hire sworn translators for legal documentation translation at SingaporeTranslators.Com.
Hire a Language translator for converting your legal & Other Documents.
Why Do You Need To Book Singapore Translation Services To Translate English to Chinese Legal Documents?
You must hire Singapore based native Chinese translators who can flawlessly translate legal documents into the English language. While translating legal documents, you must be aware of probable translation risks and a better understanding of the language tone. It is impossible to meet these requirements if you do the translation yourself.
Thus, it is better to have Singapore legal document translation services from native translators at SingaporeTranslators.Com who can perfectly translate English to Chinese documents keeping in mind important guidelines and requirements. Moreover, the need to also booking Singapore translation services is also due to avoiding legal risks and also avoiding any type of miscommunication between two individuals while sharing translated legal documents.
What Are The Top Level English To Chinese Legal Document Translation Services You Get At Singapore Translators?
Now let us check out what are the best legal document translations services are provided by our certified Chinese translators. This has been discussed below:
Perfect Translation of All Types of Legal Documents:  The professional legal translators at translation companies like SingaporeTranslators.Com  provides English to Chinese as well as Chinese to English translation of all types of legal documents. Moreover, they also translate English legal documents to other global languages. The legal Singapore translators are able and qualified to translate all types of accurate translation of legal documents related to corporate law, banking law, environmental law, land & property law, immigration law, etc. Moreover, they are experienced in handling translation of marriage certificates, birth certificates, wills, power of attorney, etc.
Translation With Right Language Tone:  The expert Singapore Chinese translators at this translation company have the highest knowledge of both English and Chinese language. They are even accustomed to the tone of both languages. The skilled translators due to this ability are able to express the thoughts easily and correctly from English to the Chinese language. Moreover, these translators never change the main subject and objective of the legal document while translating the legal document.
Accurate English Legal Document Translation into Various Chinese Dialects:  The professional Chinese translators at SingaporeTranslators.Com are the native speakers of various Chinese dialects like Mandarin, Cantonese, Wu, Hakka, Gan or Xiang and Ming. So, it is natural that they will have a strong knowledge of these Chinese dialects. Thus, if you need to translate your legal documents into Mandarin Chinese language, you can get help from these expert translators. They will provide you best Mandarin Translators Singapore translation services in a perfect manner.
Accurate & Quality Translation Services:  The top-quality translation is always maintained by the trained and qualified Singapore translators at SingaporeTranslators.Com. They never degrade the quality of the translated legal documents. They always try to maintain the quality by editing, proofreading and revising before handling the complete translated legal documents at your email address.
Moreover, they also use the latest software to detect errors and mistakes of grammar, spellings, etc. In this manner, they fix up the flaws and errors in the translated legal documents. Moreover, you will also never see any mistakes or errors on the translated legal papers especially legal oaths, wills, court declaration, etc.
Hire a Language translator for converting your legal & Other Documents
Conclusion
Therefore, the expert Chinese translators at this translation company as you know provide the best translation services of court and other legal papers from English to Chinese. You will also get the translation at affordable prices online. Thus, hire professional and experienced Singapore legal translators at SingaporeTranslators.Com.