Are you searching for certified English to Chinese translation services in Singapore for translating your documents of ICA offices?  Singapore Translators provide high-quality document translation services for translating all your documents at low Chinese to English translation rates.
Translation English to Chinese with Singapore Translators – All Document Translations

Death Certificate
Marriage Certificate
Driving License
Court Orders
Passport
Police Report
Police Clearance, etc
Choose native language translators for translating English to Chinese Singapore within budget.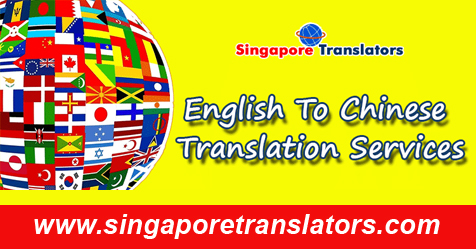 Cheap English To Chinese Translation With Unmatched Quality Standards
The English language is measured by the worldwide language, which most of the countries in the globe speak. But, amidst the period of globalization, companies, willing to work out their business in non-English language countries, have to strive really hard. China, as we all recognize, is the most occupied geography on the planet. And this enormous share of inhabitants is seen as a great business prospect. Resultantly, China has to turn out to be one of the most preferred investment destinations in the globe.
But, China does not endorse English as a national or authorized language; and this is the main concern for the businesses having their base in overseas countries. For lawful procedures and for reaching their target spectators, the businesses have to utilize the Chinese language. And this is why the demand for translation English to Chinese Singapore is growing.
Singapore Translators offers high-quality, professional Legal Document & Language translation services using a tested squad of native, in-country Chinese translators. Our company gives professional Chinese translation services in numerous areas including technical, legal, medical, patents and IP documents, engineering, and financial software with notary certification. Our English to Chinese translator also interprets from Chinese to English & between Chinese and over 60 other languages.
Hire Chinese Translation services  For Multiple Usage
Chinese Business Translation– China is an industry force! But entering such a huge business environment can be challenging, particularly if you are trying to converse in a foreign language. Translating your document into Chinese will make the procedure easier and more effective.
Chinese Website Localization– If your head office is virtual, your globe moves faster! Modify your website to every Chinese market.
Chinese Legal Translation– Whether it is a conversion of personal documents to meet U.S. Citizenship & Immigration Services (USCIS) necessities, court documents, marriage licenses or more, we will convert your Chinese legal documents with great interest to detail and privacy.
Chinese Certified Translation– There are Chinese scholars all over the United States and to sustain their academic familiarity they need the translation of the Academic material, course outline, diplomas, and other certifications. We also work in the translation of the authorized document for immigration.
Get Fast & Accurate official notarization for ICA, MOM, MFA.
Procedure to assist Translation service English to Chinese  
Procedure to assist Translation service for English to Chinese translation Singapore for industry purposes entails clearly translating technical phrases so that your potential Chinese-speaking clients know precisely what your industry can do for them. This is more complex than translating daily speech.
Professional English to Chinese translation services can assist you to achieve this task with ease. Translation by a person is far superior to the translation by electronic translating service. Like the free ones, you can get on the Internet. Free translation sites frequently give faulty results. As you don't recognize the language, you won't understand it, however, those who do recognize the language will! Naturally, this will not be excellent for the industry.  However, we provide help in the lowest English to Chinese translation service price range. We also provide academic translation services in Singapore.
Certified Translation Services In Singapore Are Worth For The Funds
Unlike electronic translating services, expert translators can be expensive; however, English to Chinese document translation services in Singapore is surely worth the cost. Your qualified, properly-trained translator will offer you ideal eng to Chinese translation, which will save you, problems and protect your company's status.
Well suitable quality of translation at a small pocket pinch
One of the methods to recognize what sort of price you are looking at is to take the benefit of a translation service's free quotation option. Most expert, knowledgeable Chinese language services providers present a quote, like the one we offer on the menu to the left. By comparing these quotes, you can make a clever inference about which service will offer the best Chinese & other languages like Malay, Spanish, Japanese document translation services for the most excellent price.
Our top professional Chinese translators &  are standing by at all times. The menu on the right will offer a free quote, and let you compare prices with other services. You'll find that Singapore Translators will be the most advanced, knowledgeable Chinese to English translation services, with the supreme lowest rates. Using our included system of bidding translators who vie for every translation job, you are certainly experienced and competent translation services at the most excellent possible price.
Online Translate English to Chinese documents from devoted language experts
Singapore translators have been redefining the gold standard of Chinese language services over five flourishing years in the industry. Headquartered in the heart of Singapore, the level of business insight we put at your service is one-of-a-kind.
Our English to Chinese translation company sophisticated a vision of how translation services must really work, and so our agency's language expert standards are meticulous. Your text will only ever be translated by a mother-tongue lecturer, be it from Chinese to English or English to Chinese – as there's no other way to promise cultural sensitivity in the translated text. Our online English to chinese translator will constantly hold a specialized translation requirement and a minimum of 5 years' familiarity with the field. Several claims to be capable of translating, but fewer are the tried and tested experts you justify.
If you are a person needing an individual document or certificate to be translated into or from basic or Traditional, Mandarin Chinese, please see our certified translation services to translate English to Chinese Singapore. Here, our online Chinese translators avail to furnish your documents into English in the most convenient manner. We also provide assignment translation services for scholars learning in overseas countries.
Hire a Language translator for converting your legal & Other Documents.
Finding Value For Your Translation Project
We know how much matters cost to you. Your stresses are paramount, so when you deal with our Project Managers, our clear pricing plan cuts the jargon. It is significant to Singapore translators that the customer must be in total control of their communications, in each language. You can fine-tune as much or as little as you gratify.
Technological growth is one of the beginning principles of this organization. Your project will be expedited with the newest tools in translation technology. This is because we care on offer for your requirements. Our priority is to process your quote in the most viable way possible. The translation is about problem-solving, and we keep abreast of all current developments to promise you an unrivaled level of English to Chinese translation services.