In Singapore, there are many Tamil speaking peoples who come from India from the Tamil Nadu (South – India). There are good numbers of Tamil people in Singapore who are staying here permanently or for the job, business study or visiting Singapore as a tourist for a short period of time.
When Tamil peoples come to Singapore, they need to contact the translation services Singapore for various reasons especially for English to Tamil translation or even Tamil to English translation.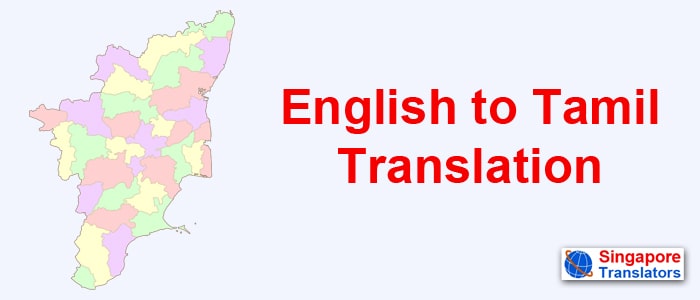 There are so many translation companies in Singapore offering Tamil translation services for your various requirements. The most renowned translation service providers in Singapore are – SingaporeTranslators.Com, where they hire qualified and experienced native Tamil translators for you.
These translators are always ready to offer translation all types' document translation accurately in areas of business, legal, medical, personal, immigration, etc. So, for accurate and flawless English to Tamil or Tamil to English translation services, hire native Singapore translators at SingaporeTranslators.Com.
Why Do You Need Translators Help For Availing English to Tamil Translation Services?
Tamil is mostly spoken by the Tamil people of Tamil Nadu and Sri Lanka. Most of the Tamil people have also migrated to Malaysia, Singapore, Canada, and other global countries. When they are going to foreign countries like Singapore for some work they need to translate their documents which can be either English to Tamil translation or Tamil to English translation. Now let us check out why you need English to Tamil or Tamil to English translation services. This has been discussed below, which are as follows:
Tamil Not Understood By All:  The spoken and written Tamil is not as easy as it seems to be. It is one of the most ancient languages in the world. So, if you are going to settle in a foreign country like Singapore you need to translate your documents into the English language. Tamil to English translation is applicable only if your documents are in Tamil. If you intend to use your Tamil documents like birth certificate, marriage certificate, business proposal papers, etc in a foreign land like Singapore, you need to translate in English. This is because so that the immigration officials and other authorities can understand it perfectly in the language of English which is known to them.
Fear of Wrong Translation:  Translation of Tamil texts and documents from one language to another is not so simple as it seems to be. Tamil is just like other languages where you need to consider and interact while translating the meaning from Tamil to English or English to Tamil. Even the meaning of different language also does not match. The translation must be done with an appropriate tone. If any wrong translation happens it can be proved detrimental to you and your audience. It may hurt their sentiments or confuse them.
Get Fast & Accurate official notarization for ICA, MOM, MFA.
Need For Accurate & Authentic Professional Tamil Translation:  For the safe side, you must make sure that your translated Tamil document must be authentic and accurate of the original document copy. This is very important especially if you are using it for some official or legal purposes, or even for business expansion in Singapore. The tone of the Tamil language should match with the target language.
These requirements and needs are just a few for getting Tamil translation services. There will be more needs for taking translation services on the basis of one's requirement and situation.
What Are The Top-Quality English To Tamil Translation Services Are Provided?
Since decades, the loyal Tamil speaking customers of SingaporeTranslators.Com have chosen Tamil document translation services due to the following service availability, which are:
Top-quality translation by native translators who speaks Tamil as their first language.
The added services of editing and proofreading are offered by the native Tamil speaking Singapore translators. They find out the flaws, mistakes, and errors quickly and fix them.
Affordable and quick deliveries of translated English to Tamil or Tamil to English documents at your email address.
Conclusion
Tamil translation services can be obtained accurately at best prices online. You can check out translation companies like SingaporeTranslators.Com which offers accurate English to Tamil translation services at cheap prices. Thus, hire Singapore translators for authentic and accurate Tamil translation.