Singapore Translators provide the finest online Essay Editing & Proofreading Services in Singapore for error-free papers.  they check your spelling, grammar and make sure your essay is error-less. Our academic editors mainly focus on the structure, clarity, citation style, and flow of your content.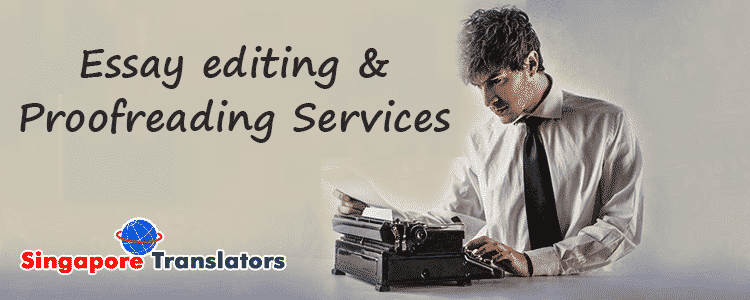 Essay Editing & Proofreading Services By Professional Academic Editors & Proofreaders 
Essay editing & proofreading services provided by Singapore Translators. It is all about checking and resolve problems with an earlier translated Essay or another kind of paper.
Whether you desire to double-check your translated wording or you are not pleased with the original translation, Singapore Translators has professional editors all set to review your documents. We are the leading Document Translation services provider in Singapore.
Our professional academic editors assist in making sure that your essay is the most excellent that it can be. We will broadly improve the paper including editing for right grammar, formatting, language, referencing and more. In addition, we will craft suggestions as to how you can make your educational writing even superior in the future.
Whether English is your local or second language, our Essay editing & proofreading services can assist you to attain academic success. Academic writing needs a very special skill set & demands a thorough perceptive of numerous specific writing, formatting & referencing rules. For students returning to study after numerous years, the conventions of educational writing are frequently hard to master.
These students can, therefore, benefit greatly from the support of our Singaporean academic editors. However, even high-performing local English-speaking students will find their work can be greatly improved through our particular editing, making it really shine. We always aim to provide you with high-class assignment editing & proofreading translation services at a very cheap cost.
Get Fast & Accurate official notarization for ICA, MOM, MFA.
We have team of most knowledgeable and reliable academic editors in Singapore
When you pick Singapore Translators, you can be certain that your editor will know precisely how to edit your essay to get better it as much as possible. All our essay translators and editors have been very successful in their studies and grasp PhDs & other postgraduate qualifications.
They have also been college lecturers and tutor themselves, providing them with a profound insight into what markers are seeking when grading essays and coursework.
Our academic editors have applied this familiarity to editing essays and theses from all universities in Singapore and from numerous other universities around the globe. For perfect academic editing, we truly are the best possible choice.
Essay editing & proofreading services by qualified Native experts
Top ranking essays require top-quality editing and proofreading. You will find only the top essay editors at Singapore Translators. Our promise to world top practice begins with how we select our editors. Many high toppers applicants wanting to work with us, only 1 percent is successful.
As we offer strictly first-class copy-editing and proofreading along with Academic Translation services all the way. Just ask the well-known high school teachers, university professors, and lecturers who suggest to us! Each of our essay translators and proofreaders holds their own Ph.D. So we know precisely what graders look for in your essay, from academic protocol to airtight opinion.
At Singapore Translators, we present the most wide-ranging proofreading service available. Careful revision of tone and content consistency is at the heart of our Essay proofreading service.
Our proofreading service comprises the study of content, organization, coherence, tone, and style of the text. We also cross-check for any grammar, spelling, punctuation & capitalization errors
Proofreading is diverse from editing in that it involves reviewing your paper to make sure the right punctuation, grammar, spelling & basic style.
One more key distinction is that proofreading services entail only the objective version of the documentation. Certainly, if we see something that may be wrong, we will bring it to your attention with the other changes. Editing services are more powerful and involve a more thorough analysis of translated text in addition to the source files.
How can our Essay editing and proofreading services assist you?
When we deliver an essay translation to our customer, editing and proofing by separate capable linguists is all part of the service at no added charge. But we can also present these certified Translation services earlier prepared elsewhere. Our experts will offer a complete review service to make sure that you have the most accurate, reliable, and trustworthy and grammatically good translation possible.
All our editors are in-country linguists with the local command of the goal language and ease in the source language. They will ensure your content sounds like it was written in words it was translated into – normal, precise and culturally fitting.
Why prefer Singapore Translators for Translation and Editing Services?
We allow all of our multilingual translation and proofreading projects to individual proofreaders. Several customers may suppose this is standard practice, but there are several foreign Language translation services companies that utilize translation software.
Our years of knowledge in the translation industry have taught us the significance of utilizing human translators to do projects. Translation tools can't think on whether a piece of a letter may be misinterpreted by a reader, and it won't know jargon used in a particular business. Our team of human translators presents thorough proofreading services that a customer can depend on.
Our corporation recognizes the growing demand for translation services and offers multilingual translation and overseas language writing for a range of industries including business, human resources, medical, legal, advertising, web, and technological. All of our translators know a particular industry, making their translations more precise and consistent.
In addition to providing the skills of translators working within a particular industry, our essay editors and translators are familiar with specialized documents. For instance, a customer who submits a Finnish legal text in the form of a patent will help from the skills of an expert Finnish translator. The translator will have knowledge dealing with patents, case summaries, briefs, and other papers found in the legal industry.
World-Class Editing and Proofreading at Your Fingertips
Expert Editors – Our true, human editors are experts in different fields. Our specially selected team undergoes a rigorous selection procedure and is supported by the newest technologies.
Privacy Protected – We employ bank-grade security standards to guard your work. Your document's safety is significant. We recognize this, and we keep it secure.
Lightning-Fast Turnarounds – Our streamlined procedure allows for the return of your edited and proofreads paper in as little as 4 hours. Select the turnaround that fits your time limit.
Quality Assured (Certified) – We strive for client satisfaction. Our Quality Assurance procedure for our essay editing and proofreading services is exact, and all of our processes are separately verified according to worldwide standards.