If you are seeking trustworthy and upright Essay translation services in Singapore then, we, Singapore Translators, will be your choice of the corporation to offer the most excellent translation services in the business.
We offer the Professional essay translation services along with Essay editing & proofreading services, ensuring the highest quality and precision in the content. Our translators extremely dedicated in serving our clients with an outstanding translation job. Our translators are local speakers, and they are also knowledgeable in the industry for numerous years.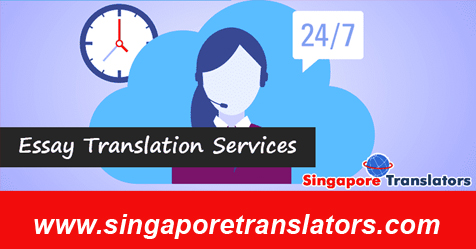 Essay translation services in Singapore By Professional Translators
Our professional translators can correctly understand what our customers expect and translate the content right to their expectations. To translate essay from Spanish to English, we never disappoint any of our customers. We are the certified essay translation corporation that provides different language translation services Singapore. Essay translation is completed by Singapore Translators, the leading corporation in the industry of translation and transcription. We are a group of efficient and expert essay translator and ghostwriters Singapore knowledgeable in providing the top quality essay translation services. Our group of translators very skilled in translating the essays in any language as you desire it.
Our translators are graduates & they have excellent linguistic fluency and understanding, therefore, is it any types of essay, they can get it translated as expected by our customers. We offer online essay translation services in over 300 languages that spoken extensively across the world.
Quality Essay Translation Services in Singapore
We have the expert essay translation team all around the globe which is also graduates in their individual discipline.
Consequently, our translators can manage any subject associated essays and get it translated with precision.  The combination of linguistic familiarity with specialists in their field or subjects has made Singapore Translators offer outstanding quality services.
With our extensive network of translators from around the globe, we pride offering the services in over 300 languages spoken both globally and regionally. We never limit our services to any majorly spoken languages and offer the translation even in words that are not much familiar but used by millions of nations as their local & official language.
We function with the focus of serving as the single-stage any all your language translation needs.  Thus you can practice the most expert and extended services from us.
Our translation organization offers translation services to customers based all around the globe. Here, at Singapore Translators, we pride ourselves not only in the quality and the precision of our work but also in providing our clients with outstanding customer care and the extensive range and diversity. Singapore Translators trusted and have helped some of the renowned customers in the globe. The experienced method we follow implies that you will be satisfied with a service tailored to your particular needs, irrespective of the project size. As a corporation, we make sure quick turnaround times with no compromising on quality. Our translation services Singapore cover:
Education
Essays
Assignments
Dissertation
Curriculum Vitae (CV)
College/University Applications
Proofreading & Editing
Get Fast & Accurate official notarization for ICA, MOM, MFA.
Expert translation services for an extensive range of content types
Getting your work efficiently translated is a necessary investment in ensuring that your work will be precisely represented in your target language. Automated 'machine translation' services not programmed to understand dedicated language terminology will not generate accurate results and could risk intended meaning being wrongly represented. Our translation services combine proficiency from our subject-qualified certified translators Singapore and dominant semantic technologies to facilitate stability.
How are Singapore Translator's translation services diverse from traditional translators?
Unlike customary translation companies, we use translators who are dynamic researchers in your area of study. This makes sure that they recognize the jargon of your field in both English and your local language, guaranteeing the most precise translation possible. Singapore Translators also includes a quality review for all translation by one of our knowledgeable Academic Translation Advisors.
We believe this added step is critical to providing the most precise translation of your significant research. Moreover, our translation service comprises English language editing by local speakers in your field so you can be assured of the quality of the language in your ultimate paper. Finally, our translation service comprises unlimited English re-editing, so if you require making changes to your paper later, we will re-edit it for free.
An ISO Standards Translation Quality
Our experts sustain quality through numerous rounds of checking done by our capable editors and proofreaders. We also include the industry's highly accepted practices and standards for our outputs. We do the top-notch quality of translations through educational manuscript formatting, styling, & guidelines. Our corporation also commits to present academic translation services with brilliance and devotion. We have a high sense of passion for work that allows us to provide consistent academic translations ideal for everybody in the academic profession. To request about our academic translation services, upload your files now and request your free quote for project estimation.
Being a multilingual translation corporation, we offer academic translations in over 100+ languages around the world, including Arabic, Dutch, French, Japanese, Spanish, Vietnamese and numerous more. Our translators are flowing and well-informed in their respective languages; therefore we can comply with our customer's specific language necessities. Just select from our language selection bar, and we will have your project translated into your selected dialect. Singapore Translators also provide essay editing & proofreading services in low translation costs.
FAQs
Q1. What level of accuracy do you provide for essay translation?
When it comes to providing essay translation, the accuracy of the translation provided by our translator is of paramount importance. When translating the document, accuracy and speed are the most important aspects, enabling us to provide a more precise translation service.
Q2. Which kind of quality will you provide for essay translation service?
The translation service provided by our translators is of the highest quality. The reason behind this is our dedication and commitment to the work. Prior to starting the translation work, we make sure that the client's requirements for the translation are clarified. The combination of these factors allows us to deliver the translation services with quality without affecting deadlines.
Q3. Can your education certificate translation services be refunded?
If you have already paid for the essay translation service, we can't issue a refund. Regardless of the fact that we never compromise on quality as a translator, if you have any requests for any changes to be made to the translated document, our best translators are here to assist you in this regard at no additional charge.
Q4. Does your agency notarize the essay translation?
Yes, our agency offers you notarization services for essay translation. But only if the client requires notarization services for the particular translation.
Q5. How should a translation essay be formatted?
According to our experience, the client's choice of format of essay translation can vary greatly, and we do not impose a fixed format on essay translation. Our clients choose the format that is most appropriate for them. For those concerned about the format in which we offer translation services, we offer PDF, Word, Excel, PowerPoint, HTML, etc.
Q6. Can I get an exact amount of essay translations?
No, it's quite difficult to describe the exact amount of essay translation service. Since it depends on the nature of the translation service, you are opting for and the word count you are getting translated. These are some factors due to which translation price may vary. With regard to word translations, the addition of translation services such as proofreading, editing, notarization, etc., would result in an increase in the price.
If you need urgent translation service, there may be extra charges. We also offer amazing discounts on bulk translations. If you would like to learn more about the discounts and offers, email us at info@singaporetranslator.com.
Q7. How can you guarantee the confidentiality of my essay translations?
By choosing Singapore translators as a one-stop solution for your essay translation service, you do not have to worry about the confidentiality of the documents. Since we completely understand the privacy concerns of all our clients, so we ask all our prospective clients to sign a confidentiality agreement. In this way, we guarantee our clients that all their information will be protected from unauthorized access.
Q8. Is your essay translation service is different from other translation services?
Yes, the translation service provided by our agency is far different from several other translation services. Since all the translation service comes with separate purposes and approaches.
Q9. Do you also provide hard copies of essay translations?
Yes, we deliver you the hard copies of the essay translation service if requested by the client. Since if you wish to acquire the hard copies of the essay translated document, you need to pay the additional cost for hardcopies apart from translation cost. The price of the hard copies will be dependent on the number of copies you are requesting for.
Q10. Does your essay translations use any software?
Neither now nor in the future will we be using any translation software or similar tools to deliver your translations. However, our highly skilled translators are capable enough to deliver you essay translations that are of high quality.
Q11. How much time does it take to translate the essay?
There is no such specific deadline till when you can expect the delivery of the essay translation. Since the translation time depends on the word count you are getting translated and the efforts it takes to complete the translation work. Furthermore, we have a dedicated team of translators who possibly manage to deliver the quality translation within the deadline specified in the submission form.