Singapore's booming economy is due to the bustling activity of various businesses and corporate organizations. Due to this reason, Singapore is one of the richest nations of the world where money speaks with the rest of the world. When there is huge number of companies and finance firms growing in Singapore, the demand and need for financial and tax audit translation services also increase with each passing financial year.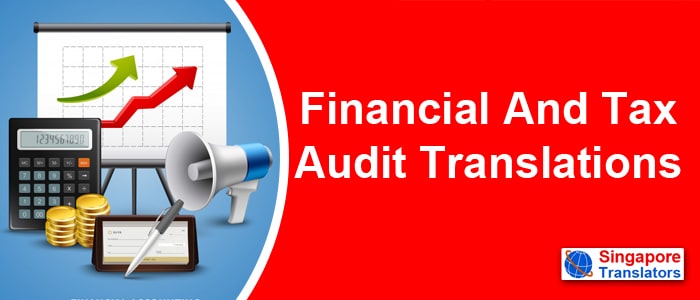 It is important to have only the accurate, reliable and trustworthy translated documents of finance and tax audits. Only this is the ultimate way to communicate with the business world, have a successful financial business and also build up your company brand. So, due to this scenario, there is a huge pressure upon accountants, chief finance officers, and financial controllers to produce financial and tax audit documents for a particular company.
In addition to this, the workload is much upon the shoulders of the globally acclaimed business translation service providers in Singapore. One of the acclaimed translation companies offering global translation service in Singapore is – SingaporeTranslators.Com. They accurately translate all types of business and finance documents by breaking the language barrier.
Why Do You Need Financial & Tax Audit Translation Services in Singapore?
Easy & Safe Business and Financial Dealings:  When you are taking translation services to translate all the documents of your finance and tax audit then you must choose a company that provides the best translation but also protects sensitive and confidential information from the fraudsters or from any rival business companies. Only accurate and safe translation can let you do business globally in a safe business environment.
Saving Company's Reputation From Wrong Translation:  You will definitely require translation services from the native translators who speak the target language as their first language. Any type of wrong or misinterpreted translation in written or verbal can be harmful to your company's reputation and brand. For example, there was an instance happened in the past with HSBC bank way back in 2009. Their campaign tagline was "Assume Nothing" during one of their marketing and branding campaigns.
But when it was translated in other countries, accidentally it was mistranslated as "Do Nothing". The result of this huge translation mistake is damage to business and reputation in the market. Moreover, the value of the brand has also dipped.
Thus, now that you are clear that without taking any professional translators' help, these silly translation mistakes can cause harm to your business and reputation. So, don't be that business organization s who does not engage professional translators to translate their financial and tax audit documents. It is not always late. You can still mend it up by taking the translation services from a reputed and expert translation service provider in Singapore like – SingaporeTranslators.Com.
What Are The Types of Translation Services Offered by Financial Translator?
Expert and professional Singapore translators at SingaporeTranslators.Com offer the following services to translate your financial and tax audit papers and documents. These are:
Hire a Language translator for converting your legal & Other Documents.
Multi-lingual document translation: Multi-lingual financial and tax audit document translation by highly skilled translators who can translate documents into more than 100+ world languages.
Safe translation along with privacy and confidentiality: Translation of financial and tax audit papers with strict privacy and confidentiality. When the Singapore translators translate your finance and tax-related documents, you can be fully assured that your important papers are in safe hands.
Accurate translation of finance terminology:  Accurate translation of finance documents containing financial terminology using the best financial approach.
Original translation by native translators: Translation of documents in the financial sector by native speakers at SingaporeTranslators.Com. The native translators are capable to understand both the origin and target language. So, the translation will be done in a perfect manner. Professional translation services with top standards of quality and authenticity. Moreover, it also guarantees a very low risk of mistakes and errors.
Conclusion
Financial and Tax Audit translation is very important, so it is necessary to translate these documents very carefully. The translated documents are to be translated by the professional translators accurately and precisely at SingaporeTranslators.Com at cheap prices.