Hire Singapore translators to get accurate Financial translation services at a low translation service price. Singapore Translators provide Financial Translation in more than 200 languages like Malay, Chinese, Thai, Korean, English, Spanish, etc. Our 500+ Banking & Insurance experts are well versed in providing you up to the mark financial translation services.
 Financial translation services we offer 
Balance sheet translation
Income & cash flow report translation
Bank statements translation
Insurance marketing translation
Financial consultancy translation
Shareholder information translation
Audit documents translation
Equity research translation
Annual reports translation
Investment marketing translation
Insurance policy translation
Prospectus translation
Profit and loss reports translation, etc.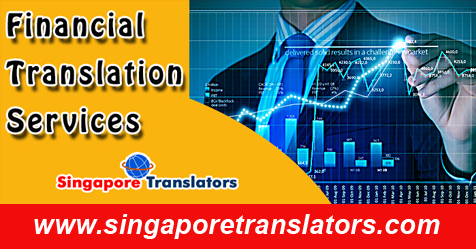 Hire Professional Translators For High-Quality Financial translation services
Financial translations are a difficult matter, and the globe of finance entails high bet, which makes the job even more demanding. At Singapore Translators, we flourish in a demanding ambiance having built a team of knowledgeable and very capable financial translators that cross the world. We are in a position to offer specialized financial translation services crosswise different business and languages.
The requirements for financial translations have improved, as many corporations go multi-national. At Singapore Translators, we carry on to get financial translation job in growing quantities from retail and insurance companies, audit companies and economic consultancies among others. We make sure a constantly high-quality output as of our able and knowledgeable pool of expert financial translators. We provide full legal Language Translation Services at a very affordable cost.
Financial translation needs an in-depth and precise familiarity of the subject and an ideal fluency in associated terminology. The proficiency of professionals who recognize the difficulty of financial documents is necessary. Some errors in translating the study of financial information can misinform readers and eventually affect their decision-making procedure. Our translation organization, conscious of the sometimes disastrous cost that can result from vague translations, selects expert translators specialized in financial translation for your venture, based on their degrees and familiarity. Singapore Translators present grand translation services and are the top guarantee of high-quality expert financial translation.
Financial Translation Expertise
When dealing with financial papers, the need for accuracy is vital, and even the least error can have grave consequences. Our translation services are given by a top team of capable, specialized and highly-trained language professionals. Singapore Translators preferred because our customers require translation skills that can be amazing and trustworthy; our promise to using in-country translators and proofreaders make sure accuracy and easy readability by taking into account local linguistic preferences and regulatory necessities.
Get Fast & Accurate official notarization for ICA, MOM, MFA.
Depending on your needs, at Singapore Translators our translation services constantly go that additional step in making certain that to appoint a multilingual person with a friendly knowledge of your particular niche.
It is also significant with expert translations that the translator understands the close interrelation among the financial and legal industries. For instance, you wouldn't have the word 'reserves' mentioned in the nation where they are recognized as 'provisions'.
Why Choose Singapore Translators For Financial Translation Services?
We recognize the importance of precision in financial credentials & also that exact financial translation relies upon the considerable familiarity of financial concepts and terms. This is why we make sure that our financial translation professional based in Singapore has particular familiarity in the different segments of the financial division. They are knowledgeable with the individuality of main financial centers, & the laws and systems that govern the monetary markets of diverse nations of the globe.
Furthermore, we have a big number of in-country, translators. All these basics come together to promise the precision and excellence of every financial translation project finished at Singapore Translators. We also offer our customers an alternative for quality assurance, in which a finished project is proofread by a second financial translation professional. We also provide editing and proofreading services with our Translation services. Students can also avail our services as we are the leading academic translation services provider in Singapore
Singapore Translation appreciates the safety concerns of customers, and promise complete privacy in all projects. We work with an extensive range of corporations, from startups to huge corporations with a presence in numerous continents.
Singapore Translators Financial Translation Services
Singapore Translators handles all your translation requirements, calling upon dedicated translators through a ground-breaking, 100% online interface. We offer all the similar guarantees as a traditional translation organization, with the additional bonuses of technology and ease.
Hire a Language translator for converting your legal & Other Documents.
Professional Financial Translators
Singapore Translators uses the most expert translators on the market, cautiously chosen after precise testing and the entire professional in their individual fields. Because we recognize all about their background, their experience, and their knowledge, we are capable of recommending the most apposite translators for your requirements. Our project managers are also on hand to manage your projects, keep everything running smoothly and make sure that your deadlines and quality needs are met.
A devoted Team of Local Translators Just for You
Business Document translation services are frequently a recurring need for industry. That's why we make a team of translators just for you, enabling you to extend a lasting collaboration with the same tried and tested expert. Singapore Translation online translation solution also includes a secure in-house messaging system so that you can converse directly with your translator at any time.
Quality and reliability in Your Translations
At Singapore Translators, we develop our individual ground-breaking translation tools to assist our translators with their work. Our interactive glossaries and devoted translation memories make sure that your content is consistent and uses all the right business terms.
With Singapore Translators, you can order your financial translations straight online via a safe, specialized solution. Simply choose the kind of content and the subject matter, & you will get our rate instantly. You can order translations online at any time, with no having to go through a seller for each novel request. You can also order your translations by email with ease.