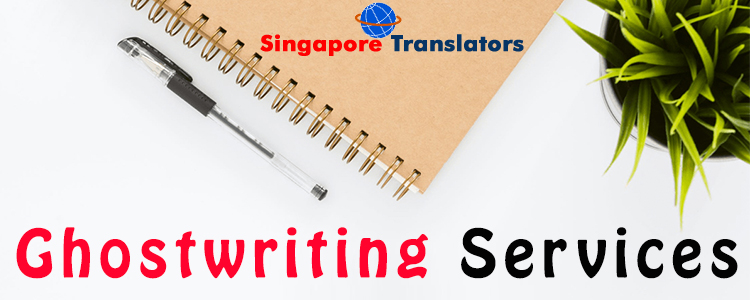 Hire Expert Ghost Writers for Quality Ghostwriting services
Ghostwriting services can assist a broad range of natives. For instance, digital marketers & people who have online sites are always taking ghostwriting services. This is because they require help generating substance and getting information to potential customers & consumers concerning their goods. A great deal of information would never have been printed if expert translation and ghostwriting services did not exist. Particularly, website owners are not the only people looking for ghostwriting services.  Many individuals also look for good ghostwriting and translation services to generate leads.
Writers support ghosting because it is flexible & satisfying at the same time. A ghostwriter has the prospect and liberty to write from where they are & at any time. A writer is salaried to do what they love. A ghostwriter is capable of getting stable work at a picky time frame meaning that he or she does not have to pitch for work all the time. Also, authors are not just marking content with which they are well-known. There are a range of articles to write regarding, which improves the writer's familiarity.
Our ghostwriting and editing services offer you the whole thing needed to publish your book. To start working on your book, appoint a ghostwriter & the rest is our occupation. Expect the top quality content from our ghostwriters who are up and stable to help you.
Why would you require expert Ghostwriting Service in Singapore?
No matter how you stare at it, writing can be hard and time taking no matter what you want to write whether it is an industry plan, a novel or a dissertation you may have to invest a vast amount of time and energy into getting it done to the average that will be required of you. As of this, it may be most excellent to look for the top ghostwriters in your vicinity of writing.
Lots of people lack the skills that are necessary to turn out well written and attractive pieces of work — so engaging professional ghostwriter services if frequently the most excellent way forward to make sure that you will get your writing completed on time and to the precise standard.
We also provide editing & proofreading services to our customers along with ghostwriting services. We are the leading translation service provider in Singapore. Our team provide a range of translation services including Academic Translation, legal translation, and more
How does it work?
A ghostwriter can take on the task of writing your comprehensive book from graze. Although this sounds difficult, the process is relatively easy. The basic idea is to take your story & put it on the page in your 'voice' in a means that is both compelling and legible.
This is made through a series of taped interviews that will then be writing out and form the foundation of the text. Throughout the first interview, a ghostwriter will assist you to create an outline of the range of the book and map out its essential structure. Crucially, an excellent ghostwriter will be capable of advising you on what will interest publishers and the all significant reader.
Our company offer a huge number of ghostwriting services & connect professionals with jobs and resources that will assist them to move forward to their careers. All a writer wants to do is sign up in a site of their alternative to discover what further writers are doing. This will assist one to recognize how to get jobs, standard pay for these jobs and make friends while writing. Fellow ghostwriters can refer you to projects as they can only handle a few papers at a time.
The Getting Ghost Writing Services has numerous advantages, and several of them are listed below:
Operating cost: Getting a ghostwriting service from a professional service provider can end up saving you lots of cash. This is as ghostwriting is fairly inexpensive as evaluates to other kinds of services, for example, the appointing of experts in your field. Experts are generally very tiring people, & in most cases, they have big orders waiting for them.
Time: most customers generally do not have time to inscribe their items themselves, so they start appointing ghostwriting professionals. The customers usually have hectic schedules, such as advertising their books (when the customer is a writer). This does not provide them time to write or proofread and make the alteration to their items. A ghostwriter can do this for you so that you can have sufficient time to carry on with other business.
How much does it cost?
The small answer is, it depends. No two ghostwriting projects are similar. The topic, its difficulty, the amount of research necessary and the length of the book all add to the cost.
If you have already secured a publishing agreement, for instance, a proportion of the ghosting fees will be paid for out of the advance. So providing you have an excellent book contract, the majority of the cash will come from your publisher & not you. Hire expert of Singapore translators to get quality services at a very cheap cost. We also provide Documentation translation services for business people and companies.