SingaporeTranslators.Com is one of the leading transcriptions and translations firms providing accurate and cheap high court and supreme court digital transcription services in Singapore. Here you will get accurate court-related audio and video recordings in texts which are translated from one language to another. This video and audio transcription Singapore consist of court evidence that is treated as the most important document for court hearings so the transcript and translation must be done in an accurate manner. For certified audio transcription services for court in Singapore, trust the legal transcribing professionals at Singapore Translators.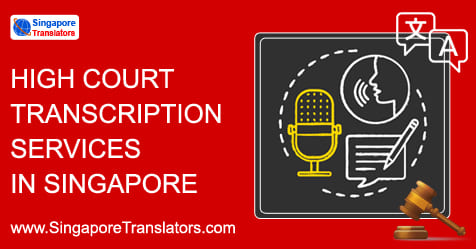 At SingaporeTranslators.Com you will get the best and uninterrupted legal translation and high court transcription services. Thus, for customized and accurate legal and high court video and audio recording transcription services in Singapore. hire professional Singapore legal translators and transcription professionals. 
Get High Court Transcription Services in Singapore online
Transcription services for the high court and legal uses are achieved by taking help from professional transcription experts. You can get audio transcription for high court and legal transcription services by hiring certified legal transcription professionals online. These professionals are experienced and qualified to transcribe audio and video recordings of court evidence and hearings of Singapore high court cases in all formats of printed words.
This court-related recorded evidence includes recorded proof of will, legal declaration, Power of attorney, etc. These documents are also certified and notarized by the legal transcript professionals after certified court transcription. The entire audio and video in the target language which will be read by the high court. 
Explanation in Step by Step Procedure to Achieve High Court Transcription Services in Singapore?
Court and other legal transcription services Singapore are provided by experienced professionals who have experience in translating and transcribing all types of court documents. The transcription is offered in the form of paper which is extracted and translated from audio and video. They are the best professionals to offer accurate and fast and secure translation and transcription services which is discussed in the following steps below:
Hire proficient transcriber for all legal proceeding documents.
Your client or any relative has sent you a legal document that is in the form of audio or video recording. It may be a speech, oath, electronic court reporting or declaration in audio and video.
Whatever the person in the video and audio is stating is to be validated after you present it at Singapore's family justice courts. Before you present it at the court you need the transcript if the recorded voice is not spoken in the English language. It is important to get Computer-aided transcription court reporters' help to transcribe your documents. 
After you have decided which video or audio is to be sent for high court certified transcription services, you can simply send it online. You can send the audio/video file via mail to SingaporeTranslators.Com. The transcription professionals will review your order and requirements.
After that, they will tell you the required cost you need to pay to get the transcript of the recording by them. The onsite legal transcription rate is generally cheap. You can get also pay based on hours. If you want to pay in terms of total hours spent during transcription, you can request the experts to offer transcription rates per hour Singapore. 
Once you pay for high court transcription services, you will get accurate transcription services. Moreover, necessary proofreading and editing are also done to present the audio and video recordings of written words. This is done to eradicate flaws, errors, and mistakes in all aspects. 
After the audio and video documents are finished with transcription, it is delivered at your email address without making any delay within the deadline. 
Why Trust Us for the High Court Transcription Services?
Singapore Translators are one of the ultimate translations and transcription service providers that offer the best services at cheap prices. If you compare the prices with other transcription service providers, you will see that transcription professionals at Singapore Translators offer the cheapest and budget transcription services. You can also expect multilingual transcription in cheap prices with top- quality standards in terms of transcription services. 
Hire official transcribers for all Audio/video documents.
All types of audio and video forms of court hearing transcript, appeals, pleading, court briefs, evidence, legal declaration, arguments, interviews, interrogation clips in audio and video, seminars, conferences, court judgments, etc are transcribed by the professional transcription professionals in Singapore. Thus, for all-around high court transcription services trust the legal professionals at SingaporeTranslators.Com. 
What Are the High Court Transcription Service Features Available at Singapore Translators?
The professionally and legally trained transcription experts at Singapore Translators offer the best high court and legal transcription services. They offer audio and video transcription, which is assured with authenticity, accuracy, and with a cost that is suitable for your budget. 
Following are the best features of high court transcription services offered by the Singapore transcription professionals:
All the audio and video recordings are fully transcribed and translated by the native Singapore translators and transcription professionals. Machine translation is not supported here since it cannot maintain the accuracy and quality of the transcribed legal document from audio and video recordings. 

All types of legal recordings in the form of audio and videos are transcribed by professional court transcribers. They work very hard to maintain the document's accuracy and quality. Added services of editing and proofreading is done to detect and fix flaws, errors, and mistakes in the transcribed legal document. 
The qualified Singapore transcription professionals offer to transcript legal document files in the form of audio and video in all formats. They are experienced to provide transcription services from basic audio cassettes to CD, DVD, MP3, WAV, etc. 

The qualified transcription professionals also make possible in preparing transcripts from digital audio recordings of court hearings via the system of

DTS, CAT, DART

, etc.

This is done for all types of civil and criminal court case hearings. 
Hire native linguist transcriber for all court proceeding documents.
Conclusion
Singapore's most favorite transcription service provider – SingaporeTranslators.Com offers to transcribe audio and video recordings of all court and legal-related files. Moreover, it is also available at cheap prices. So, hire instant, best and cheap high court transcription services from the best and real-time transcription services from the professionals only at Singapore Translators.