Get your High School Certificate Translated by 500+ language professional translators in more than 200 languages like Malay, Chinese, Spanish, Korean, Thai, etc.  We have a good experience in translating high school diplomas from around the globe. Our translators are very accredited and have years of knowledge in academic translations services in Singapore.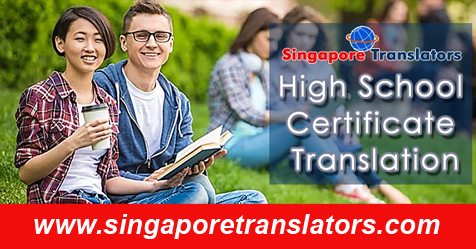 Certified Diploma Translation Services in Singapore Get Fast High School Certificate Translation
Sometimes many students need High School Certificate Translation in order to get admissions in overseas countries or any other reasons. Reasons might be varying, but every student always wants to deal with a trusted company for academic certificate Translation in Singapore.  When you present your high school diploma for translation, you are concerned about how the translator will decode the certificate and how will it bode in the institution that you intend to submit the translation.
We are deemed to have the top-notch diploma translation services that are licensed by the ISO Corporation where all your contents and other significant documents shall be translated in a much important and specialized manner. Using the state-of-the-art method and contemporary amenities we promise you that we hold the liability of producing the most excellent service to all clientele. It is your pride to attain that diploma that you have strived to earn & is our honor to be capable of translating that piece of treasure in order for you lift up to the next level on your checklist.
Certified Certificate Translation services Provided By Native Translators in Singapore.
Numerous documents like death, birth certificates, passports, etc., have a worldwide outreach. To make these docs legible by the concerned officials beyond borders, the persons or enterprises move toward translation services. Numerous organizations admit only those translated documents which have a Certificate of Accuracy. Here comes the dynamic role of certificate Document Translation services in Singapore.
We are one of the top translation service suppliers in Singapore with years of experience. Since our start, we have been providing translation services that come with a certificate of accuracy for numerous purposes. We translate legal, technical & medical documents for companies and persons in the requisite language with high degree precision.
Our diploma translation services are not just a conversion that we present. We present more! Besides the most excellent price, we are accessible 24/7.  Not just an answering machine, but we have three shifts working to assist you at any time with your translation.
Get Fast & Accurate official notarization for ICA, MOM, MFA.
The Problems of Diploma Translation and Transcripts Translation
International educational institutions, industry, and governments are extremely serious regarding confirming potential candidates' claims of educational skills and proficiency. If you are considering advanced study anywhere other than your local country, or are hoping to safe employment in an overseas country and necessitate proof of your educational credentials, it is necessary that your diploma or transcript be presented precisely.
Numerous countries have extremely strict standards regarding the transfer of educational merit from one cultural context to a different. For this motive, all of the documents linking to your course of study should be translated efficiently. Singapore Translators is a business leader in diploma and Language translation services, and we constantly provide dedicated, human translation from a local translator. We deliver certified, notarized translations, demonstrating that a purpose third-party provided the translation.
High School Certificate Translation Services In in Singapore Can assists You Achieve Your Goals
Whether you are preparing for high school, college, or higher study abroad, expert academic translation is significantly important. Academic document translation forms the basis of your application or other procedure that decide your academic standing. In several cases, institutions are extremely strict about the classes and other provisions that you have undertaken. A translation that is exceptionally intuitive and understandable to members of the target culture will make it simpler for you to attain your goals.
Academic translation can also be extremely significant when you are completing your course of learning. You might discover that you need to submit your transcripts, diploma, or other proof of academic achievement in order to apply for a job. While this generally only required during the first period of employment, you might discover that you require the translated documents many times for various employment opportunities. At Singapore Translators, we go beyond fundamental transcript and diploma translation to accurately localize your document. No shades of meaning are lost when somebody from the target culture reads your papers.
Hire a Language translator for converting your legal & Other Documents.
Certified translation of academic records Such as High School Certificate Translation in Singapore.
Are you in need of a certified translation of academic records in order to join a university? You must come to us for your academic translation needs as we know the requirements.  And we are capable of providing precisely what you need.
All educational institutions have to be certain that they are getting genuine papers that are verified. They have to be sure that the conversion is up to the mark. And also there is no difference in the translation presented at their assessment team. And for this motive, they insist upon certified translation of educational records.
Academic translations such as High School Certificate Translation have been a demanding task as they involve lots of terminologies. A conscious of the subject in which the paper is done and a noble competence as a translator. An educational paper phrased with the utmost complexity and translating the logic in addition to the thought is a challenging task even for an extremely good translator.
We can do it as we are one of the academic certificate Translation services in the business. Our High School Certificate Translation experts professionalism besides our proofreading course and the use of numerous translators to review the translation; makes sure that the translation is completed with the utmost professionalism, is precise, and it follows the rules so it will accept by the college.
FAQs
Q1. The academic certificate translation you provide is accurate?
As far as the academic certificate translation is concerned, the translation provided by our translator is accurate. While translating the document, speed and accuracy are the most important factors, allowing us to provide you with an enhanced level of accuracy.
Q2. What will be the assessed cost of education certificate translation services?
Initially, we cannot provide an assessed cost of education certificate translation services since the price may be higher or lower based on the file specifications and the required level of skill. The file specifications determine the price for translations. The total price of a word translation can increase if additional translation services are included, such as proofreading, editing, notarizing, etc.
However, there is often an additional charge for urgent translations. Our agency offers affordable discounts on bulk translations. To learn more about these discounts, you can contact us at info@singaporetranslators.com.
Q3. In which format Academic certificate translated into?
The format of Academic translation varies greatly based on client needs, and as a result, we do not impose a set format on our clients. We let them decide the format that works best for their Academic certificate translation. In case you're curious about the formats in which our translation services are available, we offer PDF, Word, Excel, PowerPoint, and HTML.
Q4. Can you predict the deadline for education certificate translation?
No, you cannot predict the deadline for when you can expect the education certificate translation to be finished, as it is entirely based on the word count you want to get translated, to which language you are getting translated and how much effort it needs to cover the task. Further, we have dedicated translators equipped with the required skills to provide the translation within the time frame specified in the submission form.
Q5. Is the academic certificate translation being given in hard copy?
Yes, you can also acquire the academic certificate translated document in the hard copy. In that case, you need to reveal in front of our translators that you need hard copies. This is because you need to pay additional fees besides translation costs to acquire the hard copies of your academic certificate translation.
Q6. Which kind of quality will you provide for high school diploma translation services?
Our translators provide you highest quality high school diploma translation service. The reason behind quality translation service is our dedication and commitment towards the work, and before proceeding with the translation work, we make sure that all the translation requirements of the clients are cleared. All these factors enable us to deliver high-quality translation services without sacrificing the deadline.
Q7. Can your education certificate translation services be refunded?
Sadly, we cannot issue refunds for the education certificate translation service once you have paid the money for the service. Although our translator never compromises with the translation quality, if you need any modification to be done in the translated document. No worries, our best translators are here to help you in this regard at no extra charge.
Q8. Where may I use this higher school certificate that has been translated?
There are several cases where you can use higher school certificate translation provided by our translators. Since it is one of the most important documents, especially when planning to complete your education abroad. Also, you do not have to worry about your translated document getting accepted by the immigration authorities because all our translated documents are highly considered by the majority of the immigration Authorities and play a greater role in approving your immigration application.
Q9. Does your education certificate translation services provide any discount?
Yes, we do provide discounts on education certificate translation services, we also give discounts on bulk orders. For any kind of assistance regarding the discounts, you can mail us at info@singaporetranslators.com.