Online is the best way to get the top-quality and flawless translation of ICA-supported documents. At SingaporeTranslators.Com, you will get professional language translators to translate all kinds of legal documents. You will even get the notary services for your immigration application which you can submit to the ICA officials.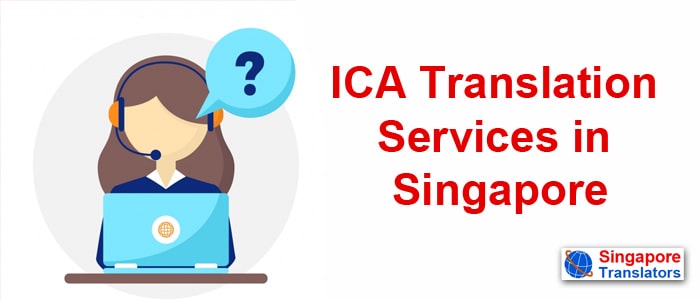 There are many people in Singapore who need to translate documents for the purpose of migration. So, for this reason, they must take certified translation services in Singapore for ICA.Some of the best and certified translators for ICA documents. In Singapore, you will get various language translation companies that offer end-to-end translation solutions for ICA (Immigration & Checkpoints Authority). ICA needs translated documents like your personal identification documents like birth certificates, academic certificates, marriage certificates, etc. So, when you are going to get translation help for ICA documents then it is best to get translated documents notarized from the legal professional and certification from the ICA approved translator itself who have experience in translated ICA documents.
Moreover, all the ICA documents meant for migration must be processed perfectly since ICA officials will never accept your migration and PR application with those documents which are not sufficient and incomplete. Thus, before you give the documents to the notary to gain legal certification, you must get that documents translated perfectly by professional translators from the best translation companies in Singapore. One of the best translation companies in SingaporeTranslators.Com where you can get authorized translation services for ICA officials to work at competitive market rates.
ICA  document Translation from the Leading Translation Companies in Singapore
ICA  document translation can be obtained from the leading translation company in Singapore which is SingaporeTranslators.Com. This translation company is considered to be the paramount provider in the translation of notary public documents, legally certified documents, and ICA-related documents. It has a long record of 10 years in offering the customers trusted and world-class ICA translation services in Singapore. It offers document translation in many languages for big and small business organizations and individuals.
Moreover, the certified translators at SingaporeTranslators.Com also offer professional document translation and transcriptions services in the fields of law, marketing, advertising, academics, finance, and engineering.
Moreover, when you are getting online translation services from the ICA approved translators then you can be assured of positive acceptance of the documents by the embassy and the ICA officials. The team of proficient translators are experts in official document translation which are meant to be presented at ICA in the appropriate manner without compromising the quality. You will get only the native translators who have the fluency of the target language to translate your documents.
Get Fast & Accurate official notarization for ICA, MOM, MFA.
Moreover, they also store your files via SSL transcriptions. The online translators also make use of the latest technology and tools to guarantee that all the customers like you are getting high-quality ICA translations. Therefore, it is best to get ICA birth certificate translation in Singapore from the leading translation companies such as SingaporeTranslators.Com. As the native Singapore translators association, there are very experienced professionals in doing ICA translation. This is because they do these types of translation on a regular basis.
Need ICA Translation Services For official's
You will need ICA translation services due to the following reasons, which are:
ICA or notarized translation is required when there is a need to translate official documents. It is important to get it notarized along with ICA translation because these official documents are meant to be submitting at courts or in government agencies like the embassies in Singapore.
You are required to get services of notarized translation from a notary public who has undergone a minimum of 12 years of law practice.
Official documents need to authenticated and certified. So, the ICA or notarized translator will notarize it and execute the certification of the legal document.
translation services ICA are needed to prevent the scan of the document. It is also done to make sure that the registered translator who has translated the document is certified and has done on his or her freedom and has not been forced upon to do the translation.
In some official documents, you need to declare, swear or take an oath under the court of law. This is done when you sign the declaration certificate or the translated document before the notary public. This is done to show that all the information in the translated document is found to be absolutely true.
Type Of Documents Translated Through ICA Translation Service?
Translation services Singapore ICA in some of the best translation help in Singapore provided by SingaporeTranslators.Com. We have professional and top-quality translation services for ICA. You can have a trouble-free translation for all types of certified official documents for your immigration. In order to submit your personal identification documents for ICA, you must also need to get certified notarization by the attorney or notary public for your ICA documents.
Hire a Language translator for converting your legal & Other Documents.
In Singapore, apart from the translation of ICA documents, you will get a translation for the documents of the Ministry of Manpower. The Singapore translators offer to ICA translation for documents like birth certificates, court documents, passports, permanent residence registration, marriage certificates, employment contracts, academic transcripts, degrees, police clearance certificates, notary certificates, wills power of attorney, etc.
You will also need a certified ICA translation of the following documents, which are:
Documents of Medical checkup and Status.
Clearance certificate for overseas employment.
Related documents of overseas study applications.
Supporting documents to apply for Singapore citizenship, Singapore Permanent Residence, Student Pass, etc.
Translation of foreign driving license.
Court Order documents.
Why Singaporean Prefer Official Translation Services of ICA documents online?
In Singapore, most people go for taking all of the official translation services online, especially for the ICA-supported documents. There are various translation service providers and SingaporeTranslators.Com is the best translation company to provide high-quality official translation services in Singapore at great prices.
At SingaporeTranslators.Com, you will get the following benefits of ICA translation document services, which are:
The translated official documents are officially accepted by the MOM, ICA and LTA, Universities, Supreme Court, and other Business organizations.
Though the professional translator does all the translation work, a dedicated project manager manages the translation work right from the begging to the end.
The translation is done at a very affordable price. Moreover, you are also not required to charges for any hidden services or for the delivery. You can also trust the transparency in terms of fees. You are also never charged for the miscellaneous fees like the handling and admin fees at SingaporeTranslators.Com.
You will get help from professional, experienced, and native Singapore translators who are specialized in translating all types of official and legal documents into many languages.