Get your identity card translation by 500+ professional translators in more than 200 languages like Malay, Chinese, Japanese,  Singapore Translators offers translation services of documents that are widely accepted by the government and private organizations.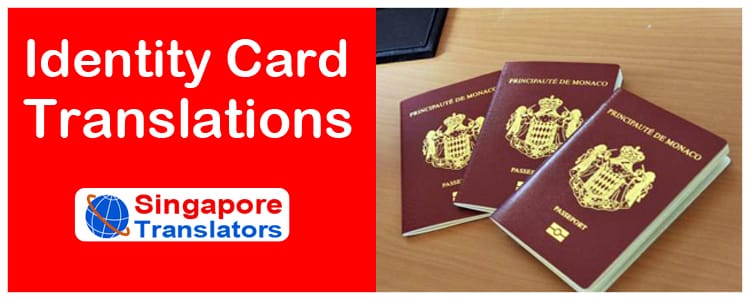 It includes educational institutes, embassies, the immigration departments of its respective countries, courts, industries, and companies. 
Types of high-quality translation services provided by Singapore Translators – 
Authentic & Accurate Identity Card Translation –  When the professional translators translate your identity card, the format and content remain the same. Only the language is changed and translated into the preferred language you want. Moreover, there is also no distortion of information during the translation.
High-Quality Services –  Editing, proofreading, and revision is done to ensure that the translated document of the identity card is error-free, flawless and best enough to be attached along with your immigration application form.
Why you should need to translate your Identity card
An identity card is a very important document which is regarded to be the proof of your identity in the form of a paper document. A large number of people are taking document translation services in Singapore for translating their identity cards for official and legal purposes.
Get Fast & Accurate official notarization for ICA, MOM, MFA.
This means that if you need your identity card for legal and immigration-related work then you must take identity card translation from any local translator in your city. There are many document translation service providers in Singapore from where you can get accurate and certified document translation.
You must translate your identity card which includes job card, passport, voter card, pan card, ration card or any other government-issued identity card. The most important feature of the identity card is your name date of birth, permanent and present address along with a valid certified and attested photograph.
If you are using your identity card to travel or immigrate to a foreign country or gain a PR certificate or higher education at foreign universities, then you must get it translated through multi-lingual translators. One of the most renowned translation company- SingaporeTranslators.Com offers accurate and affordable translation services which are well acclaimed and appreciated by its current customers.
How To Get Identity Card Translated in Singapore?
If you want to get the perfect identity card translation from Singapore Translators then you must book online to get translation services at SingaporeTranslators.Com. Here, you can even acquire ICA certified translation services by following these certain steps, which are:
You need to search online for finding the best and suitable translation companies in Singapore. Most of the Singapore people prefer to take best translation services for translating their important documents and identity cards exclusively at SingaporeTranslators.Com.
You can check the website of SingaporeTranslators.Com and check out how they provide a translation of important documents like identity cards. If the type of services they offer impresses you, you can place your order for identity card translation.
In order to place your order at SingaporeTranslators.Com, you need to send the scanned document of your identity card in for of PDF, JPEG or any other supported file. You can also upload directly these files with your application form.
After that, the professional translators will check the document and will tell you the exact cost to translate the identity card document.
The cost is generally affordable since they never charge any upfront cost, delivery charges or any kind of hidden cost. After you confirm the payment online via net banking, credit/debit card or e-wallet like PayPal, they will immediately start working on your translation order.
After translation along with other added works of editing, proofreading and revision the complete translated document of the identity card is presented in front of you via email within the deadline.
Hire a Language translator for converting your legal & Other Documents.
Therefore, in this manner, you can get fast and cheap identity card translation services from the best translation company in Singapore which is SingaporeTranslators.Com.
Hire a professional translator for your identity Card translation
An identity card is a document that is needed almost every day during your travel, official and legal purposes. So, get your identity card translated from the professional translators whenever you go abroad. SingaporeTranslators.Com offers also certified translation services along with assistance to get public notary services at cheap price in Singapore. Therefore, hire professional translators to get the best identity card translation services from SingaporeTranslators.Com.