Singapore Translators are proud to announce about certified Immigration Documentation Translation services in Singapore for ICA officials use. Having years of experience in hand our 500+ professional translators working over 200 languages like Malay, Chinese, Japanese, Korean, Thai, etc. You just scan your document, fill up the order form,  our professional translator will convert it according to your needs then send your document through email.
You can translate any of your Immigration Document with Singapore translators like – 
Permanent Resident Card
Green Card
Reentry Permit
Refugee Travel Document
Arrival Record
Departure Record
Foreign Passport
Immigrant Visa, etc.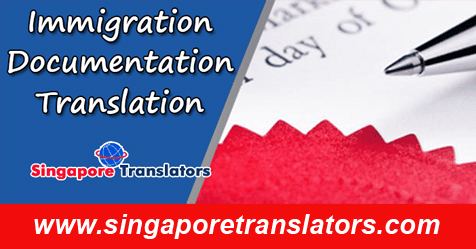 Immigration Document Translation Services In Singapore
If you are requesting for a visa or green card, or some other immigration assistance, you will be necessary to submit different documents including your birth certificate, marriage certificate, & so on. But, if your documents are in words other than English, you may require getting them translated. Thus Immigration Documentation Translation Services required for the same. Immigration requirements vary from nation to nation so as the level of certification for translations. You might be necessary to submit a translation beside your non-English certificate in a suitable format.
Who Should Do the Immigration Documentation Translation?
Are you looking for a translation company in Singapore for Translation services of your Non-English Documents for Immigration Applications? You are in a precise place! Singapore Translators offer certified immigration translation services. The certified English translations given by us are accepted by Immigration Services of all the nations.
Are you planning on moving to Singapore? Is this something that you have had in your plans for a truly long time? If this is the condition, your dreams might come right pretty soon. But, when this happens, you might be accessible with a new challenge, the language difficulty, which could be conquered by using immigration translation services. There are numerous people who fail to get their access into the Singapore even after pleasing all the other necessities, simply because of things like language challenges. We also provide academic translation services in Singapore for students seeking a worthy career in other nations.
To assist our valued customers in this regard, we are proud to announce our certified document translation for ICA. There are many applicants who are not capable of pleasing the requirements of the Singapore immigration offices(ICA) as of their badly translated documents. Having years of knowledge in translating documents with excellence, our expert translators can offer translations covering more than 120 languages. So, if you are seeking forward to submit your migration case to Singapore, choosing us can yield grand outcomes.
Get Fast & Accurate official notarization for ICA, MOM, MFA.
High-Quality Translation of immigration documents at Singapore Translators
Do you call for a certified translation company in Singapore Language translation services? We offer all languages into English when it comes to translation for immigration papers.
If you are moving overseas or applying for a visa or green card, or any other migration benefit, you will be asked to submit numerous immigration documents including your birth certificate, marriage certificate or divorce papers, school documents, police records, & bank statements. If your papers are not in English, you are necessary to get document translation services.
Most authorities and business-like ICA accept certified translations of your immigration papers. However, you can't offer a certified translation of these documents yourself, even if you are flowing in both languages.
You expected to submit translation besides with your non-English certificate in a good format. A copy of the unique document required to submit for legitimacy purposes.
Translation of documents for immigration we provide
In spite of the kind of documentation requested,  immigration translation services in Singapore will acquire your paperwork in order before your preferred deadline.
When your case is up for analysis by a government immigration office, you will be asked to offer extensive certification to verify your biographical information and ensure you be eligible to immigrate into the nation. Protranslating is able to provide immigrant translation services for some of these documents, including:

Birth certificates
Marriage licenses
Medical records
Divorce certificates
Driver's licenses
Passports
Death certificates
Adoption documents
Diplomas
Tax returns
Any documentation requested by a government agency
Regardless of the kind of documentation ask for, our immigration translation services will get your formalities in order before your preferred deadline.
Immigration document translation for Expats by Singapore translators
The ICA is extremely strict with following their system when it comes to certificate submission. Any personal paper in any language but English needs to be translated and qualified. The ex-pats who want to get citizenship in Singapore then they need only certified translation, which you can also submit by e-mail or by going to their office. But our Singapore-based translators offer the translation of documents with certification which is very helpful for complete the official's need in various languages like Malay, Chinese, that, Korean, Arabic, and many more.
The certified translation needs to track the rules as well. When it comes to document translation for immigration, the candidate can't translate on its own. The truth is, a friend of his could offer the translation, but issues might appear in the form of the translation or the documentation, which will lead to the translation being discarded.
Our Singapore Immigration document translation services are here to offer you a certified translation which is certain to be accepted in any office. We recognize the rules and regulations compulsory, and we do our translations according to those rules. We also provide high school certificate translation for scholars moving to overseas nations.
Hire a Language translator for converting your legal & Other Documents.
Why Choose Singapore Translators For Immigration Document Translation?
Singapore Translators is the top provider of specialized business translation services for all kinds of businesses.
This way you will get an extremely skilled translator who is an expert in your particular industry so that you will get your message across visibly and efficiently anywhere in the world with outstanding quality, fast turnaround, and grand value.
We recognize the significance of privacy and complete privacy when it comes to business documents. Consequently, we take strict precautions to make sure the safety and protection of all client documents.
All of our extremely trained translators and project managers are bound by business confidentiality and corporate non-disclosure agreements.
FAQs
Q1. How does your translation of documents for immigration safeguard quality?
In order to safeguard quality for immigration document translations, our translators go to great lengths to understand the translation requirements of the client before proceeding with the translation. As soon as we determine the client's requirements, our certified immigration document translators can handle the rest of the work. Because of their high level of commitment, we are able to deliver clients' projects on time consistently.
Q2. Does immigration translation services use any translation software?
No, we do not use any sort of translation software to deliver you the translation work. Instead, we have a team of highly qualified and specialized translators. They have great expertise and knowledge in providing quality immigration translation services.
Q 3. Will your immigration document translation provides a hard copy of the translated document?
Yes, our translator will provide you with a hard copy of the immigration document translation. But make sure that you inform our translators for acquiring the hard copies of the translated document. While stating the need to acquire hard copies, you also need to mention the number of copies you need. Please remember that we charge an additional cost for providing hard copies of the translated document. The cost of the hard copy will be based on the number of copies you require.
Q 4. Can immigration documents translation convert any language?
Yes, our immigration document translators can convert your immigration document into any language. However, you can rely on our translator to translate into any language regardless of where you are coming from and to what country. Our translators are skilled enough to convert any foreign language document into any language you desire. Although, we employ over 500 language professionals familiar with more than 200 languages, including Bahasa, Malaysia, Malay, French, English, etc.
Q5. When will document translation services for immigration be ready?
We commit to delivering the translation as soon as possible. Typically, our translators adhere to the deadline listed on the submission form to deliver the translation.
Q6. Will my immigration document translation be kept confidential?
Absolutely, we are committed to keeping your immigration document's translation confidential. As part of our immigration document translation services, we require our clients to sign a confidentiality agreement, which guarantees that their documents will remain private at all times. In this way, we protect our customers' information from unauthorized access and ensure that all their documents remain confidential at all times.
Q7. How much is the estimated price of translation of documents for immigration?
Several immigration documents can be translated, so the estimated cost depends entirely on the document being translated. Every translation may have a different price depending on its unique techniques and approaches. If you are merely interested in acquiring a word translation, the cost will be considerably less. We also offer other services such as proofreading, notarizing, editing, etc. No need to worry, as Singapore translators charge reasonable prices and work within our clients' budgets.
For urgent translation requests, there might be extra charges. For bulk translation orders, we offer discounts, which you can learn about by sending an email to Info@singaporetranslators.com.
Q8. Where can I use this immigration documents translation?
There are numerous situations when you can use immigration-translated documents provided by our translators. Immigration documents are one of the most common documents which are considered while immigrating to a foreign country. Suppose you are immigrating to Singapore from a foreign country; in that situation, you will require presenting the immigration translated documents to enter and stay in Singapore legally.
Q9. How should a translation of an immigration document be formatted?
With the help of our translators, immigration document translations can be provided in a number of formats including PDF, Word, Excel, PowerPoint, Powerpoint, .xliff, HTML, .HTM, .XHTML, and .XHTML.