Certified Singapore Translators for ICA supporting documents provide the finest Immunisation Card Translation Services in Singapore at low translation service costs. Our 500+ specialist medical translators having proficiency in hand who will quickly and precisely translate your immunisation record in more than 200 languages like Malay, Chinese, Japanese, Korean, Thai, etc.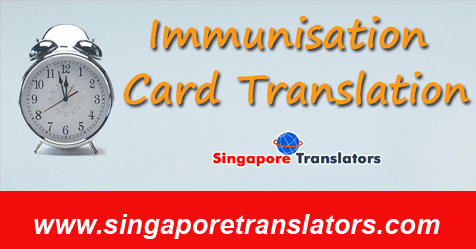 Certified Translation Services In Singapore of Your Immunisation Card Translation
Need your Immunisation Card translated as evidence that you or your kid have received up-to-date detailed vaccinations or that you may have critical allergies to certain substances to contraindicate particular vaccines?  With a multilingual person in-house who focus on medical terminology, especially in vaccine names, acronyms, and abbreviation, and a devotion to providing only the best Immunisation Card Translation services in Singapore.  We at Singapore Translators, professionally translate your Immunization Card.
Certified translations of Immunisation Card are frequently required when traveling overseas, applying for a visa or for immigration (USCIS acceptance in the U.S.). These records confirm your vaccination history and the complete and precise translation is significant to avoid delays or rejections in the paperwork submitter procedure.
Our Certified Document Translation services have successfully translated thousands of Immunisation Card. No matter which of the 60 languages we support you require your Immunization Card translated to or from, Singapore Translators is your most excellent bet for a precise translation delivered rapidly and affordable.
We specialize in the translation of any kind of official government document. We offer our customers with a professional Singapore Certified Immunisation Card Translation which established by all government and non-government organization.
Reasons For Certified Immunisation Card Translation By An Expert
Having just anybody try to translate your medical documents is not an excellent idea. This mainly true if the translator you select not used to handling medical papers. Precise translation requires that the person doing the job recognize the common abbreviations and terms that come out on your immunisation record.
Mistakes could signify that you end up getting a vaccine that you previously have, requiring you to unnecessarily spend money while possibly ending up with fitness problems.
Even worse, a terrible medical translation might lead a doctor to think you have already had a particular vaccine when you haven't. An added concern is that your wrong medical translation could lead you to be quarantined by customs or just unable to travel, even after taking all the good steps to vaccinate yourself.
When you require your medical records translated, rely on an expert translation company like Singapore Translators. And rest simple knowing your files are precise and up-to-date. We offer Language translation services at a very reasonable cost.
Get Fast & Accurate official notarization for ICA, MOM, MFA.
Highly Qualified Medical Translators  In Singapore for all Major Language
We offer professional life sciences translation services through a devoted team of extremely qualified language translation expert who has considerable familiarity within an extensive array of medical and life science sectors. Our services are frequently called upon by medical, pharmaceutical & healthcare facilities, and manufacturers, individual healthcare expert and administrations, and numerous others.
The Singapore Translators' language translation squad comprises of numerous professional translators who specialize in an extensive variety of languages and industry-specific familiarity and experience.  High-quality life sciences translations are accessible for almost every pair of languages, and nearly any medical or life science division. We also have a separate team who deal with providing you with Academic Translation services.
The exclusive business processes that we have in place make sure that each project awarded to the most appropriate translator. Singapore Translators' exclusive bid management system make sure that you get your paper for the most excellent rates. We also have a quality assurance system, where a second translator proofreads to make sure it's quality and accuracy.
Medical Translation Services in Singapore Include:
Independent Medical Exams
Medication Labeling
Physician Manuals
Doctor/Patient Notes
Medical Journals
Test Procedures
Clinical Protocols
Patient Reports
Pharmacological Studies
Medical Research
Medical Terminology in All Fields
Patient Instructions
We Believe In Quality In Affordability
At Singapore Translators, we value that accuracy is very crucial in medical records translation. And consequently, we follow strict guidelines to deliver better translations. Our expert translators are quite familiar with the healthcare business, which helps them put their foot forward under all situations.
Whether we translate product labels into Chinese, or technological Leaflets into French, we make no compromises in our translation offerings. With strict levels of quality controls and a smooth approach for medical documents translation. The end-result regularly ensures higher levels of accuracy.
We not only have native Singaporean capable translators in our squad but also have pharmacists and healthcare domain experts who have got Ph.D. & MD in medical and allied sciences. Our translators are capable of localizing language translation by adapting it to the neighbouring cultural norms of the targeted nation. They are effortlessly able to process your health care translation and medical translation necessities within a short period.
Hire a Language translator for converting your legal & Other Documents.
Why Choose Singapore Translators as Your Certified Translation Service provider in Singapore?
Our Immunisation Card translators are fully well-informed on the abbreviations & acronyms for each vaccine, and immunisation jab used all over the globe. We have the proficiency to quickly and precisely translate your immunization record. So that you will never require to receive a vaccination two times and nor will you miss out on a significant vaccine necessary for wherever you are traveling to. We can even direct you on current regulations for the certification necessary for any immunisation card translation. Why not get in touch with us today for more information?
Our Singapore translators and proofreaders are knowledgeable professionals who are very proficient in their source language(s).  Many of them hold or are pursuing Master's degrees or PhDs in associated areas of study. You can also contact us in case you want high school certificate translation services. We have professional translators who can provide quality academic translation services at a low price
FAQs
Q1. What is the level of accuracy you provide in vaccination record translation services?
You can rely on our team of translators to provide you with vaccination record translation services with the highest level of accuracy. Our translators provide premium quality as well as within quick turnaround times.
Q2. What format do your translators follow for vaccine translation services?
We know that client formats vary greatly, so there isn't a set format for vaccine translation services. The translation will be provided in the same format as chosen by the client. Whether you want your translation in a PDF, Word, Excel, PowerPoint, or HTML format, we offer multiple choices.
Q3. Is your service of immunization record Singapore available 24X7?
Yes, we are available to assist you 24×7. Even you can reach out to us even during Saturdays and Sundays. But you need to notify us in advance to schedule an appointment either through email and calling number if there is an urgent requirement.
Q4. Do you also notarise immunization record translation?
Yes, we do provide notarization of the immunization record translated document. The notarization service will only be offered if requested by the respective clients.
Q5. What are the policies of refunds in vaccine translation services?
You will not get any sort of refund for vaccine translation services from our translation agency. So, you need to make sure about the commitment of ordering vaccine translation services. Despite the fact that there is no refund offered, we are still ready to make any required modifications to the translated document free of charge.
Q6. Can I use this vaccination certificate translation elsewhere other than medical fields?
Yes, you can use the vaccination certificate translation for multiple places other than medical fields. Especially after the COVID-19, the importance of vaccination certificates has been increased. So almost all the countries request the translated vaccination certificates. However, vaccination certificates translated by our translators are considered at multiple places and also serves as an advantage in approving your immigration application.
Q7. Do your vaccination record translation services use any kind of tool for translation?
No, we do not use any sort of translation tools or software to provide the vaccination record translation services. Our professional translators are trained enough to deliver quality translation work without comprising the specified deadlines.
Q8. What is the fee structure of vaccination record translation services?
We do not have any specific instructions for vaccination record translation service. The cost of translation service will be dependent on the nature of translation; the word count you are getting translated the language you want your document to be translated. Depending on the client, some just need word translations, which can be acquired at fair price. In contrast, others may need additional services like notarization, editing, etc., in addition to the word translation, which could lead to a higher price.
Q9. Is your vaccine translation service more secure than other translation services?
Yes, we are far more efficient and effective when it comes to ensuring the confidentiality of documents than many other translation services. All our past clients love to place bulk translation orders with us because we ensure confidentiality in the document, and they are confident that their original documents will never be disclosed to third parties. At Singapore translators, we believe in maintaining trust with our customers.