Hire the best, accurate & authentic import permit translation services at SingaporeTranslators.Com.  We have an expert team of 500+ professional translators working in over 200 languages like Malay, Chinese, Japanese, Korean Thai, etc. 100% Assured high-quality translation services with express same day translation at competitive market prices.
Supported Documents To Get Import Permit Certificates in Singapore
International Import Certificate (IIC):  International Import Certificate (IIC) is a very important document that is needed for importing controlled goods in Singapore from other countries. Please be informed, that goods for imports as well as an export are controlled by the Government of Singapore. According to the rules mentioned in the International Import Certificate (IIC), it is the responsibility of the importer to import goods directly into Singapore without any distraction or shipping the goods elsewhere.

Import Certificate and Delivery Verification (ICDV):  Import Certificate and Delivery Verification (ICDV) is valid only after you have applied and got an import certificate. You can get the document of ICDV only if you are importing foreign goods in Singapore which are controlled. Moreover, the country from where you are importing goods also needs to have an IC certificate. This is mandatory and the rule should be followed. Before you start applying for ICDV, you must activate your custom accounts and also apply for inter-bank Giro.

Other Supported Documents:   In order to apply for an IC certificate, you must get documents like Exporter's Declaration and End-User's declaration & statement. Moreover, you must also specify the technical specification and details of the goods your company is importing from the exporting country. This includes documents like product catalogs, datasheets, brochures, manuals, and operating instructions.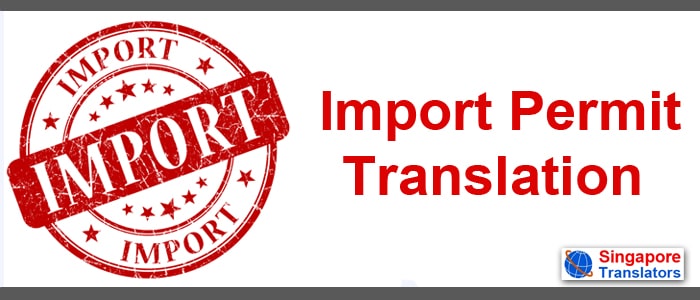 Why Do You Need Import Permit Translation 
Importing products and services from other countries has always been an important part of Singapore's a trade and business relations with its neighboring countries. So, to import goods and services one must need an import permit certificate along with added translated copy of the import permit document.
For easy importing of goods without any restrictions and legal action, you must find the best translation company in Singapore that can offer accurate and certified translation of import permit certificate translation. SingaporeTranslators.Com offers of best import permit translation services.
IIC, ICDV Are Mandatory 
In Singapore, if you want to apply for the import permit certificate, you must have at least two very important documents. One is the International Import Certificate (IIC), while the other is the Import Certificate and Delivery Verification (ICDV). If you have these two documents then it will be quite easy for you to apply and get an import permit translation.
Moreover, these imported goods are not allowed to be re-export to other places without prior approval or without an export license.
On behalf of the Singapore government, certified online translation companies like SingaporeTranslators.Com are authorized to offer International Import Certificate (IIC).  Its translated copy is also offered along with certified notarized services by the certified legal translators.
Get Fast & Accurate official notarization for ICA, MOM, MFA.
Thus, these are the detailed and supporting documents that you need to get your import permit certificate. Furthermore, you must know that when IIC and ICDV are approved then you have validity for one year. So, under IC you must import goods into Singapore within this one year. Moreover, you can also apply for the renewal via NTP at least 14 days before the IC validity expires.
Why Do You Need Translation Services For Import Permit Documents?
You must need to translate all the documents of Import Permit, International Import Certificate (IIC), and Import Certificate and Delivery Verification (ICDV). This is because if you are a Singapore business owner, who wants to import goods from the USA and UK then you must send the export company English-translated documents of an import permit and its related documents. In this manner, the export company will fully understand your requirements and will have no problem studying the documents of the Singapore import permit certificate and other related documents.
What Are The Types of Import Permit Translation Services Offered By The Singapore Translators?
The Singapore translators at SingaporeTranslators.Com offer all kinds of business document translation. In areas of Singapore import business activities, the translator offers accurate translation services of documents like import permit certificates and related import application documents like IIC and ICDV. Online translation services come at affordable prices. The Singapore translators also translate the documents by keeping the mind the right tone, accuracy, and readability.
Moreover, the translated documents are also assured to be of a high quality due to strict editing and proofreading. Moreover, all the related documents of import permits are delivered to the customers within the deadline.