Get all of your documents Translated from Indonesian to English language anytime with Singapore translators. Singapore Translators is an eminent ICA certified translation service in Singapore that is known for its high quality, reliability, accuracy & clarity with no extra cost.
Covert any of your Indonesian document in English like – 
Birth Certificate
Email Translation
Police Clearance
Immigration Certificate
Divorce Certificate
Assignment Translation, etc.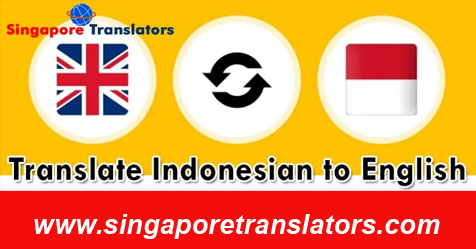 Hire Professional Native Translator For Translate Document From Indonesian to English
The Indonesian language is one of the most extensively spoken languages across the globe. It is particularly applicable in English-speaking countries that do business with the Indonesian globe. Our squad of Indonesian/English translators for Translate Indonesian to English consists only of local Indonesian speakers who also have high English expertise.
The translation is not as simple as you might think. Certain, you have to be truly fine at both languages that you use, but the key part is making the conversion accurate on an expert level. In other words, you have to recognize the subject you are translating!
That's why we appoint Indonesian/English translators for Language translation services and Indonesian Embassy Singapore Translation Service are not only linguists & language maniacs, but also truly knowledgeable at some particular subjects, such as business, medicine, physics, law, and so on. Your text will be restricted and handled efficiently!
Our Translate Indonesian to English services is done by people who are not only professionals of the languages but also have proficiency in picky fields like law, medicine, business, & so on. Singapore Translators has presented professional document translation services for more than 11 years, & has also gathered a team of translators, editors, & managers who love their occupation.
Well Versed Team Of Native Translators For Indonesian to English Translation Services
You cannot get any superior translation services than the one that we are providing on the internet these days. We have a squad of well-trained experts, all who are natives of the countries or regions from which they translate, and it is for this motive that we have been able to get several of the best translations in the globe for our clients.
We value the need for accuracy, precision, and quality work, and for a similar reason, we can promise you that you will get nothing short of the excellent and appropriate translation services that we present. Consequently, take your time and get to look into several of these services & you will most certainly appreciate it.
Get Fast & Accurate official notarization for ICA, MOM, MFA.
Because Quality Is Our Main Objective
Singapore Translators offers expert Indonesian translation services. We present English to Indonesian translation. We will also translate some Indonesian text into English or some other European language. Whether you are seeking an Indonesian translator for individual documents or a translation squad for an ongoing business account, you will find your utmost standards met at Singapore Translators.
We have provided the utmost quality translation services for over ten years. Our translation skills and knowledge are unmatched. We present document translation, transcription services, and multilingual website growth. Our network of experts covers a complete range of areas of particular proficiency, including medical, technical, financial & marketing areas. We offer expert translation to businesses, educational institutions, technology professionals & individuals, among numerous others.
All translations are completed by inhabitant Indonesian speakers. Every Indonesian translator has a solid background in translation and interpreting. Our Indonesian experts offer document translations that are accurate, precise and ethically correct.
Singapore Translators Is Leading Translation Service In Singapore
Our selection of the most excellent translation tools let us compete to be one of the best academic translation services companies in the globe and manage terminology precision, post-translation checks for QA & proof-reading of Indonesian translations professionally. Our Quality & pre-publishing checking procedures in all languages make sure certified translations, whether you require exact translations or freestyle, co-creation Translate Indonesian to English services. We can promise that you will not pay for the translation of some sentences more than once. We have wide-ranging databases that retain the translation of phrases and ordinary sayings in Indonesian & other languages.
Our knowledgeable Indonesian translators will translate your material rapidly and knowledgeable so that you can use it to assist your customers, market to more customers or even just reach out to Indonesian speakers around the globe. Our Indonesian translators will work together to make sure that our Indonesian translation services are perfect for ensuring your status. At Singapore Translators, we will work to give you a quick translation turn around at an extremely competitive price.
Why choose  Singapore Translators for translation of your Indonesian document to English
With 56,000+ customers and tens of millions of words translated, we are one of the most trusted sources for online translation services in Singapore. Our team of expert Certified Translators has the familiarity to complete your project on time with a high degree of precision while our support employees are accessible to you every step of the way. Read through our customer reviews to hear firsthand how we constantly live up to our promise of fast turnaround times and great quality, delivering you the top value in the translation business.
Native & Bilingual Translators – English to Indonesian Language and Vice versa
We present high-quality English to Indonesian translation services through local Indonesian translators. Through our loaded translation familiarity, we believe that a local translator of the target language can offer high-quality translation. Consequently, for English to Indonesian language blend, we deploy our local Indonesian translators. Our bilingual translators carry out Indonesian to English translation services, ensuring the right target English grammar & context.
Hire a Language translator for converting your legal & Other Documents.
Quick and Easily Accessible Indonesian Translation Services in Singapore
One of the best growing Indonesian translation corporations in Singapore, we are very particular about our time commitment and constantly stick to our timeline. We have area experts with knowledge in diverse domains such as medical, legal, business, technical, management, etc. So, you can depend on us for any of your documents/content that wants the translation to/from Bahasa Indonesia.  We have a professional Thai translator to translate English to Thai translation services.
We Serve Quality In Affordability
Our prices are most reasonable as per the market standards vis-à-vis our high-class, on-time delivery and complete support. We present only human Indonesian translation services & do not use machine translation. Based on your needs, we can present your translation using CAT tools such as Trados, Wordfast, etc. and offer you with the applicable TM file